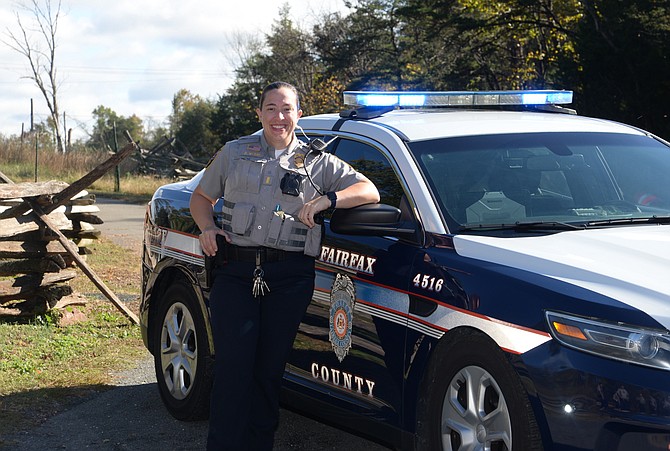 Praised as a strong leader, 2nd Lt. Deanna Weand was named the Sully District Police Station's Officer of the Quarter for the fourth quarter of 2021. She was honored at the Jan. 12 virtual meeting of the station's Citizens Advisory Committee.
1st Lt. John Lieb, assistant commander of the Sully District Station, nominated her for the award. In it, he noted that she currently serves as squad supervisor of the station's Daywork B squad, as well as the Fairfax County Police Department's Honor Guard coordinator.  
In both positions, wrote Lieb, "She leverages her high degree of motivation and her attention to detail to best serve the officers who work under her supervision and the citizens of Fairfax County." And, he added, "During the fourth quarter of 2021, I witnessed firsthand her ability to provide strong operational oversight over several, high-priority calls for service."
For example, he wrote, "In early October, the Daywork B Squad responded to Centreville Regional Library after a community member called 911 to report what appeared to be someone sleeping or passed out on the sidewalk, just beyond the library parking lot. Once inside an ambulance, [the female victim] disclosed that she was raped by two unknown men the night prior."  
Lieb wrote that Weand assumed operational command over this scene and "ensured that the victim was treated with the compassion and care she deserved, while making certain that the integrity of the evidence on scene was not compromised. The Commander of the Major Crimes Bureau expressed appreciation for the work of the first responding officers and for the smooth transition of the case to investigators who are working diligently to ensure closure and successful prosecution."
Then, in mid-November, Weand responded to the 4500 block of Quiet Brook Court after police received a report of a grandfather chasing his teenage grandchildren with a kitchen knife in an attempt to stab them. According to Lieb, "Weand took command and tactically orchestrated a perimeter while arranging via phone for the teenagers and their grandmother to safely exit the house. Upon verifying that all victims and innocent bystanders were out of the house, Weand and her officers attempted to order the suspect out of the home, but he refused.
"Recognizing this as a single-person barricade with a suspect who posed no additional imminent threat to himself or others, Weand properly de-escalated and tactically repositioned her officers away from the house." Professional services were provided to the victims and their grandmother; as for the grandfather, police arrested him, several days later, without incident.  
"It should be noted that, following critical events and priority calls for service, Weand ensures that her squad conducts thorough de-briefs and identifies areas for improvement," wrote Lieb. "She also routinely praises her officers for superior conduct and fosters a family-like environment on her squad."  
Exemplifying this attitude, Weand and her officers volunteered to oversee the Sully District Station's holiday-decorating efforts in both October and December 2021. "She sacrificed her off-duty time to ensure that the roll-call room was well-decorated and provided for a festive environment for all personnel to enjoy," wrote Lieb. "Due to her efforts, the Sully District Station was awarded by [County Police] Chief [Kevin] Davis with a pizza party, as winner of the Halloween decorating contest."      
Finally, concluded Lieb, "It is with great pleasure that I nominate 2nd Lt. Weand as Officer of the Fourth Quarter, 2021. I know you share in my appreciation for her reliability as part of our leadership team. Thank you in advance for your consideration of this nomination."    
After the presentation at the CAC meeting, Weand – who joined the event via Zoom – said, "Thank you very much for this honor. It means a lot to the officers when we're recognized."