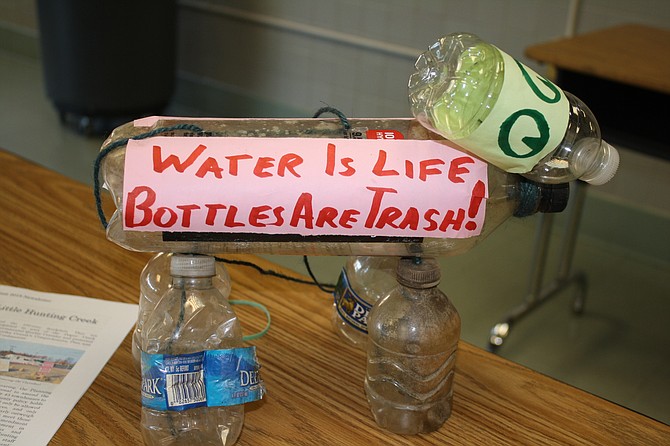 The Climate Projections Report was recently released by Fairfax County, and the look ahead to the extreme heat, heavy precipitation and inland flooding was part of a potentially bleak future. Rising sea levels would impact the parts of the county right along the Potomac River, and the Mount Vernon District might be the first to experience this.
According to the report, there could be a water level rise by 2050, and by 2085, the higher scenario suggests that most days of the summer will reach temperatures of or above 90 degrees.
On Page 30 of the report, there is a map with colors representing surface temperatures from 2013-2021. In the Mount Vernon area, for example, the path of Richmond Highway is dark orange where the daytime summer average surface temperature is 126.95 degrees. They call that an urban heat island. "This suggests those areas currently experiencing hotter temperatures are at particular risk over the coming century," the report says. On the other end of the spectrum, the lower surface temperatures are in blue. On the map, the areas in Mount Vernon that are blue are the Huntley Meadows Park and Fort Belvoir area that are somewhat forested.
A county program called "Resilient Fairfax," is geared toward climate change, and bouncing back. That effort is spearheaded by Supervisor Dan Storck (D-Mount Vernon) who is embracing Fairfax Green Initiatives. "I directed the county to create a resiliency plan to address all resiliency issues in the county, to include water levels rising on the Potomac River and the many streams and creeks in our area. This Climate Projections report is part of that process," he said.
Residents near the water and throughout the district have already taken steps to safeguard their properties. "Some residents have begun installing natural shorelines and bulkheads to preserve their properties, but more will need to be done and the Resilient Fairfax plan is anticipated to make specific recommendations for future actions. In addition, the county is now requiring any new construction in New Alexandria to be elevated," Storck said.
Study Cites Particulars
One section of the county study called "Coastal Flooding," and on their map, it is projected by 2050 some parts of Mount Vernon could be impacted, such as the Little Hunting Creek area and Dogue Creek. Communities in that area that are part of the maps highlighted areas include River Village and the Mount Vernon Yacht Club near Dogue Creek, and the communities along Stockton Parkway, Stratford Lane and Wagon Wheel Road. Further north, the Dyke Marsh and Belle Haven Marina could be in trouble.
It's a concern in other jurisdictions in Fairfax County as well. The Fairfax County Office of Environmental & Energy Coordination, is working to address both the cause and the effects of climate change by reducing contributions to global greenhouse gas emissions that collectively feed into climate change. Emissions reductions are a global group project, but the county is working to do its part, OEEC said. These efforts are detailed in the Community-wide Energy and Climate Action Plan (CECAP) which includes recommendations such as transitioning to renewable energy and cleaner transportation.
In the report, they looked at four extreme events between 2010 to 2019 that were destructive and had big county-wide financial impacts:
* The North American Blizzard (2010) resulted in a $2 million loss
* Tropical Storm Lee (2011) cost the county $10 million in repairs to bridges and roads
* Hurricane Sandy (2012) cost the county more than $1.5 million
* he July 2019 rainfall/flooding event led to costs of $14.8 million, of which $2 million were damages to Fairfax County Government property
Developing and implementing a plan allows the county to avoid economic, social, and environmental risks associated with climate change, the county said.

Fighting Climate Change at Home
According to the EPA, there are steps that residents can take to fight climate change, but some seem to have a dollar figure attached which are additional expenses to the daily budget. The EPA's recommendations include Energy Star appliances, sealing windows, upgrading heating and cooling systems, including simple measures like smart thermostats, the EPA said. For low-cost solutions, the EPA recommends adjusting thermostats and turning off lights when space is unoccupied, unplugging electronics when not in use, using Energy Star LED light bulbs, adjusting window shades to reduce heating and cooling requirements, and installing programmable thermostats.
Waste disposal is another area the EPA says will contribute to reducing global warming. Reducing food waste by shopping smart, plus reusing or repurposing items may reduce an individual's impact, the EPA said. 
In the transportation field, the EPA says to use greener transportation such as biking, walking, carpooling, and public transportation. 
"Cutting your shower time by even a minute can help save gallons of water," the EPA said.