It is common practice in large corporations and government for newly appointed department heads to select their preferred immediate staff. If you are the newly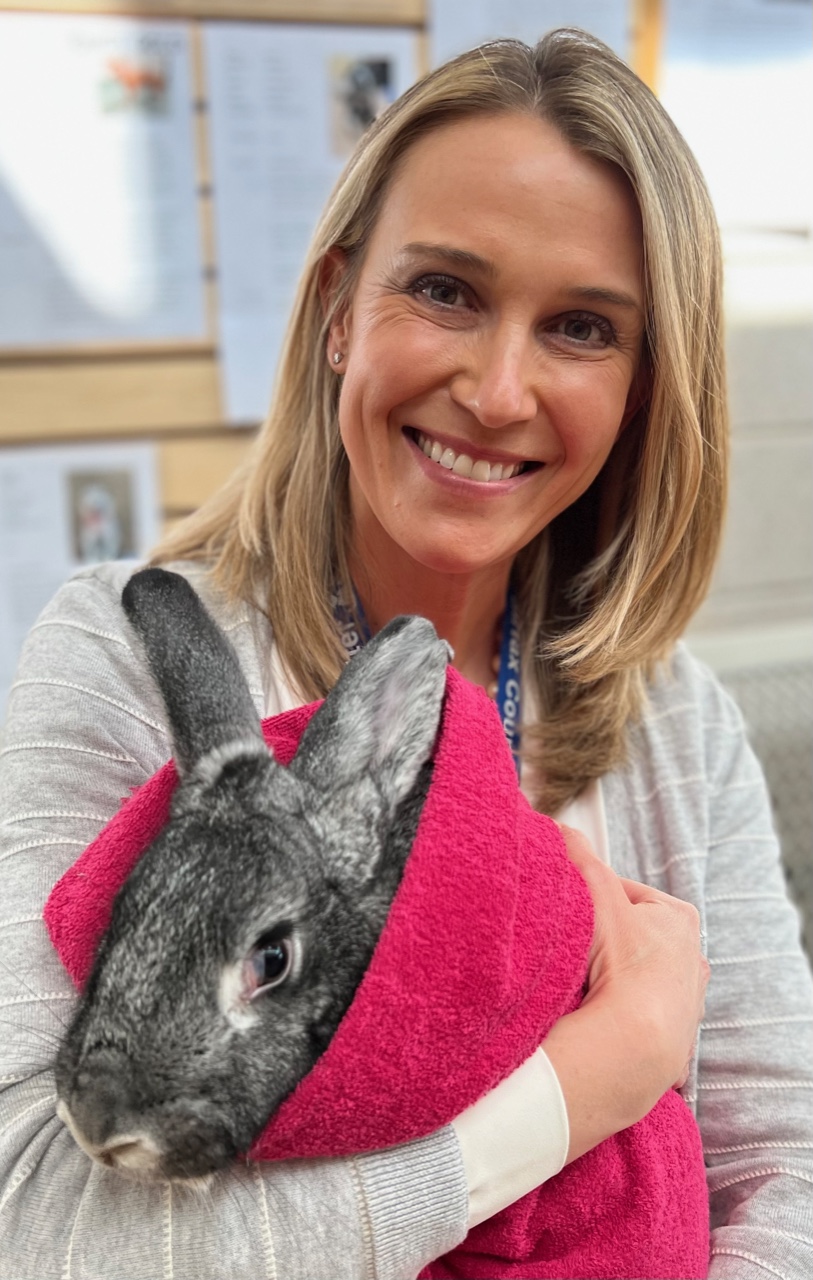 appointed head of Fairfax County's Department of Animal Sheltering, your staff selection just might be of the four-legged, furry variety. Meet new director Reasa Currier, J.D., and her newly appointed assistant, Gandalf, a rabbit. Currier, and Gandalf, who took their positions on Jan. 31, head Fairfax County's only municipal animal shelter, located at 4500 West Ox Road in Fairfax.
Currier learned about animal care as a young girl, developing a passion for their welfare with early exposure at the side of her grandfather, a hog farmer and large animal veterinarian. Her family often made a home for animals abandoned by others; the three legged and the one-eyed, leading Currier to know animals "would have a huge role in my life." Working in animal welfare for most of her career, her first job was advocating for Arizona's Humane Treatment of Farm Animals Act in 2006. Under Proposition 204, Arizona became only the second state to ban the use of gestation crates for hogs; passing with a wide majority of 61 percent of the vote; assuring that pregnant pigs be confined only in ways that allow the animals to lie down, stand up, fully extend their limbs and turn around freely for the majority of the day. Ten states now ban the use of hog gestation crates and many food companies have voluntarily given up the practice under the pressure of public opinion.
Currier comes to the county from the Humane Rescue Alliance, established in 1870 by Congress to care for animals in the D.C. area. Previously, Currier worked for the national animal advocacy organization, the Humane Society of the United States (HSUS). There she worked on areas of systemic cruelty: factory farming, puppy mills, the wildlife trade, and animal fighting. She also was a founding director of Humane Dominion, a non-partisan political action group formed in 2012, which analyzed animal welfare voting records for Virginia legislators, promoting the campaigns of those strong on animal welfare support.
As Currier takes the county shelter reins, or perhaps more aptly, the shelter leash, she will find a modern, relatively new shelter building, complete with a surgical unit; outside exercise runs and play areas; and separate dog, cat, small mammal, in-take and quarantine sections; with robust volunteer and foster programs; and which offers low cost rabies vaccine clinics. The shelter has boasted a consistent live release rate of over 90 percent since they started tracking this metric in 2013. 
Looking ahead, Currier wants the shelter to "be a resource for all things related to animals; not just for caring for homeless animals and helping them find homes, but also to provide resources to keep pets and their people together."  Resources may include information on pet friendly housing, affordable veterinary care, and behavioral and training support.  Under the "One Fairfax" lens, she says, such support will deepen the shelter's relationship with neighborhoods where there are "pet resource deserts." And since transportation to the shelter may not be available to all, she expects future events to target neighborhoods on site with additional grooming, pet food, and basic medical care. Her goal? "Help to keep animals with their people. The shelter should not be a place of last resort."
The shelter's success depends on animal fosters and shelter volunteers to supplement an able, knowledgeable staff, Currier says. She expects to ramp up the volunteer program again this summer, following their Covid pause. The shelter especially needs additional fosters during the summer kitten season. Also after recently accepting dogs from the Korean dog meat trade, they need volunteers to spend time with fearful dogs who need a chance to acclimate before adoption. 
Next year, the department will add a second shelter, now under construction on Lorton Road in Lorton, to better serve south county areas; which also increases their need for volunteers.  
Office assistant rabbit Gandalf remained quiet through our interview, moving calmly around his designated portion of the office. A Chinchilla rabbit, he is a member of one of the largest rabbit breeds, known for their mild manners and gentle dispositions. Although sharing an office now with Currier, his plans include hope for retirement to the ease of an adopted home, perhaps taking on the role of experienced home office assistant. We are not sure what skills Gandalf brings to his position beyond impeccable litter box training, and being super cuddly. If one considers 'hiring' him, it should be said that Gandalf fits the expression, "doesn't work for peanuts."  He works for blueberries.   
Readers looking for more information about adoption and other shelter services can find it and view adoptable pets at 
www.fairfaxcounty.gov/animalshelter
.