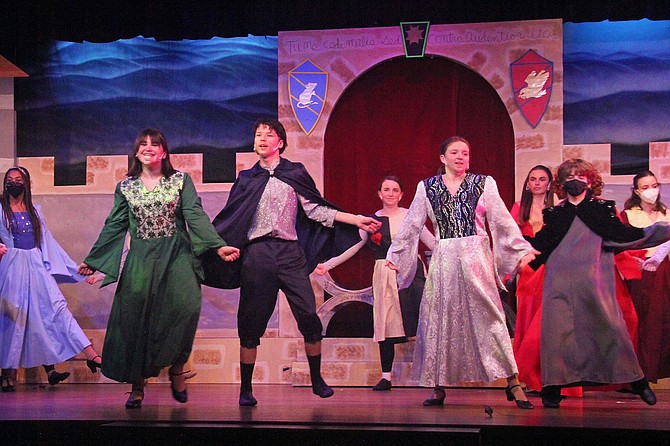 Many moons ago in a far-off place, Queen Aggravain decreed no couples could marry until her son, Prince Dauntless, found a bride. Can Winnifred the Woebegone, a simple swamp princess looking to win the heart of Prince Dauntless, pass the impossible test Queen Aggravain has in store for her?
Such is the tale of Once Upon a Mattress (Youth Edition), an adaptation of the beloved musical designed for young performers and running Jan. 14-23 at Aldersgate Church Community Theater.
"We thought really carefully about what show would work during COVID," said director Julia St. Pierre. "We wanted a musical but needed to limit it to 21 kids. We needed to find a fun show that had a small ensemble and 'Once Upon a Mattress' really met all the elements we needed. It has great characters and a fun fairy tale theme with a twist that makes the show irresistible."
With music by Mary Rodgers, lyrics by Marshall Barer, and book by Jay Thompson, Dean Fuller and Marshall Barer, the much-acclaimed musical was the right fit for ACCT as the company returned to live performances.
"It was important that we get started after having to be dark since early 2020," said St. Pierre, who also serves as music director. "ACCT is such a community and carrying on the tradition and children's program was so important to us."
Cody Yeatman plays the role of Prince Dauntless.
"Dauntless is a prince but not really what you would think of when you hear the word 'prince,'" said Yeatman. "He's more of a puppet figure for his mother but he doesn't know that he's a puppet. He's like a little kid in an adult body. Blunt, naive, and very open with his emotions."
Maggie Campione takes on her first lead role as Princess Winnifred.
"Princess Winnifred is from the swamps and not what you expect from a fairy tale princess," Campione said. "She is very loud, strong-willed and passionate. But she is also extremely kind and cares about all those around her. Unfortunately, though, the queen despises her."
The show opens Jan. 14 and runs through Jan. 23 in the Wesley Hall of Aldersgate United Methodist Church at 1301 Collingwood Road in Alexandria. Tickets are $15 and a COVID-19 policy requires a mask at all times while inside the UMC building. Seating will be socially distanced.
"I hope that audiences will have a good laugh and simply enjoy themselves," said Lauren Allen, who plays the Queen. "We have been missing live theater for nearly two years now, so if they leave with half as much of the joy and excitement that we have felt being able to perform onstage in front of a live audience again, then the show will have been a success."
For tickets or more information, visit
 www.acctonline.org
.