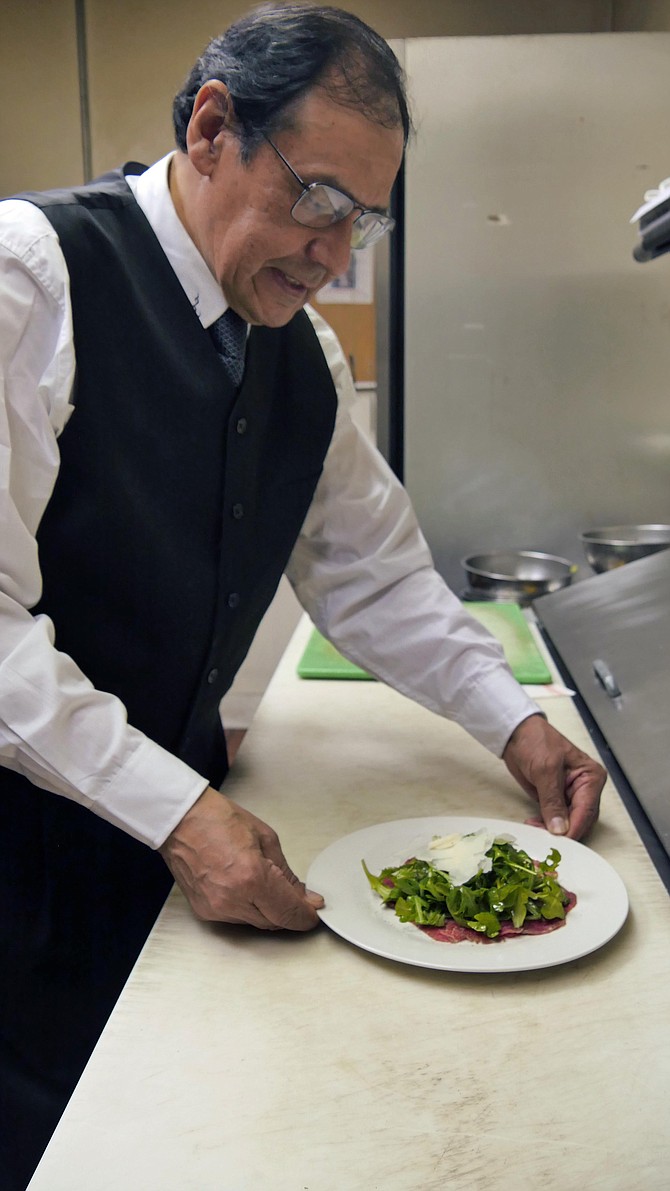 The front door of Café Oggi on Old Dominion Drive is locked, the chairs stacked against the wall with plates scattered across the kitchen counter.  After 30 years on Old Dominion Drive in McLean, Café Oggi has closed its doors.
Renato Scozia says when he opened Café Oggi 30 years ago there were very few restaurants in McLean "and none like ours, a neighborhood restaurant with fine dining." He says, "I knew you had to start with a concept or you're like a ship in the ocean trying to find a port." Oggi means "today" in Italian. "I wanted to do what restaurants were doing today in Italy." Although Scozia remembers the first customer walked in and said, "You must be Mr. Oggi."
Scozia says that his customers in McLean expect a certain level of quality and service. "They are willing to spend more money but they want more for the dollars they spend, better service, higher quality food." He says his customers over time have been willing to try new things. "It used to be they didn't know risotto with porcini mushrooms." 
He says he tried ostrich at one point to see how the customers would react but it didn't sell very well.
"We've introduced limoncello cream and agnotti served with different ingredients." He says Café Oggi made all of their own pasta. "A nice dish of pasta is my favorite thing, like the way we do our ragu. It's an acquired taste." 
But Scozia says times have changed for small restaurants. "We don't make large profits. People don't understand that. We count pennies, watch everything we do." At the same time they had to guarantee a certain quality.
This made Covid an even bigger challenge for Café Oggi. "We reopened after four months and did curbside but not much because our food is good when it is served fresh. It needs to be plated. Our customers expect a certain quality. We didn't want people to say 'what happened to the food we remember?'" The business dropped to 20-25 percent of the usual.
Scozia will miss his customers. "Many of them have been coming since day one." He says, "I had a lot of important people over the years. When they mentioned our restaurant at General Colin Powell's service recently, all of a sudden everybody wanted to be here. They wanted to know, what was his favorite meal? Of course I kept all details of customers confidential." And he adds, "I treated everyone like a dignitary here." 
He says he has told them he will try to stay in touch.
Scozia said he had been thinking about retirement for a while but Covid helped make his decision. "At my age I wasn't ready to make a new five-year lease commitment. He says it's sad but he has to accept the reality of retirement. "I'm looking forward to reading a book and watching a movie."
He says, "It can absorb you 24 hours. There are a lot of details." He adds, "Every morning you wake up and something happens with no rhyme or reason. It gets in your blood."
Just a day before it was late afternoon on New Year's Eve. Café Oggi was filling up with diners who had come to celebrate their last dinner before Café Oggi closes its doors for the last time after 30 years.
Phil and Joan Currie sit at their corner table. She has ordered the beef carpaccio followed by mahi mahi while Phil is waiting for the agnolotti followed by Dover sole. "They bring the whole fish and bone it at table side," Joan explains. The Curries have been coming to Café Oggi at least once a month for 25 years and agree they will be sad. "We don't know where we'll go."
At a table nearby Roger and Maggie Abbott are toasting the New Year with a glass of champagne. "You can't celebrate the New Year without a glass of bubbly," Roger says.  He has been coming here for years with his grandmother since the 90s when he was a child, and the whole family came together. "My mother worked at the Italian Embassy. That was the connection." While Maggie ordered the cannelloni, Roger ordered the osso buco. "It is delicious but a pretty heavy meal so we ordered the sorbetto di limone for dessert. "They serve it in a parfait glass with limoncello. It's nice and light."
At a round table in the middle of the room Merle and Fred Schneider are celebrating with Fred's sister, Jackie Quigley. "Yes ma'am, we are regulars." Fred remembers their tradition goes back 25 years to when he used to accompany his mother to three martini lunches. "She would drink and then give me the keys. I was her designated driver." 
They are still deciding what to order for the last dinner. "In truth we could eat anything on the menu. It is that good," Merle says. They discuss beginning with the calamari. "It is to die for."  
Quigley agrees, "It's really nice." Then maybe the fresh pasta with lobster or the osso buco.  Merle says, "This place has been our mainstay.  We come here for birthdays, holidays. We told Renato we don't know what we will do. He just looked at us. He didn't know what to say."