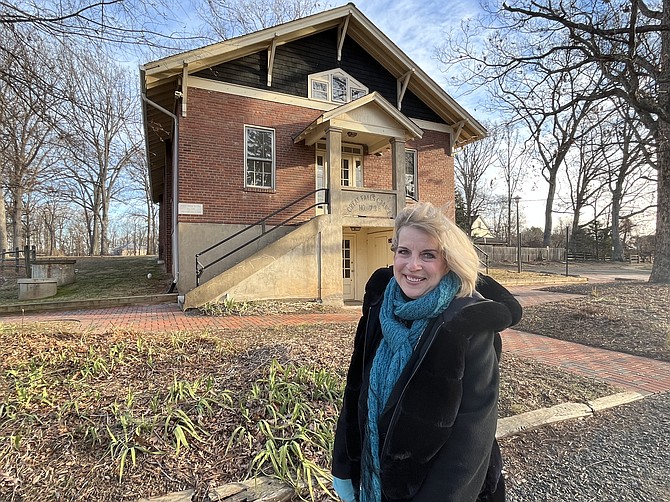 The United States Senate confirmed Elizabeth Moore Aubin as the United States Ambassador to Algeria on Dec. 17. The Great Falls native, an alumna of Fairfax County Public Schools Langley High School Class of 1983, and career Foreign Service officer departs for her post in Algeria on Feb. 1. Ambassador Aubin served as Embassy Algiers' Deputy Chief from 2011 to 2014.
On Saturday morning, Jan. 15, the wind was blowing and the temperature was hovering at 23 degrees. Aubin met with this reporter for a COVID-19-distanced interview at a well-known local landmark, the Great Falls Grange on Georgetown Pike.
The interview is lightly edited for space and clarity. 
Q: I understand a teacher's words inspired you and led you to a career in Foreign Service. Tell me more.
A: Paul McKendrick was my journalism teacher at Langley High School, and he saw something that I didn't know was there in me in terms of leadership and managing projects. 
Q: What year were you in school?
A: I was in the class of 1983 at Langley High School. This was probably the spring of '82, and I didn't really have any clue there was a big world out there. Obviously, Langley has students that are very international and traveled, but I didn't really understand what skills or abilities I had and how that fit into the larger world. I knew I was very interested in international things, but I didn't actually know what that meant. 
McKendrick took me aside and said, "You need to be the managing editor of the Saxon Scope." I was like, "what? I don't even know what that means." He talked to me about what was expected and why he thought I could do it. I had a great year being the managing editor. It showed me that I could manage interpersonal relations. I flourished in that role, and McKendrick helped me see that I had the leadership skills and abilities that could translate into something in life.
Q:  Can you describe your foreign service career?
A: I got into the Foreign Service when I was 24 years old, about a year and a half out of school. I graduated from Barnard College of Columbia University in New York City and worked in New York. Then, I was working in D.C. I was going through the Foreign Service exam process, security clearance, all of that to be a Foreign Service officer because I still had this love for international things. I had taken French all four years of high school and all four years of university. I wanted to be able to use that in my life. 
The minute they offered me a position; I took it. I had just turned 24, and my first position in the Foreign Service was doing consulate work.
Everybody does visas and American citizen services. In many ways, that is the backbone of diplomacy because you have to learn how to make a judgment about someone. Do they meet the requirements under the law to get whatever kind of visa they're seeking? And you have to learn how to say no, really delicately.
You need to deal with Americans in all kinds of crisis situations. My first posting was in Curacao in the Dutch Antilles, the middle of the Caribbean Sea. You would think, oh, idyllic- the beach, the sun  But a lot of people got themselves into trouble and not always on the island of Curacao. I was responsible for all six Dutch islands for consular services. That was Aruba, Bonaire, Curacao, Sint Eustatius, Sint Maarten, and Saba. And Americans, unfortunately, had drowning accidents, motorcycle accidents, car accidents, all kinds of things that happened. People got themselves incarcerated because they were carrying drugs. You have to learn how to deal with urgent situations with distraught family members.
Within one week of being at a post, I had to call a family and tell them that their father had passed away. That's not something I think you can ever prepare a 24-year-old for doing.
I've had a great career in the Foreign Service, 32 years in March. 
I've been in the Caribbean, in Rome, Italy and I was back here domestically working for the Secretary of State and Operation Center. I did the last two trips for Secretary of State Warren Christopher and 35 trips for Madeleine Albright.
I went to Hong Kong and then back to Washington again. 
I was in Toronto on Sept. 11 that is how I met my husband. He was with the Royal Canadian Mounted Police as the tactical commander. Their team was there because they thought something could happen in Toronto potentially. He had grown up with parents in the Canadian International Development Agency, so he knew the whole international life. As we got to know each other, it was a great fit, and we got married. He became an American citizen and has come with me ever since. 
I was in Brussels at our U.S. mission to NATO. I served in Tel Aviv,  Israel, and I was in Algeria as the number two there from 2011 to 2014, eight years ago. 
But it never dawned on me I would ever return to Algeria. 
There's a neat story about that because while I'm not a big dream person, I had a dream about a month after I left that I'd left something important there in 2014.
In my dream, I went back to figure out what I could have left because something was bothering me. I walked into the residence I had on the ground floor, and the rooms were filled with people. I realized that what I'd had to leave were all these fantastic Algerians that I'd met, and I couldn't take them with me. I had to leave a piece of my heart there.
Now, eight years later, I get to go back and be reunited with these fantastic people and meet more Algerians. They are warm and hospitable, and kind. It was a country that impacted me.
We don't have a great understanding of each other. There are only 1500 Americans maybe who live in Algeria. We believe 50-to-60,000 Algerians live in the U.S. It's not like Western Europe or Latin America, where there's lots and lots of interaction.
Q: What do you hope to accomplish as Ambassador to Algeria?
A: I hope as ambassador to help increase the understanding between our two countries so that we can work together even more closely.
Algeria has strategic importance on NATO's Southern flank. They are very capable partners for regional stability and counterterrorism. The youth are fascinated with American culture and want to learn English. That's an opportunity I hope to make the most of when I'm there.
Q: In the last section, you gave a nod to what you're looking to do. Is there anything more?
A: There are residents of Great Falls who have business interests in Algeria. The other thing that I want to do is help American businesses who want to invest in Algeria's diversifying economy. Algeria is moving out of simply oil and gas extraction into much wider manufacturing and all kinds of other renewables. I've already met with a Great Falls-based business that has an investment in Algeria.
I will continue to help span the economic development and diversification across the continent as well as continue to create jobs right here in the United States because that's what diplomats should be doing. You need government advocacy to help the U.S. solution, to be given a level playing field.
Q: Are you able to give me the Yellow Page headline of this company? Is it agriculture?
A: Yes, it is agriculture which is interesting because Algeria used to be the breadbasket of the Roman Empire. There's enormous potential for agriculture in that country.
Q: When you land, and you set your foot on the soil, what is that immediate feeling going to be?
A: It's going to be exhilarating and exciting. And it's going to be a lot warmer than it is here right now. Algeria is on the Mediterranean, a much milder climate than we're experiencing in Virginia today. I leave on Feb. 1.
Q: Are you ready to go?
A: That is always tough. No matter how many times I've moved in the Foreign Service, it's always hard to sort, put yourself in a couple of suitcases, most of your stuff in storage, take a few things with you, and just go. I've never found that to be an easy process.
Q: How long is the service assignment?
A:  When you're an ambassador, you serve at the pleasure of the President. Normally for career officers, it's around three years.
Q: As you lift off flying out of Dulles International Airport, what will make tears come to your eyes when you look down?
A: I always leave family and friends behind. That's always sad and difficult. As I get older, those I'm leaving behind are also older. Time goes by quickly when your life is divided into two and three-year postings. You realize the things that you will miss, births, weddings, and deaths and all the events that happen in someone's life with whom you are close. If you're not geographically present, you miss something from that.