Two important online meetings are set for Jan. 27 and 29, and their outcome could affect area residents' quality of life for years to come. That's because the Fairfax County Board of Supervisors is contemplating making it easier for developers to construct homes in areas once designated as off limits for residential homes.
On July 28, 2020, the Supervisors authorized a Comprehensive Plan amendment to consider locating residential uses between the 60-65 decibel-level airport noise contours. They contend that doing so will enable more affordable housing to be built here – even though just a small percentage of residential projects is actually set aside for affordable dwelling units and workforce housing. 
The Supervisors' action was taken over the vehement objections of many residents, land-use and environmental groups and the Metropolitan Washington Airports Authority (MWAA). They objected because the Supervisors were approving developers' plans to build large, residential communities in Land Unit J – the Westfields area of Chantilly directly underneath noisy and heavily used flight paths of Dulles International Airport. 
In 2019, MWAA updated its noise-contour map delineating aircraft-noise decibel levels (DNL) in Westfields. But the Board of Supervisors chose to deny the new map's existence, thereby giving developers free rein to construct homes there based on MWAA's outdated map from 1993.
As a result, people considering buying homes, for example, in the Boulevards at Westfields community will be told about their homes' proximity to the airport and that planes will be flying overhead. Based on the 29-year-old noise contours, the developer is able to say that residents there will be living in an area between the 60-65 DNL noise contours. But according to MWAA, that still doesn't change the reality that almost all of this project is actually in the 65 DNL contour – which MWAA deems too noisy for human habitation.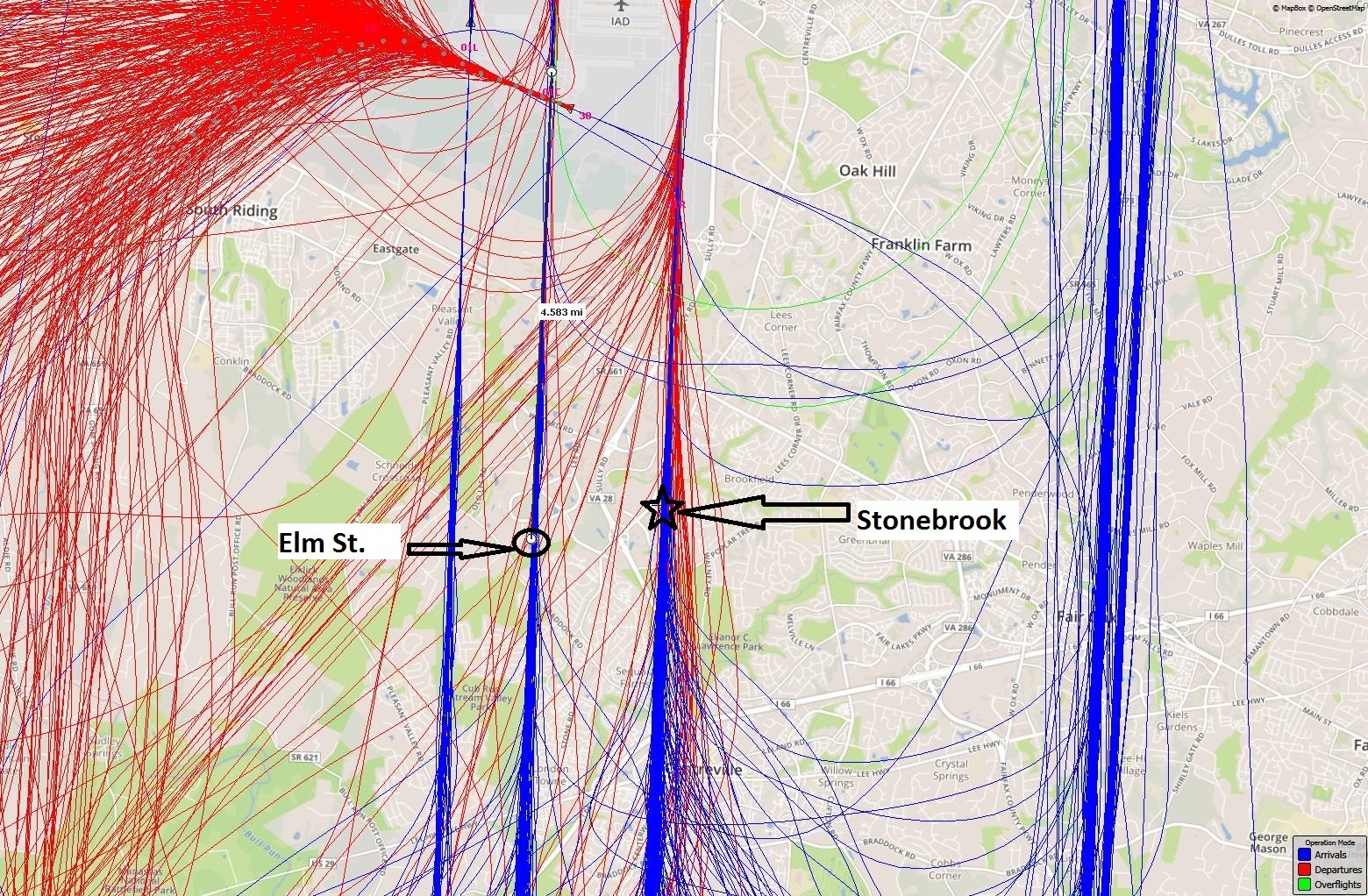 In fact, on July 21, 2020 – exactly one week before greenlighting the Comprehensive Plan amendment now under consideration – the Supervisors finally dealt with MWAA's updated, aircraft-noise contours data. They did so at a meeting of their Land-Use Policy Committee – chaired by Supervisor Kathy Smith (D-Sully) – the supervisor in whose district three developers wanted to build 734 new homes.
But they couldn't do so if the new contours were adopted – because all three projects are in Land Unit J, which had always been recognized as verboten for residential construction because of its extreme noise levels from the airport. So at that meeting, at Smith's urging, the Supervisors decided to keep ignoring the updated contours and using the expired ones, instead.
"We ought to adopt the 2019 contours," said Supervisor Pat Herrity (R-Springfield). "To pretend they don't exist is a mistake." 
But Smith disagreed, and she had enough support from the other supervisors. She also refused to allow the admission of any information which might have changed anyone's minds.
Although the meeting was online, Michael Cooper, MWAA's manager of state and local government relations, attended it in person, hoping to shed some light on the issue. Herrity acknowledged his presence and wanted him to speak, but Smith said, "We're not going to do that…I'm the chairman."
The county later approved the three, new residential projects in Westfields:
* Elm Street's 158 homes will be located directly underneath the main, center runway of Dulles for arriving flights. Said Cooper: "Their frequency is generally 30-60 seconds apart – and this flightpath is just 1,300 feet above [residents'] heads."
* Boulevards at Westfield will bring 442 homes to a site where noisy, jumbo jets will fly overhead 24 hours/day, and land every 6-9 minutes.
* Stonebrook's 134 homes will have overhead flights lower than 1,000 feet above them.
Regarding Boulevards, Richard Dei Tos, executive director of the Metropolitan Washington Airlines Committee, called placing homes under Dulles flight paths "an unmitigated disaster which is entirely avoidable. It's simply bad public policy to allow residential development under a runway."
A 25-year engineer and senior executive at the Federal Aviation Administration (FAA), Clyde Miller said, "The best way to cripple an airport is to allow residential developments to encroach. When that happens, noise-disclosure documents are a flimsy attempt to rectify an obvious mistake, and they fail the test of time. 
"Sooner or later, the affected residents grow weary of the noise, pressure grows for the airport to 'do something,' and shortsighted politicians find a way to curb airport operations. The FAA has more than 70 years' experience managing airport-noise impacts on communities. What local jurisdiction would presume superior expertise?"
Stonebrook residents will be the most affected by aircraft noise. Besides townhouses, it'll have 110,000 square feet of open space – where children will experience the noise full blast from jet planes flying just 950 feet above them, 24 hours/day.
The FAA says homes shouldn't be built there because MWAA's updated noise contours place that site clearly inside the 65-70 DNL contour, with a day/night average decibel noise level of 65 decibels and above. But by using MWAA's old 1993 contours, the developer can claim it's below 60 DNL. The homes will supposedly not exceed interior noise levels of 45 DNL, but opponents wonder whether residents will be able to open their windows or enjoy their yards with the constant, low-flying, overhead jets. 
Before Stonebrook's approval, retired Air Force pilot Keith Meurlin, president of the Washington Airports Task Force and former Dulles Airport manager, asked the Supervisors why the county would "invite the ire of its residents when it can be avoided?" He also warned of possible danger, stressing that "The most hazardous phases of flight are right after takeoff and before landing."
And in Sept. 16, 2020, Cooper wrote to the county Planning Commission that "County staff have been instructed to regard this location as being within the 60-65 DNL noise-contour area when, in fact, it's within the 65-70 DNL – where the FAA would regard aircraft noise as being 'highly annoyable' for incoming residents."
Furthermore, he added, the residents would likely complain to the county to ask the FAA to limit nighttime flight activity at Dulles "to protect residents of homes that were built in noise-sensitive areas where MWAA and the FAA recommended against new residential development."
"This outcome would certainly adversely affect Dulles and its contribution to the local economy," continued Cooper. "This would be a significant and unfortunate departure from the county's longstanding practice of keeping new residential development away from areas impacted by excessively high levels of aircraft noise."
But both Meurlin's and Cooper's words fell on deaf ears – as did the objections of other groups and individuals – and in November 2020, the project got the go-ahead. And now, if the new Comprehensive Plan amendment is approved, it would enable even more homes to be built in similar areas, throughout the county.
The Connection contacted Smith for this story, asking her to explain why, as Sully Supervisor, she believes the county's new amendment should be adopted and would be beneficial to the county. She did not. 
Instead, she replied: "Most [U.S.] localities, including [Fairfax and] Loudoun County, allow residential uses in the 60-65 LDN noise contours with noise mitigation and notification procedures. Although [this] would be a county policy, the only adopted noise contours are for Dulles Airport. By adopting a change to the Comprehensive Plan, this language would be implemented countywide."
However, Loudoun's supervisors don't share her views on the newer noise contours. In February 2021, they unanimously approved a plan to redraw that county's noise zones around Dulles Airport, since they guide Loudoun's development policy and real-estate disclosures. 
The news website "Loudoun Now," reported that, "Based on the airport's updated noise contours, Loudoun County is amending its Comprehensive Plan to update policies related to [its] Airport Impact Overlay District." 
"The new contours are driven by science, by where the noise is currently and where it's projected to be as the airport grows," said Supervisor Matt Letourneau (R-Dulles). "We do this so we don't have issues down the road." Loudoun is expected to approve the new, airport-noise maps this May.
Meanwhile, on Monday, Jan. 17, the Sully District Council/West Fairfax County Citizens Assn. (WFCCA) Joint Land-Use Committee approved a resolution to be sent to Fairfax County. The committee again stated its strong opposition to "further delays by the Supervisors in adopting MWAA's updated noise contours, while significant land-use applications affected by [these] contours continue to be reviewed and approved, ignoring the best scientific data available, using outdated noise contours from 1993."   
The committee also opposes "the further weakening of Fairfax County environmental policies to facilitate approvals of new residential development on inappropriate sites impacted by airport noise." And it requested written disclosures to prospective homebuyers, including potential health and safety risks, plus a legible diagram depicting flight paths' proximity to [their] development.
The Supervisors have scheduled two virtual Community Open House meetings this month to allow the public to learn more about the amendment and ask questions. To attend either of these meetings and/or comment on the proposed amendment, click on the corresponding Meeting Access Links below to join on the day of the meeting.
*The Thursday, Jan. 27, meeting is at 7 p.m. To attend, click on: https://fairfax.webex.com/fairfax/j.php?MTID=m28a95c4d8a3f3bbc0c3d385f1c8c04eb
* The Saturday, Jan. 29, meeting is at 11 a.m. To attend, click on: https://fairfax.webex.com/fairfax/j.php?MTID=ma1c1f4d2f96e75e794740a9b80a74bbe
For details about the proposed amendment, go to 
https://www.fairfaxcounty.gov/planning-development/plan-amendments/airport-noise-policy
.