2021 was a phenomenal year for the McLean and Great Falls residential real estate market. The number of sales in 2021 was up 16.5% over 2020 transaction levels and were driven by historically low interest rates, a strong labor market, changing housing preferences, demographic trends, and a continued bull stock market. The most pronounced growth took place in the upper bracket segment of the market with a staggering 30% jump in the number of sales from 2020 to 2021. The lower bracket segment grew by 6.2% which was primarily driven by a turn around in the condo purchase market in and around Tysons.
Covid jumpstarted the market in Spring 2020 and continued to impact housing preferences throughout 2021. Telework  has become a  permanent reality for many, providing the flexibility to live anywhere, and many buyers have prioritized more living space, both inside and out. Additionally, because of continued supply chain woes, most buyers want move-in ready properties and will pay a premium for new or fully renovated homes. This is evidenced by the $2.0-$3.0m and $3.0m+ price segments which saw a significant 122% and 64% increase in year-over-year sales respectively.
These numbers are in stark contrast to the more subdued growth in lower bracket segments. A large segment of the sub-$1.25 million market is in-fill lot sales and condo sales. As Covid fears surged, the condo market waned in 2020 and steadily recovered in 2021. Excluding Great Falls where there are no multi-family properties, more than half of the lower bracket sales in McLean were condos in 2021. In-fill buildable lots are increasingly hard to come by these days, causing upward price pressure for the new build market. Five years ago, a 1/3-acre lot, on average, sold for $750,000 - $800,000. Today, depending on location, we are seeing 1/3-acre lots command $1,000,000 - $1,300,000. 
Demographic trends also drove housing demand in 2021 and will continue to do so in 2022. Millennials, the largest segment of the US population, accounted for over half of new home purchase mortgage loan applications in 2021. Gen Xers are combining into multi-generational households and are finding they need more space, while many baby boomers are choosing to age in place or purchase a second home. 
Also noteworthy, Washington DC lost 2.9% of its population in 2021, which could mean that close-in suburbs like McLean and Great Falls absorbed some of these households. Couple these trends with the lack of housing inventory and the result is record setting prices in this market area.  
The good news is that while these demographic trends will continue, experts predict that home prices will appreciate at a slower pace in 2022.
The question on everyone's mind is what will happen to mortgage interest rates in 2022. The 30-year fixed conventional rate has hovered around 3%.  In response to inflation, the Fed has indicated tightening monetary policy which can include multiple rate hikes in 2022. In turn, most experts predict a rise in mortgage rates to 3.5% – 4.0% by the end of 2022. While a rise in rates may impact the rate of price appreciation in 2022, the good news is that even at 4% rates are still historically low. 10 years ago the average 30-year fixed rate was 4.45%. Also, unlike the 2008 financial crisis, today's lending guidelines are more rigorous and borrowers who qualify for financing have sound credit scores and financial profiles.  This phenomenon provides stability and certainty in the lending market
The McLean/Great Falls real estate market has done a complete 180 in the last 10 years. Sales are up 70% in 2021 vs. 2011. In 2011 the upper bracket market accounted for 25% of the market. Today it is nearly 50% of the market. People wonder whether these market dynamics are sustainable. Case-Shiller recently reported that the longest extended period of price appreciation in the US real estate market occurred from March 1997 to November 2006 which is 9 years and 8 months. The current expansion started in July 2012 and has not stopped since. This means we are still shy of the longest expansion and there is still room to grow.
If you are thinking of selling, now is the best time to prepare your home for the market to take advantage of low inventory and continued high demand.  Homes priced correctly for the market and in good condition have the best chance of commanding top dollar. If you are considering buying, consult with an experienced agent on how to navigate the 2022 market. There will be many great opportunities. Ultimately, time is of the essence.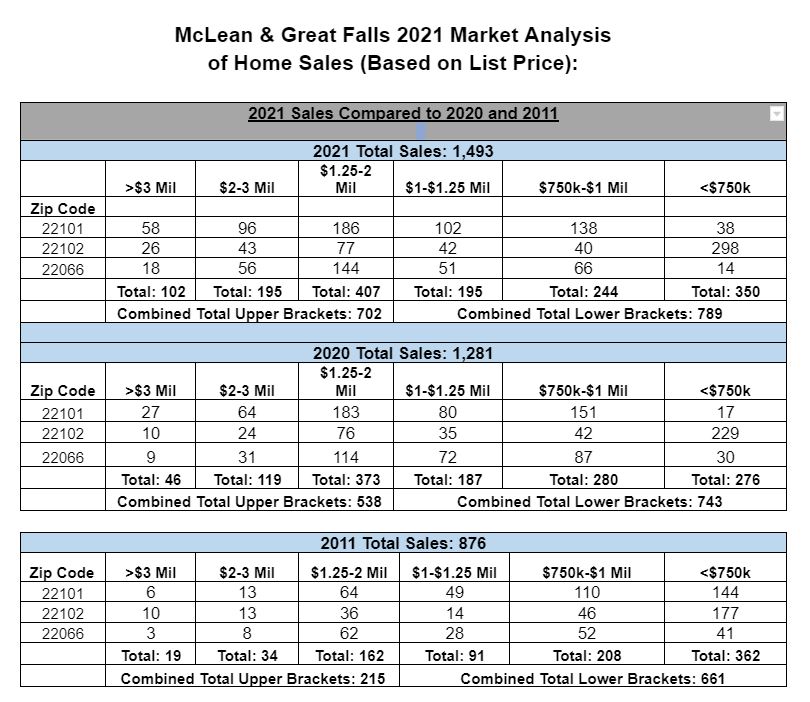 Karen Briscoe, Lizzy Conroy, and Jenny McClintock with HBC Group at Keller Williams are active and experienced Realtors in the Northern Virginia marketplace. 
www.HBCGroupKW.com
, 703-734-0192, Homes@HBCGroupKW.com.