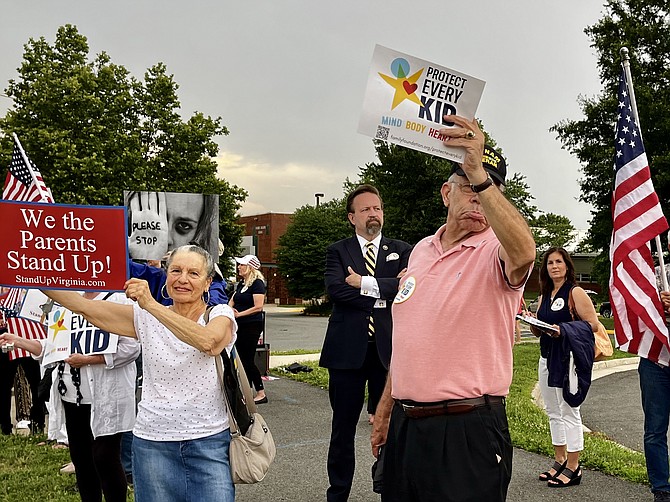 As the Fairfax County School Board prepared to recognize LGBTQIA+ Pride Month 2022 in Fairfax County during its June 16 meeting at Luther Jackson Middle School in Falls Church, what should have been a joyful FCPS Pride rally outside the school instead illustrated conflict and divide. 
Shortly after 6:30 p.m. and before the school board presentation, FCPS Pride and LGBTQIA+ students, staff, families, supporters, and members of allied organizations, held their celebratory rally outside the school. 
The LGBTQIA+ Pride Month Recognition reads: "In the spirit of One Fairfax, the Fairfax County School Board urges all to respect and honor our diverse community and to build a culture of inclusivity and equity, not only during LGBTQIA+ Pride Month but throughout the entire year as well … The urgency of its charge [is] to foster a responsive, caring, and inclusive culture where all feel valued, supported, and hopeful, and [to] advance policies that seek to protect LGBTQIA+ students and staff."
At 5:30 p.m. and continuing through the time that FCPS Pride rallied, a counter protest was also taking place.
Members of the Family Research Council and others gathered outside the school near the street's sidewalk. Individuals distributed information by the Family Foundation and carried signage by the Foundation and Stand Up Virginia.
At the counter-rally, speaker Sebastian Gorka said, "My effort is to stop the insanity and protect our children from the transgender extremists." Gorka is former deputy assistant to President Donald Trump (2017), and appeared in the media as a spokesman for the Trump administration. "The correct use of pronouns in a transgender environment is just one aspect of a much deeper, invidious, and, I would say, diabolical scheme. The transgender movement in America today is evil."
Retired FCPS teacher Robert Rigby, co-chair of FCPS Pride, called it, "A disturbingly grotesque counter-rally. 
"Individuals harassed the young FCPS Pride children and their parents, approaching within inches of a child's face; after being encouraged to move further away, they continued to talk about burning people at the stake," Rigby said. 
Speaker Stephanie Lundquist-Arora said she objects to the Student Rights & Responsibilities document regarding the misgendering and deadnaming of students. "It is a violation of the First Amendment rights," she said. 
Deadnaming refers to calling a transgender person by a name they have asked people not to use. 
The school board also adopted the Students Rights and Responsibilities that evening in its annual review. The changes reflected stakeholder engagement by staff, students, families, community members, advisory committees, independent parent and teacher organizations, legislative updates, and the proposed Trust Policy, staff said.
The SR&R is "a work in progress… It is not perfect," said Karen Keys-Gamara, school board representative at large, during the June 16 meeting. The Student Rights and Responsibilities document  undergoes review and approval by the school board annually. 
Keys-Gamara highlighted some changes, including cell phone use and some mandatory reporting to law enforcement would require ongoing advocacy. 
"And we clarified protections for student identities that allow our students to feel that they will not experience reprisal because of their identity," said Keys-Gamara. The new policy removes the phrase "intentionally or not" from the definition of deadnaming, "deliberately or accidentally" from the definition of misgendering, and adds the term "malicious" to the glossary. Malicious outing extends to citizenship or national origin, immigration status, and malicious removal of religious garb.