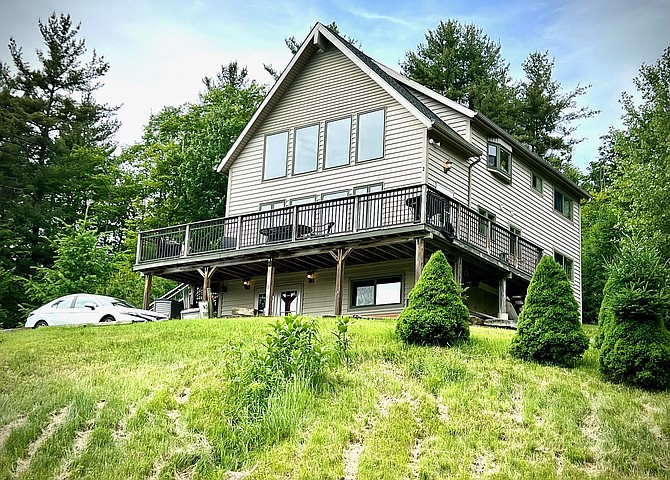 Last fall over Thanksgiving dinner, my siblings and I decided it might be time to take a trip to Pittsfield, Massachusetts to see our large extended family there. It had been too long, and none of us… or them were getting any younger. My remaining siblings, two younger sisters and brother, and I had grown up (if at a distance) with the sons and daughters of our 100% Irish mother's five sisters, all of whom remained in Pittsfield after Mom came to Washington during WWII.              
Should we drive or perhaps fly to Albany and rent a car to go to Pittsfield, about an hour to the east?  Better yet my sister, who also lives in Virginia, Fran and I decided to travel by Amtrak train to Albany—more relaxing and a similar travel time. I've always liked trains AND they're cheaper than flying!                
Fast forward to early June. We've arranged a Vacation Rental chalet in hilly woods east of Pittsfield for the five of us and we're off to Union Station to catch Amtrak's Northeast Regional to New York where we'll connect to Edgar Allan Express to Albany.  Union Station is easy to navigate – trains greet you right at street level – but it's aged badly and in need of major renovation. Still, it works. We're seated in pairs of comfortable lounge seats watching Washington (many backs of old buildings); Maryland's green fields, BWI infrastructure, rundown urban core of Baltimore; a brief pass at Wilmington, Delaware; a long stretch of fascinating older residential back streets of Philadelphia, Newark, and then southwest New York City.  From DC to New York's new (2021) Moynihan Train Hall wing of Penn Station, we had experienced a tour of the last 100 years in back streets through a lot of modest, lower income housing, the kind you find closest to the railroad tracks going through big city neighborhoods.
After an hour's pleasant layover, a sandwich and drink, we were on the Ethan Allan Express, heading for Albany, our last stop. We enjoyed the comfortable ride, about 2.5 hours, with a walk down to the dining/snack bar on the way. The scenery was dramatically different from the first leg. We had a lovely, wide Hudson River on our left and rolling green hills with occasional villages to the right. Then we were in the small, but attractive older Albany station. Up an escalator, 50 steps to the door and we were on the street hailing a taxi to take us to our rental car. Then it was an easy drive, 20 minutes to the Massachusetts border and 30 more to a quaint, hole-in-the-wall restaurant in Dalton for burgers and our first clam chowder!    
Then it was off to our chalet (see pic) in the forest where we'd spend the next week, the five of us, my two sisters and one brother-in-law. We started with an informal family reunion on the chalet's deck with 30 cousins from our generation and the next one. Reminiscing was the order of the day and would be for visits all around town for the week. I could almost see my Irish grandmother Londergan, my Irish mom and all five Irish aunts who never left Pittsfield—all long gone, but I swear it seemed like they were there with us all week. 
Pittsfield had changed a great deal from my younger days of growing up with all these folks, especially in the 1950s and '60s. Pittsfield in those days was a thriving town of 56,000 or so, with an economy driven by a huge General Electric manufacturing presence, along with Crane Paper Company and their plants on the Housatonic River.  In 2020, Pittfield's population had fallen to 42,514.  GE is long gone, leaving huge PCB residues and high cancer rates as grim reminders of its reign. Crane, which used to provide paper for US currency is gone, too.
We retraced our steps coming home, driving back to Albany to take the Empire Service south along the Hudson to New York City. In New York, it was off on the Northeast Regional down the urban corridor to Union Station and home. Again, it was a comfortable ride. We arrived home pretty relaxed. Train rocks!
It was great spending time and reminiscing with the extended family, many of whom we likely saw for the last time.  Perhaps some of them will still make a visit down here again.  In any case, we acquired another trove of good memories.