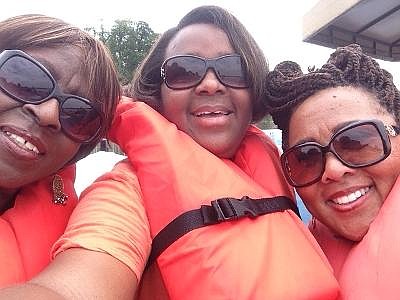 On June 16, my sister Diane would have celebrated her 70th birthday in living color with music, fun, and lots of great food in the backyard of her Atlanta-area home. She would have whisked herself to some exotic place afterwards, after all, she was far more adventure-seeking than I will ever be.
But instead of celebrating such a wonderful milestone, my sister, Diane Jones, is no longer with us. She passed on May 29, 2016, as a result of her painful journey with Uterine Leiomyosarcoma Cancer (uLMS). 
Diagnosed with this rare and aggressive disease in January of 2015, Diane never, ever stopped fighting. As her "baby" sister, I had the privilege of walking closely by her side throughout her fight. She was in and out of the hospital more times than I can remember and my countless trips to be with her, by any and every mode of transportation possible, were small inconveniences compared to what she was facing. 
Uterine Leiomyosarcoma Cancer shares the stage with other rare and aggressive cancers in the category of Sarcoma Cancer. These are cancers of the bone and soft-tissue with more than 52 sub-types. The funny thing is that when Diane was diagnosed, no one in the family had ever heard of these cancers. Yet, when it was all said and done, when her battle was graciously done, we knew more about Sarcoma cancers than we cared to at the time. 
We learned early on that uLMS is often misdiagnosed as fibroids, which was the case with my sister. She honestly thought that she was dealing with fibroids that had grown out of control in number and in size. The bloating, spotting and the fullness shortly after starting a meal did not ring any particular bells of concern for Diane or her doctor. 
She was scheduled for a partial hysterectomy in 2014 but Diane was waiting to take part in the Affordable Care Act beginning January 2015. By that time, what she and her doctor thought were fibroids "on steroids" turned out to be uLMS. It shook all of us to the core. I still and will forever remember singing to her in the examination room when she got the diagnosis. She cried and I sang. That's all either of us could do in that moment.  But that was just the beginning of many tears and songs. 
As her self-proclaimed medical advocate, I made it my business to make sure she was taken care of, that the doctors knew that this African American single woman was not alone, and that she knew and never had to wonder if her family was going to leave her to fight alone. That was not going to happen.
Staying with her during her many hospital stays became a lesson in not only how to speak the language needed to get the information we needed to help her, but it taught me how to make the day clothes become night clothes. On many days, there just wasn't enough time to begin fresh and ultra clean, because my many trips to her hospital bathroom after my overnight stays were for crying and praying, with little to no time to groom myself the way I needed to. Those were hard days. 
Six years later, the memories are still way too fresh even now. I still recall, after more difficult news, more throwing up and endless bouts of diarrhea, when Diane put her head on my shoulder, while we both sat on her hospital bed, and she asked me, "When will this ever be over?"
As time passed, her vitals began to shift. It wasn't long afterwards that her Sarcoma Specialist, Dr. Gina D'Amato, shared that Diane's time with us was short. Soon, both Diane and I found ourselves taking a ride to in-patient hospice in the hospital vehicle. I made a short video of that ride as I knew that it was the last time the two of us would ever ride together again. After a little over a week in hospice, she was transferred to at home hospice where we and other family members tried to get in as many laughs as possible. But nothing seemed that funny. That combination of laughter and tears is a strange cocktail. The tears seemed to win out every time.
On Friday, May 27, 2016, after having made the 13-hour train ride back to Northern Virginia and being home for less than an hour, I got a phone call that I needed to come back. Diane had taken another turn. In less than 24 hours, I was in Diane's bedroom with our mother and other family members. There she lay on her bed, looking nothing like the vision of energy and joy and fashion that we had come to know and love. She was quiet at that point and never uttered a single word, again.
How I miss her voice. Yet her life continues to speak volumes. I did my best to speak on her behalf about the beauty of her life when I gave her eulogy. It was by far the hardest thing for me to do, but I knew that her life and our time together had to be shared.
July is Sarcoma Awareness Month. Please take a moment to learn more about this disease at www.sarcomaalliance.org
Dr. Negleatha Johnson is a recording artist and founder of Life Waters Ministries. Since 2015, she has held annual benefit concerts to raise awareness and funds for sarcoma cancers. Lwministriesonline.org