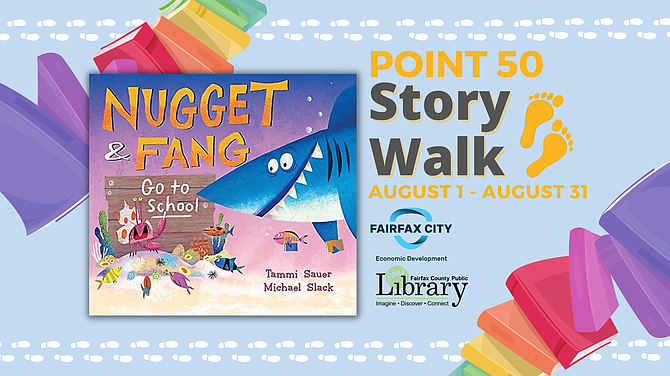 Reading can always provide a fun, summertime diversion. But when it's joined with an outdoor clue-hunting activity, plus a chance to win prizes, it turns into something exciting, as well. And in Fairfax City, it's called StoryWalk.
The City's Economic Development Office has partnered with the City of Fairfax Regional Library to create a free, 15-stop StoryWalk. Families may explore it throughout August at the Point 50 Shopping Center, 10334 Fairfax Blvd.
StoryWalk is an international event that makes literacy interactive in an unexpected way by combining exercising and reading. And the book highlighted in the City's walk was chosen to get young students excited about returning to school.
From Aug. 1 through Aug. 31, pages from the children's book, "Fang and Nugget Go to School" – written by Tammi Sauer and illustrated by Michael Slack – will be displayed on business storefront windows and yard signs. This ocean-themed story was also selected to fit with the library's summer-reading theme of "Oceans of Possibilities."
"In looking for a good book for the Point 50 StoryWalk, 'Nugget and Fang Go to School' was chosen because it's entertaining while also holding deeper messages about embracing differences, facing challenges and valuing good friends," said Pamela Coughlan, the library's youth services assistant. "The Point 50 StoryWalk is taking a book and making it an experience, and the City of Fairfax Regional Library is glad to be a part of that."
The walking route is less than a mile long, and each display will contain information about where to find the next page, as well as an activity associated with it, to encourage interactive conversations. Maps of the route and activity sheets may be picked up at the library, at 10360 North St, or at participating businesses. They may also be obtained digitally by scanning the QR code on the pages or by downloading them at fairfaxcityconnected.com/storywalk22. 
The businesses taking part in this event include Slice of Matchbox, Compass Coffee, Big Buns, Orangetheory Fitness, Amazon Fresh, Organic Nails and Spa, and TPG Pediatrics.
To read the story and complete the activity form in order, it's recommended to start at Slice of Matchbox. The pages will be in numerical order following the first stop, with the next destination identified. The last page of the story will be at TPG Pediatrics. Children will be able to bring the story to life by doing the activities; and if they get hungry or thirsty along the way, Point 50 offers a variety of places to eat and drink.
The StoryWalk at Point 50 also encourages people to shop at City stores for the entire month. As an extra incentive to complete the walk, when a proof of purchase from a Point 50 business is submitted, along with a completed activity sheet, participants will be entered into a raffle to receive one of two $50 gift cards to a Point 50 business of their choice, plus a copy of the book.
"We are excited to partner, not only with the City of Fairfax Regional Library, but also with the many businesses located at Point 50 to provide an engaging literacy activity that enables us to support shopping local," said Danette Nguyen, the City's assistant director of Economic Development. "The Point 50 shopping center has become another City destination where people want to go. 
"You can take a fitness class, spend time in restaurants, relax with personal services and explore public art. As more businesses open and programming develops at the shopping center, it really adds to the vibrancy and strong economy of the City." 
Proof of purchase and activity sheets may be emailed to the Office of Economic Development at economicdevelopment@fairfaxva.gov. For more information about this event, go to fairfaxcityconnected.com/storywalk22.