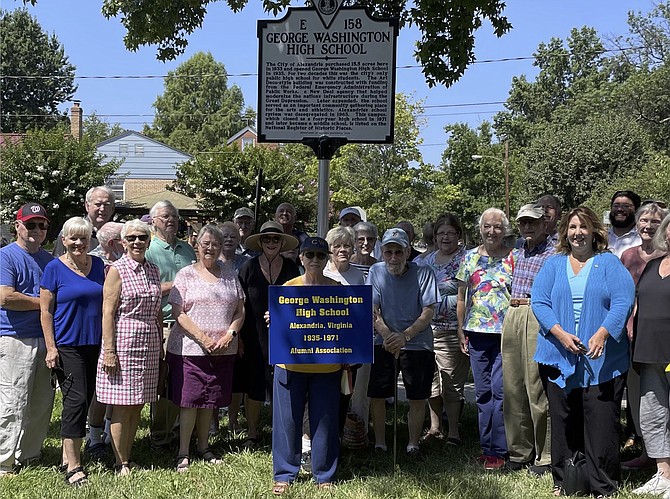 Alumni from as far back as the class of 1941 gathered July 23 for the unveiling of the Virginia State Historical Marker recognizing the historic significance of George Washington High School, now GW Middle School, on Mount Vernon Avenue.
Bud Mayo, a past president and current board member of the GW Alumni Association, helped the organization spearhead the process of obtaining the historic marker.
"It is exciting to be here today erecting a Virginia State Historical Marker," Mayo said.  "We see these types of markers all across the state and I thought it was time we had one for GW."
Located on Mount Vernon Avenue, the building was erected in the early 1930s, opening in the fall of 1935 with a student body of 1,200 and faculty of 35.
Today it serves as one of Alexandria's two public middle schools but its history as a whites-only high school during segregation is detailed in the historic marker.
Built in the Art Deco style with funding from the New Deal program, the building is listed on the National Register of Historic Places. Alexandria's public schools were integrated in 1965, the same year T.C. Williams High School was opened. GW was integrated and remained a 4-year high school until 1971 when Alexandria's secondary schools were reorganized.
At 99 years old, Walter Hammersley, class of '41, was the oldest alumni in attendance.
"What I remember about my time here is concentrating on trying to get out," Hammersley said. "Then the war came along and I went off to fight. After I returned, I have been living in the area ever since."
Other attendees reminiscing included Walter Loftin, GWHS class of '48.
"Meeting all the girls – that was the best part of going to school here," said Loftin, who went on to serve as a substitute teacher in Alexandria for many years.
Ed Semonian, retired Alexandria Clerk of the Court, graduated from GWHS in 1951.
"I have nothing but great memories of attending school here," Semonian said. "I had a wonderful time here, got a great education and wouldn't trade it for anything."
The school is known for several notable alumni, including Willard Scott, '51; Jim Morrison, '61; Mama Cass Elliot, '61; Papa John Phillips, '53; and Korean War Congressional Medal of Honor recipient Francis C. Hammond, '51. Hammond was killed in action less than two years after graduating from GWHS.
"I have so many favorite memories," said Ann Dodd Keller, class of '64. "I especially enjoyed the pep rallies and football games. There was just a great spirit here and a great school to go to."
One of the most famous football games took place in 1965, when an upstart quarterback named Joe Namath made his professional football debut for the New York Jets during an exhibition game against the Houston Oilers at the school's Memorial Stadium.
The high school's stadium, which already had a capacity of nearly 15,000, was expanded to 25,000 and tickets sold for what at the time was the outrageous sum of $6 to see the young star who had just signed the biggest contract in football history. While the Jets lost that day 16-21, Namath would lead his team to an upset 16-7 Super Bowl victory over the Baltimore Colts three years later.
"I always felt very welcome here," said Millie Borchevsky Bobbitt, class of '58. "I made good friendships through the clubs I belonged to."
Said Dick Tansill, class of '64, "This is great. Clearly this building is historic in nature – just the fact that it is still here and still serving students. They knew how to build them back in the '30s."