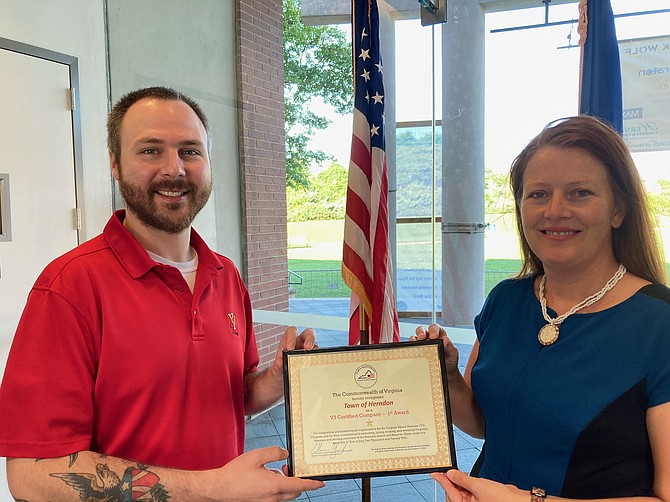 The Commonwealth of Virginia's Department of Veteran Services named the Town of Herndon a certified employer for its commitment to recruiting, hiring, training, and maintaining employment of Virginia's veterans. Governor Glenn Youngkin issued and presented the certification to the town on July 1, 2022.
Herndon earned certification by completing requirements developed by Virginia Values Veterans (V3), a veteran services department program that promotes hiring veterans among Virginia organizations. Its mission is to increase awareness of veteran recruitment resources available to employers; work with employers toward achieving veteran hiring goals; and serve as a clearing house to distribute best practices in veteran recruitment and retention.
"The discipline, work ethic, and inspired leadership skills instilled in veterans are tremendously beneficial in the workforce," said Sheila Olem, mayor of the Town of Herndon. "V3 certification signals to veterans…(and) to their spouses and families, that Herndon is committed to their career success and advancement."
Herndon's V3 certification comes amid a tight labor market and specialized job requirements. The town's Human Resources Department has been creative and resourceful in meeting these challenges, including creating a full-time position focused on recruitment and targeting groups likely to qualify for town employment. Visit Herndon-va.gov/careers for more information.