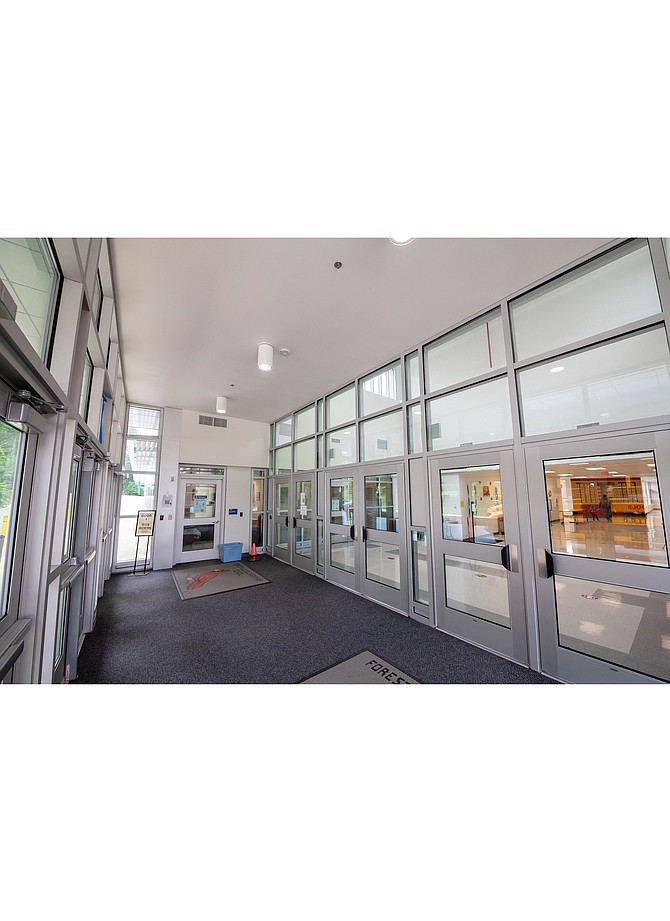 At Robb Elementary School in Uvalde, Texas, preventive security measures did not stop the mass shooting deaths of 19 students and two adults on May 24. The presence of armed law enforcement and available mental health crisis intervention did not stop the carnage. 
Since the Uvalde school shooting on May 24, there have been six other incidents reported by K-12 School Shooting Database where a gun is brandished, fired, or a bullet hits school property for any reason, regardless of the number of victims, time, day of the week. https://www.chds.us/ssdb/about/
On the day of the Robb Elementary School shooting, Fairfax County Public Schools immediately sent FCPS families and employees a message from Scott Brabrand, Superintendent, saying in part, "We condemn this senseless act of violence … We want you to know that the safety of our schools, and the children and staff within them, is our highest priority. We continually work to make critical safety upgrades to our buildings each budget year. FCPS has one of the most advanced school security systems in the nation. While we hope we never see a day like today again, please be assured that we will continue to assess our protocols to ensure the safest learning and working environment possible." Brabrand added that on the same day, the Fairfax County Board of Supervisors voted 9-0 to declare June 3 as Gun Violence Awareness Day in Fairfax County.
On Thursday, May 26, at a regular meeting of the Fairfax County School Board, Melanie K. Meren, Hunter Mill District representative, presented a proposed follow-on motion regarding vestibule retrofits for facilities without them as part of the approved FY23 Budget. Meren first introduced a vestibule policy change on March 2, 2020, in a memo to the Fairfax County School Board Governance Committee Members. 
Tamara Derenak Kaufax, Lee District Representative, said that on Dec. 19, 2018, a previous school board made the same motion to provide vestibules at all remaining FCPS schools. Superintendent Dr. Brabrand and his designate identified a plan to accomplish this over the three years. The motion passed, she said.
Kaufax asked, "Why was this not yet done?... Why was there no funding allocated?" Dr. Brabrand said that the focus shifted to mitigating the pandemic.
The proposed 2022 security vestibule program would add another layer to the school division's physical safety and security measures, said Jeff Platenberg, assistant superintendent for Facilities and Transportation Services Fairfax County Public Schools. The controlled entry would be in addition to locked doors, intrusion alarms, electronic door access, closed-circuit tv, visitor management systems, and more, Platenberg said. These physical measures would be in addition to threat assessments, safety training, tabletop exercises, comprehensive division-wide safety plans, mandatory lockdown drills, and the like.
Elaine Tholen, Dranesville District representative on the school board, said she was "acutely aware that the discussion around sound school security needs to be about a myriad of components, some physical like vestibule entries, fences, locked doors, etc. and some not physical such as trained personnel, sound gun laws, and policies, clear organizational responsibilities, mental health supports for students and staff and overall community supports."
Tholen added that everyone must be part of school safety, "follow the rules about checking in, using the doorbell at the schools, and not letting unknown people in the building. … I will continue my efforts to understand the work and needs of our staff, providing mental health supports for our students and providing school-wide programs to ensure that every one of our students has trusted adults they can go to at any time. It is only through this multi-pronged approach that we can be successful," Tholen said.
During the May 26 FCSB meeting, Meren shared comments from constituents in the 48 hours after the shooting. They asked about a security audit, door handles and locks, and what kind of security expertise is on FCPS staff and their credentials. Meren said they questioned playground safety. "People walking on playgrounds; people making playgrounds secure so a gunman couldn't come and shoot kids at playgrounds. I can't believe I just said that sentence," she said.
Meren added that her constituents asked about entrances to module facilities. Meren said she heard a sudden change in thinking about school resource officers. "Up until now, most I've heard is resistance to school resource officers because of the fear of the propensity of disciplinary action against our students of color. Now I'm hearing; please put school resource officers in. We want armed police in our schools. And certainly, the governor's message reinforces that."
At the Thursday night meeting, the FCSB approved the motion directing Brabrand and his successor, Michelle Reid, to prioritize the completion of the security vestibule program tapping multiple funding sources, and to provide the school board with a schedule to complete the initiative as soon as possible.
The estimated cost is $15 million to install the vestibules and related equipment in facilities that don't have them. Platenberg said the plan would be over five years, but he knew the board was "pushing for three years and better."
Meren said the School Board's mission is to educate children, but they can't educate children if they are not safe. She added that the vestibule work in no way lessens the school board's advocacy concerning effective gun violence prevention laws. 
According to Karl Frisch, Providence District representative, every level of government, national, state, county, and even the school board, has a role in gun violence prevention. Frisch used as an example how Superintendent Dr. Scott Brabrand agreed to notify parents and guardians annually about their legal obligation to store their firearms securely. Called Gun Violence Prevention Resources and found online, it includes gun storage and modeling responsible behavior around firearms. It says, in part: "In order to prevent access, firearm storage practices should include three methods employed in combination—unloading the ammunition, locking the firearm, and storing the firearm and ammunition in separate locations."
Virginia State Senator Barbara Favola (D-31), said that to keep schools safe, "School communities need to organize and talk to their state and federal representatives about the need for stronger gun safety laws. In 2020, under a Democratically controlled General Assembly, bills were passed to expand universal background checks and create a red flag option, among other measures. Governor Northam enthusiastically signed these bills."
According to Favola, gun safety has become a dividing line partisan issue with Republican lawmakers. Favola said that she believes voters on both sides of the aisle support common-sense laws that better balance public safety with 2nd amendment rights.
"Virginians would be best served if lawmakers implemented evidence-based gun safety measures that recognize responsible firearm ownership but better aim to protect our children and our communities," Favola said.
Before the 21
st
 century and the Columbine High School massacre of April 20, 1999, architects designed schools to educate students. Since then, the number one consideration appears to be building and renovating schools, hardening them to protect students from shooters.