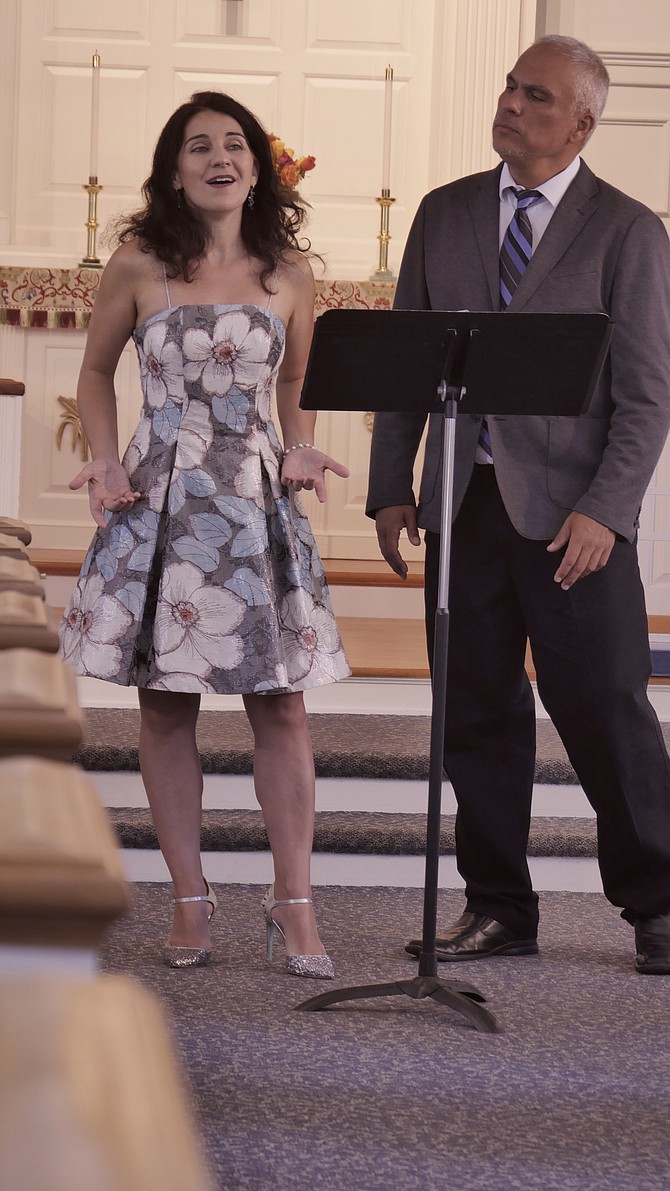 It is a sunny Sunday afternoon on June 5, and Opera NOVA is back.  This is the first in-person performance since the seclusion imposed by COVID in the spring of 2020 when all performances were canceled. Opera NOVA Artistic Director and famed baritone Jose Sacin paired up with special guest artist soprano Stella Markou to feature songs from opera, art songs and broadway tunes.
Step by step the opera had gone from a black out in the spring of 2020 to a series of six virtual monthly concerts that began in December 2020.  Finally the group was able to bring performers and audience back together at an afternoon concert presented at Walker Chapel UMC.
Miriam Anderson, the President of Opera NOVA, says, "Stella Markou is a surprise find by Jose, a rising soprano based in Arizona who is on her way to becoming the Director of Vocal Studies, University of Missouri-St. Louis. This is a rare chance to hear her sing while she is on the east coast."
Markou has performed internationally as a soloist in oratorio, opera, and on the concert stage. She is a passionate performer of contemporary music and has been a featured guest artist with such groups as the Edinburgh Fringe Festival, Heidelberg New Music Festival, International Computer Music Festival. In addition, she has performed as a featured soloist in several master works and appeared in a number of stage performances.
Sacin plays a major role with Opera NOVA in Arlington while collaborating with the leading figures of the opera and music world today including a nationally televised performance for Pope Benedict XVI alongside Placido Domingo. Sacin, a native of Peru, is considered one of the leading South American baritones of our time being known for his voice of "liquid gold and the stage presence of a lion." 
Sacin has portrayed a number of title roles in key operas as well as appeared extensively with Spanish Zarzuela. He has also appeared as a recitalist in Russia, Japan, Costa Rica, Honduras, his native Peru and extensively throughout the United States.
Opera NOVA was established in 1962 and has evolved as a resource for the arts reaching the community where they live—targeting seniors, children and the diverse Arlington population with the opportunity to have the arts as part of their experience.