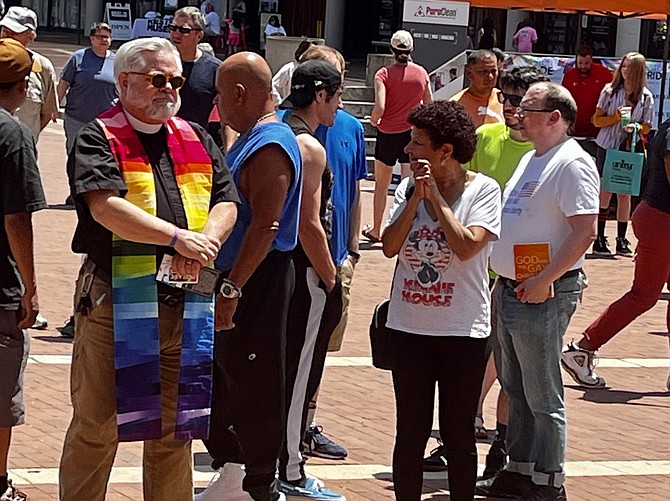 The Pride community gets to say who they are: lesbian, gay, bisexual, asexual, trans, intersect, queer, questioning, gender non-binary, gender expansive, genderfluid, genderqueer, and more. "We exist, by God, and we do so proudly," said the  
Rev. Emma Chattin,
 senior pastor, 
Metropolitan Community Church of Northern Virginia,
 a speaker at Reston Pride 2022.
On Saturday, June 4, 2022, the Reston Pride Festival came back for its third year at Lake Anne Plaza in Reston to celebrate LGBTQIA+ people living authentically and their equal right to thrive while flying their gender identity flags. 
Sex and gender are different. While there are two biological sexes, there are many genders, according to P.F.L.A.G., the first and largest organization for (LGBTQ+) people, their parents, families and allies.
One of the two biological sexes, male or female, is assigned based on physical characteristics at birth. However, this does not mean that there are two gender identities. There is a rainbow of genders: lesbian, gay, bisexual, transgender, queer, intersex, asexual, and others, hence LGBTQIA+. The "+" also includes gender allies.
Under the banner theme of Reston Pride 2022, "You Belong Here," Kyle Rohen, president of Reston Pride, welcomed everyone to the event and introduced emcee Ken Williamson, minister of music for Washington Plaza Baptist Church. "Let the magic and festivities begin," Williamson said before introducing festival speakers, local elected officials, and faith-based leaders.
The speakers emphasized that the equity battle for gender and sexual orientation is ongoing. The allies talked about how they are catalysts acting with the LGBTQ+ community to address troubling findings of inequality, face down discrimination, and take tangible actions.
Del. Ken Plum (D) said that when he looks back, the only thing he's sorry about is that they didn't start the festival "a whole lot earlier." 
"When you think about what makes Reston special, one of the things to think about is inclusiveness," Plum said. He added that it has only been in recent years that they have recognized that inclusiveness includes not only racial issues but also gender issues.
"I look forward to representing you in the House of Delegates. When I say you, I am talking about members of the L.G.B.T. community. Your concerns are my concerns. Your rights are my concerns. Being able to represent you fairly and effectively is something I want to do. So, bless you all for being here," said Plum.
Supervisor Walter Alcorn (D-Hunter Mill) said that one of the things he wanted to bring to Reston Pride was to reaffirm, on behalf of the Board of Supervisors of Fairfax County, that "we are a welcoming community."
Supervisor Alcorn said, "We are an inclusive community. And frankly, we are very, very focused on how we can become more inclusive — how we can find situations where some in our community are not acting that way."
According to Alcorn, not only are the battles of yesterday relevant to today, not only are equal rights an issue in the past, but they are also an issue today. As the community moves forward, Alcorn said the Board of Supervisors will watch for employment discrimination and housing discrimination. They need to make sure that the community is living up to the ideals of those in Reston set out many years ago.
"Because once we take those for granted, they can go away. So, let's not do that, please," Supervisor Alcorn said.
Emcee Williamson said that when Reston Pride founded the festival years ago, some local churches immediately stood up to help make things happen. Williams introduced the Rev. Michelle Nickens of Washington Plaza Baptist Church on Lake Anne Plaza.
The Unitarian Universalist Church founded Reston Pride, according to Pastor Nickens. They had a vision for the festival, and it continues to grow every year. 
The Rev. Daniel Park, the pastor of Restoration Church in Reston that celebrates at South Lakes High School in Reston, said it was important that they were all together and experienced the wide welcome love of God together. Park invited everyone to come by because they were writing affirmation matters to transgender youth partnering with Reston Pride.
The Reverend Jessica Holthus, the rector at St. Anne's Episcopal Church in Reston, began her ministry in February of 2022. Introducing herself by her title, Mother. Holthus spoke of the progressive church being a welcoming space for LGBTQIA+ folks and put out an invite to anyone. "God loves you, no exceptions. Come as you are. Hear that message loud and clear," Holthus said.
The Rev. Scott Alexander, interim minister of Unitarian Universalist Church in Reston, said that their church began the Pride Festival because of its tradition of all inclusion. "The first principle of our faith is the inherent worth and dignity of every person… No exceptions," he said.
The Rev. Emma Chattin, the senior pastor of Metropolitan Community Church of Northern Virginia, closed the speakers' presentation. "I am lesbian, gay, bi, trans, intersex, queer, and questioning at any point in my life. I've lived authentically and have had each one of these identities. I am certifiably queer... By God, I am my own rainbow," Rev. Chattin said.
Chattin said that the community didn't "storm into existence" in the 1960s. They have always existed. Chattin said, "We just didn't have a way you could find us in history."
Chattin said that there are those today who are trying to take away their names; they are trying to remove their books, stories, and histories from schools. "They are trying to take away the places for youth to exist safely in school. Take away the medically-proven pathways that are life-saving for trans youth. This is happening," Chattin said. She added that they tell their youth, "It is okay to be who you are."
"For those on the margins, those at the greatest risk, those who are most vulnerable, we have a name, and … we have formed a diverse community composed of so many letters, shapes, sizes, and colors," Chattin said. She told those at the festival to always remember that the social highways the community travels on today were hard-earned and paid for by those who came before. The community owes them a great debt, but they must pave the way for the future. 
Chattin questioned how many of their siblings and ancestors were swallowed up and lost in the past and never recognized or acknowledged. "We will not let that happen again. Do not let anyone take away your pride ever. Do not let them take away your hope, and never let them take your faith from you," Chattin said. She said that religion had been used against their community as a weapon. But religion also brings healing and strength to those who have affirmed, their allies, and others who unite and do not divide. She closed with an affirmation, saying in part that the peacemakers and the reconcilers among us who draw together and help share the beauty of all people for celebrating sexual and gender diversity are "a blessing that enriches us all … We say thank you."