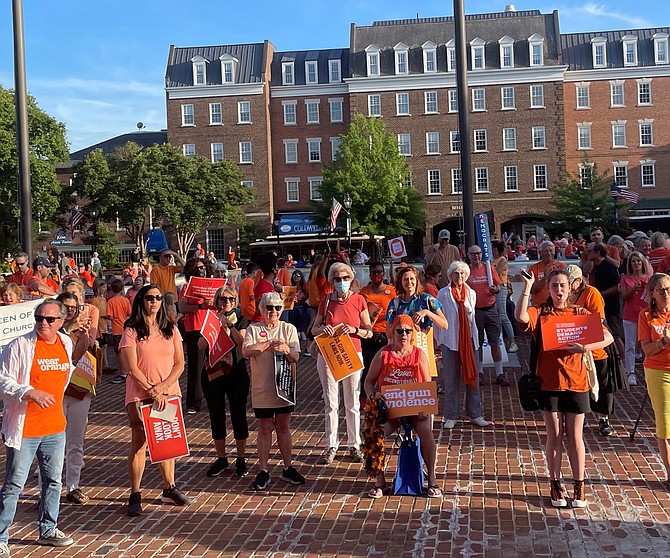 Market Square was a sea of orange as more than 350 people turned out June 3 for the Alexandria Chapter of Moms Demand Action's Wear Orange Rally marking National Gun Violence Awareness Day.
Held each year on the first Friday in June, the National Gun Violence Awareness Day rally kicked off Wear Orange Weekend to recognize those who have been impacted by gun violence in the U.S.
"Our primary goal tonight is to honor and remember the victims of gun violence," said Kelly Johnson, the event lead for the Alexandria chapter of Moms Demand Action, an organization supporting stricter gun legislation.  "A strong second goal is to help people plug in. People care about this issue and don't know what to do with their anger and sadness, particularly these last few weeks, so we have ways to plug them into the gun violence prevention movement."
Mayor Justin Wilson welcomed the crowd to Market Square, declaring June 3 Gun Violence Awareness Day in Alexandria and reading excerpts from City Council's Proclamation on Gun Violence issued May 23.
Rep. Don Beyer (D-8) was the keynote speaker at the rally.
"If we elect the right leaders, the right leaders who want to do something about guns, we can change the laws and change the culture," Beyer said "While we breathe, we hope. We will be relentless."
Volunteers at the event read the names of each victim from the recent mass shootings in Buffalo, N.Y., and Uvalde, Texas, and honored the 1,065 victims of gun-related deaths in the state of Virginia each year.
"We also need to educate gun owners and community members about how to secure and store guns," added Johnson at a table with information on Be Smart, the education division of Moms Demand Action. "We believe in fighting this battle on a number of fronts."