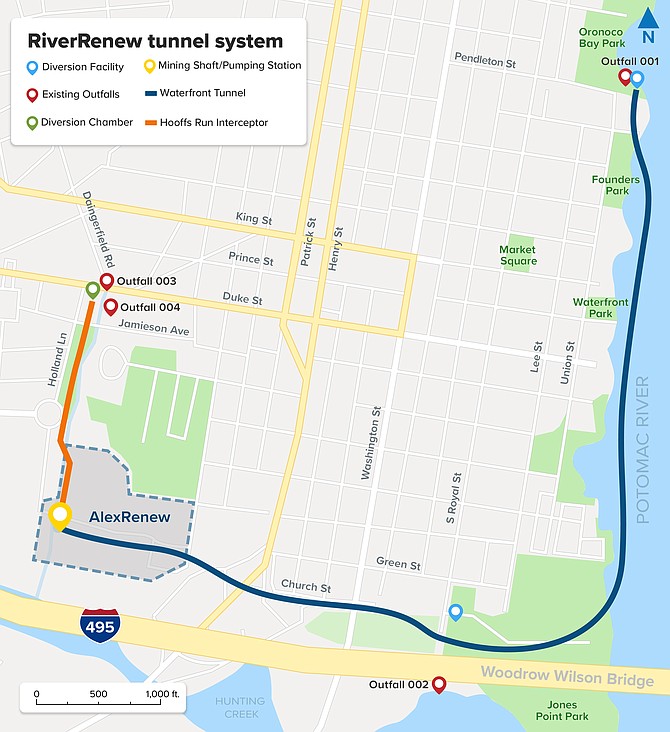 Remember the Chunnel? In 1988, engineers in Europe came up with a tunnel boring machine that chewed its way from England to France under the English Channel. It took five years for the boring machine to create a tunnel 31.5 miles long that is now the route of the Eurostar train that links England and France.
Alexandria is about to see its own chunnel as engineers start on "River Renew," using a boring machine to build new tunnels for the City of Alexandria's aging sewer system. The tunneling includes stretches like the  "Hoofs Run Interceptor," which slants towards the Potomac River, and connects with the Waterfront Tunnel, which parallels Church Street and then Jones Point Drive through Jones Point Park and goes under the Potomac River. It goes north under the river, past the waterfront area and King Street, heading inland at Oronoco Street, and ends just north of the Robinson Terminal.
The boring machine in Alexandria will make a tunnel 12 feet wide, and 120 feet deep, but to people and traffic on the surface, there will be "no disturbance," said Justin Carl at AlexRenew. "It goes well under the bottom of the river," he said. The boring machine is due to arrive from Germany in July, and they plan to have a naming event for the boring device.
The project is AlexRenew and is using River Renew technology to achieve the goal. According to project information, RiverRenew will prevent millions of gallons of combined sewage from polluting the rivers and streams each year. This will create safer, cleaner, healthier waterways for the community, wildlife, and future generations.
The tunnel system that will connect to the four combined sewer outfalls, which currently pollute local waterways on rainy days. The tunnel system will capture millions of gallons of sewage mixed with rainwater for treatment at AlexRenew and the cleaned water will be returned to the Potomac River.
Officials broke out the golden shovels in late September last year to kick off this $454.4 million project in response to a 2017 law passed by the General Assembly to clean the waters in and around the City of Alexandria. Officials created AlexRenew as a response to that directive, and launched a major infrastructure program to achieve cleaner, healthier waterways in Alexandria.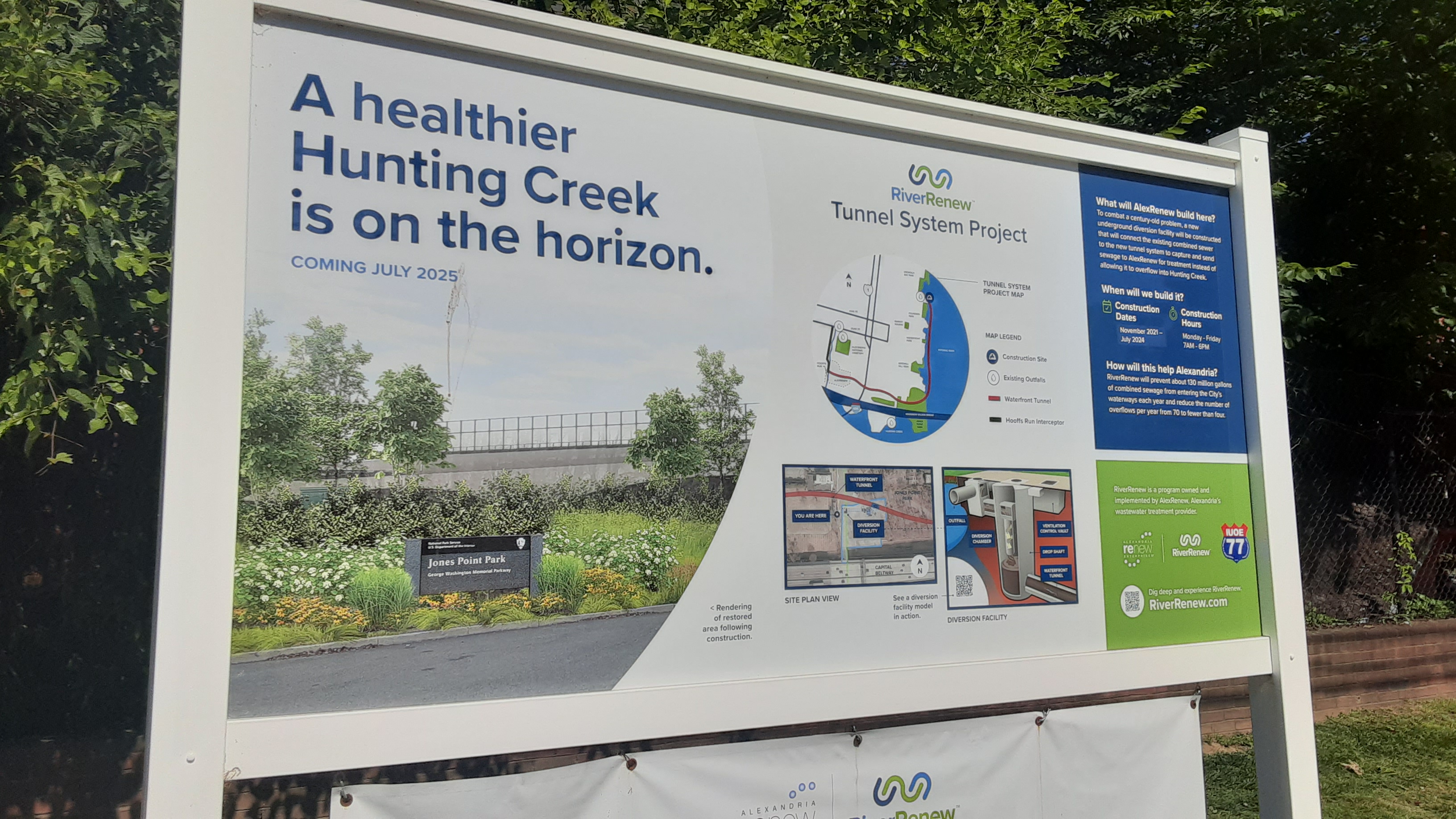 On the Surface
Cleanliness is the buzzword, and this stands true in the construction as well. RiverRenew is being constructed consciously and built to last, the AlexRenew information said. "We're incorporating sustainable design elements into the new infrastructure being built and seeking certification from leading sustainable infrastructure accreditation programs," their information stated. These environmentally sound steps include LEED certification at the pumping station, a tunnel developed to withstand any impacts from climate change and "green" infrastructure will be installed at multiple locations to capture and treat stormwater to help protect natural resources. Similar systems are being used in Richmond and Lynchburg.
In the end, Alexandrians will benefit at several locations, project information said. Along Hooffs Run, the riparian buffer will be enhanced and will include a new boardwalk trail. Habitat creation and native plantings will provide the community with opportunities to interact with natural resources. Across town at Pendleton Street, a new community promenade will be constructed, creating an enhanced public connection to the waterfront. At South Royal Street, invasive species will be removed in portions of Jones Point Park, and the park entrance will be restored with native grasses and trees while preserving adjacent forested wetlands.
History
The City's combined sewer system dates back to the 1800s. During most wet weather events, combined sewage (a mixture of wastewater and stormwater runoff) discharges through one of four combined sewer outfalls into receiving waterways, resulting in 140 million gallons of raw sewage a year.
In April 2017, the Virginia General Assembly passed a new law requiring the remediation of these outfalls by July 1, 2025. The City, working with Alexandria Renew Enterprises (AlexRenew), submitted a Long Term Control Plan to the Virginia Department of Environmental Quality (VDEQ) in 2018.
The City has transferred ownership of the combined sewer outfalls to AlexRenew. AlexRenew is implementing the plan as part of its 
RiverRenew Program
. https://www.riverrenew.com/