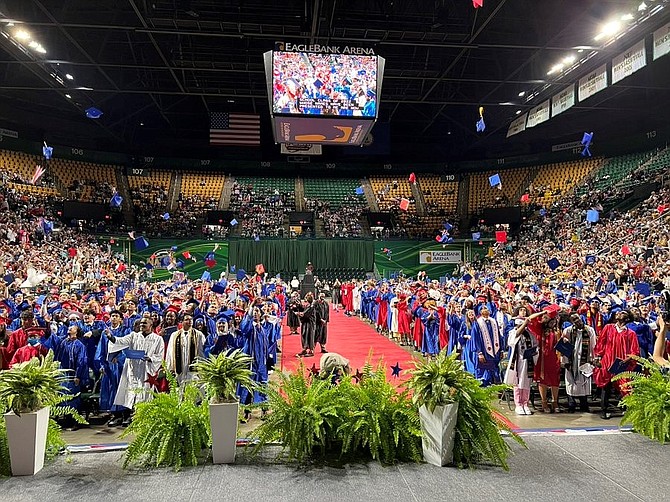 The inaugural graduating class of Alexandria City High School held its commencement ceremony June 4 at George Mason University's EagleBank Arena.
With a theme "Ushering in a New Era," ACPS leaders presented diplomas to 809 graduating seniors during the ceremony, which returned to its pre-pandemic venue for the first time since June 2019. The Titans Class of 2022 are the first students to graduate from ACHS after the school's name change in July 2021.
"It's pretty special to be the first class to graduate under the new name," said Eliza Coast, who graduated with the class of 2022 along with her twin brother Sam. "It was a very meaningful name change and means a lot that we get to have it on our diploma."
ACHS executive principal Peter Balas led the lineup of speakers at the ceremony.
"I am proud of our Class of 2022 Titan graduates and excited to celebrate them," Balas said. "We commend them for the hard work, dedication and resiliency that led them through the challenges of the past few years to reach their high school graduation. Their work ethic and resilience will serve these new graduates well as they experience life beyond high school and begin their next chapter to pursue their dreams, passions and goals."
In addition to Balas, commencement ceremony speakers included Superintendent Gregory C. Hutchings, senior student speaker Ana Reyes Araujo, Student Government Association president Sabine Mead and Class of 2022 President Grace Williams.
"We took many risks to get here," said Mead. "But without taking these risks, without boldly and courageously daring to overcome, we'd miss out on the ability to discover who we are and all that we offer to the world."
Students Erin Burns and Caroline Davenport sang the national anthem and Class of 2022 Treasurer Margaret Irvine presented the class gift, which will be funding for the Classes of 2023-2025.
Prior to the presentation of diplomas, Balas awarded a posthumous diploma to 18-year-old Luis Mejia Hernandez, who died May 24 following an altercation at Bradlee Shopping Center. Hernandez's uncle, Guillermo Romero, accepted the certificate on his behalf.
"I want to congratulate the Titan Class of 2022," said Hutchings in his remarks. "Their hard work and perseverance made them the first graduating class of our newly named Alexandria City High School, made possible by the students' efforts and engagement in the award-winning Identity Project. We celebrate their achievement today and are grateful also, to all those who have helped them along the way."
Said senior Sam Coast, "I am excited to move on with my life and start a new chapter, as I think all seniors are by the time they reach the end of their four years."