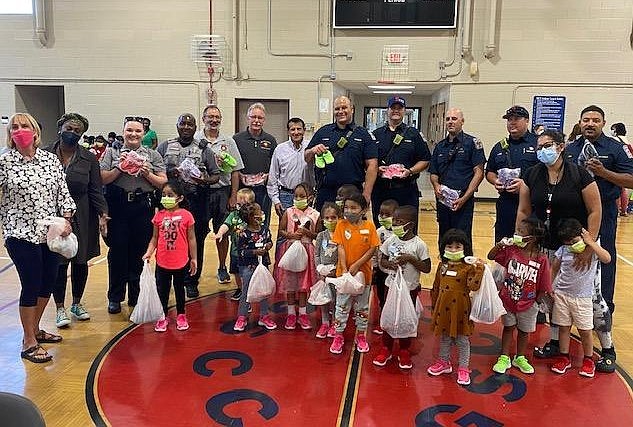 Firefighters and volunteers from across the county gathered June 2 to distribute more than 300 pair of new sneakers to underserved children in the Gum Springs Greater Mount Vernon Head Start and the Lee District Community Center program.
Spearheaded by the nonprofit Firefighters and Friends to the Rescue, the event was held at the Gum Springs Community Center and expands on the organization's mission to provide support for families in need throughout the region.
"We have expanded our mission from coats to include shoes that inspire confidence and encourage outdoor play," said Fairfax County Fire and Rescue Deputy Chief Willie Bailey, organizer of the event. "The addition of new shoes gives us the opportunity to help children in need all year round."
The organization also spearheads annual back-to-school drives, coat drives and holiday toy drives.
"Shoes are one of the most expensive items that families will purchase for their children," Bailey said. "We understand with the high cost of fuel, food, and other items that it's difficult for some families to purchase the needed clothing for their kids. So today, we are doing our part to hopefully make it easier on those families."
Sponsors of the event included: Fairfax County Fire & Rescue Department; Operation Warm Inc.; Firefighters and Friends to the Rescue; Nationwide Credit Corporation; Fairfax Fire & Rescue Retiree Association; Mount Vernon Government Center; and Franconia Government Center.
"I owe a huge debt of gratitude to the sponsors that supported us today," Bailey added. "Without the support of our sponsors and the community this would not be possible. We would like to make this a yearly event like our annual new coat distribution so we hope to get more donations to keep this going."
Donations can be made at: www.operationwarm.org/firefighterandfriends.