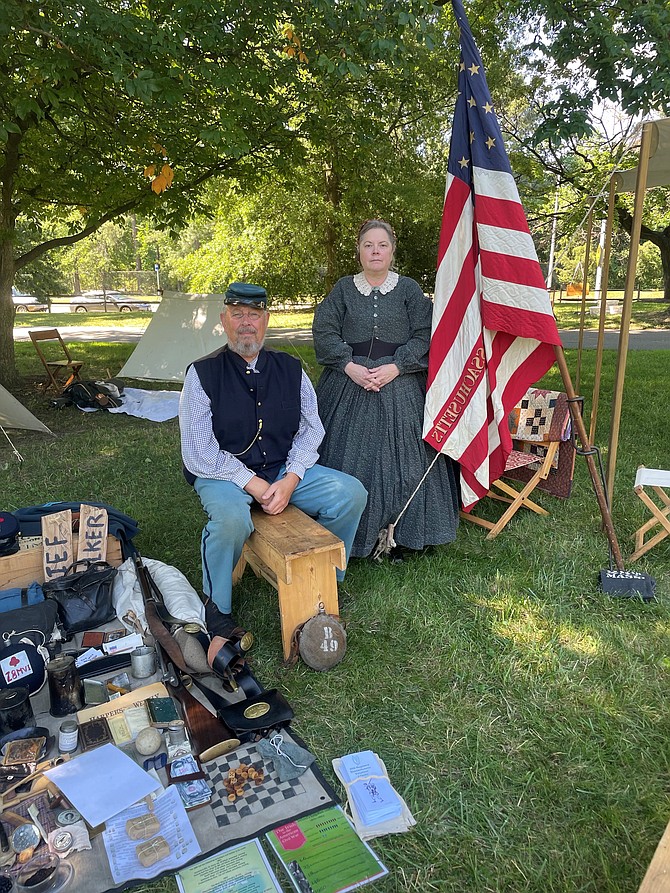 Fort Ward Museum and Historic Site, a former Union Army installation and fifth largest built to defend Washington during the Civil War, held its annual Camp Day June 18 with reenactors from across the country taking part in the living history event.
"This is living history where reenactors try to portray a federal soldier of the Civil War," said reenactor Jerry Lynes, who was portraying an Irish soldier of the 28th Massachusetts Volunteer Infantry. "The regiment was raised in December of 1861 by Governor [John] Andrew and part of the Irish Brigade."
The annual event features civilian and military reenactors showcasing camp life activities, infantry and artillery drills and firing demonstrations.
In addition to the 28th Massachusetts Volunteer Infantry unit, reenactors from Thompson's Battery and Pennsylvania Volunteer Light Artillery participated in the demonstrations.
Special interpretations included a U.S. Army Quartermaster tent, a Union company surgeon, a Northern schoolmarm who interpreted 19th century education and pastimes for children, a display of Civil War dioramas, and a soldier in the reconstructed Officers' Hut portraying the daily routine and living quarters of an officer.
"Today I am a private assigned to the garrison at Fort Ward guarding the officers' hut and being an aide to the company commander," said reenactor Jeff Joyce. "Private was the entry rank for all enlisted soldiers and typically a company would have 100 men commanded by a captain. Most of those men would be privates with a handful of corporals and sergeants mixed in as senior officers so the private was basically the backbone of the Union army."
Rae-Ann Voelkner demonstrated the role of women at Fort Ward while Lynes showcased a display of items typically carried by a Union soldier.
"These are representative of things soldiers carried," Lynes said. "They would not carry everything at once but these are the types of things you would find among the men – a 'junk on the bunk' kind of display."
The 8th Green Machine Regiment Band, a historical brass ensemble sponsored by George Mason University, presented a concert of Civil War music performed on authentic period instruments.
Fort Ward is listed on the National Register of Historic Places and has 90-95 percent of its earthen walls intact.
"Fort Ward was a pretty neat assignment at the time," said Joyce. "You are close to Washington City with access to things like food and entertainment. But as a private, you job is still basically to just follow orders."