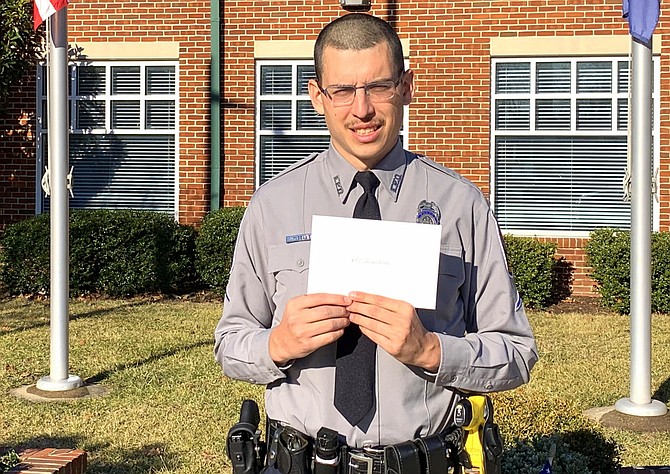 PFC Justin Collier is the Sully District Police Station's 2021 Officer of the Year. He was recognized at the Feb. 9 meeting of the station's Citizens Advisory Committee (CAC). Nominating him for the award was 2nd Lt. Deanna Weand, who detailed why Collier is deserving of this honor.
"The schedule and duties of patrol officers can often be mentally draining and physically exhausting," she wrote. "Since coming to the Sully District in August 2018, PFC Justin Collier is a shining example of what every patrol officer should strive to be – and he doesn't let the long hours and holidays away from family dull his shine."
Weand said that, on every shift, he "demonstrates an exemplary attitude and positive work ethic. Collier spends his days building relationships within the community, proactively patrolling the neighborhoods and identifying and arresting offenders." 
Despite the inherent struggles of navigating his job during a worldwide pandemic, wrote Weand, Collier has managed to "keep each day flowing" with business as usual. And even though the Sully District isn't as busy as some other areas of the county that have more criminal activity, he led the station with the most reports in 2021. 
"This can be attributed to his outstanding cooperation with his squad mates," explained Weand. "He often steps up to take reports throughout the district because he already has a rapport with the involved parties, is currently working a case that might be related or just notices that an area officer needs a helping hand. Even though his reports are numerous you can count on them to be thorough and worked to the very end, bringing much-needed closure to victims of crimes." 
Sometimes, said Weand, it can be difficult to remember to which squad Collier is assigned. 
"He is reliably known across many stations as a great option when a shift finds itself shorthanded," she wrote. "He shows up on short notice and brings with him all the knowledge of his previous shifts – which often leads to him identifying trends and suspects that were not previously recognized."
Furthermore, she noted that, at the beginning of each shift, Collier liaisons with the prior shift, taking responsibility for any unserved paperwork. "If it's not busy, you can count on him to grab some warrants from the pending file and attempt to make service during his shift," wrote Weand. "Between these actions and his caseload, it's no surprise that, in 2021, Collier ranked second in arrest stats for the Sully District Station."
She described him as a "well-rounded go-getter." The typical day of a patrol officer is filled with calls for service, handling outstanding court paperwork and following up on open cases. Besides doing all those tasks, said Weand, patrol officers cover unfilled school crossings, guard people under temporary detention orders at hospitals, and conduct training with their squad mates. Nonetheless, she wrote, "Collier is always the first to volunteer for ancillary duties or what can be seen as less-desirable assignments." 
But that's not all. In addition, he finds the time to fit in several traffic stops for unsafe driving behavior. "Collier knows the Sully District well and is very familiar with the major roads and neighborhoods that some reckless motorists traverse – causing collisions and putting our community members in danger," wrote Weand. "In 2021, he wrote the third-highest number of motor-vehicle citations in the Sully District, with a goal of protecting our community and making our roads safer."
She further stressed that "It would be impossible to write out the specific incidents and calls for service that Collier resolved in 2021. He brought closure and a sense of safety and peace to many victims of misdemeanor and felony crimes. 
"He undoubtedly prevented dangerous situations on the roadway by helping or educating stranded, lost and reckless motorists daily. Collier is a role model to other officers, and his dedication to his position has most definitely had an immeasurable impact on the community in which he serves." 
Calling his performance in 2021 "an excellent example of achievement and dedication," Weand said Collier's level of "consistent, superior performance" is one deserving of recognition by the CAC. For these reasons and more, she wrote, "He is being nominated for Officer of the Year for his outstanding service to the Sully District community in which he serves." 
As for Collier, he was both pleased with and humbled by the acknowledgement of all his hard work, throughout the year. "Thank you for giving me this honor," he said, after the award presentation. "I just go out there and do the best I can do, every day."