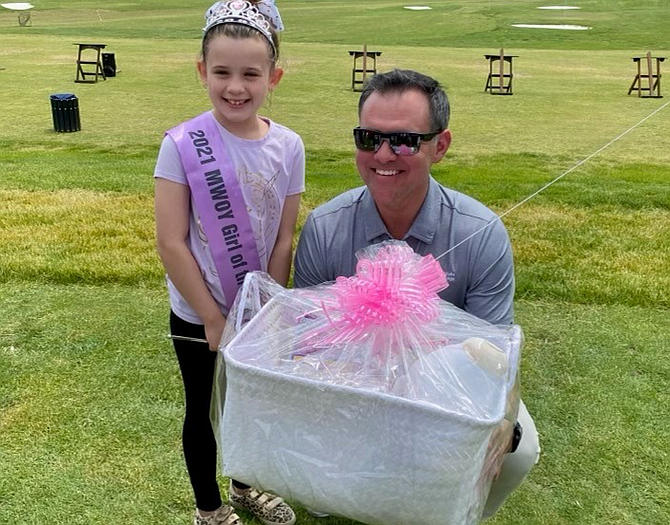 Bryan Thomas of Great Falls is a source of hope and inspiration to families across the globe touched by blood cancer. In 2021, Thomas led a 10-week fundraising campaign that raised more than one million dollars for the Leukemia & Lymphoma Society. His grand total broke records and earned him the organization's title of Man of the Year for the Washington, DC area. 
Thomas has lived in Great Falls for 7 years.
An executive with World Wide Technology, Thomas has a strong passion for using his professional talents to build relationships and drive results. He is known among his peers for advocating for a culture of service within WWT which includes positively improving the community. WWT and its partners have supported LLS for several years. Thomas also saw first-hand how one of his mentors was able to combat cancer and return to work. 
But it was a conversation with one of his company's closest partners that ultimately led Thomas to launch this year's fundraising campaign. 
"I was sharing the incredible experience my wife and I had participating in the LLS 'Team in Training' marathon over breakfast with Cisco Area Vice President Carl De Groote when it really clicked," Thomas said. He learned how children diagnosed with cancer fight. Discussing "those brave and inspirational children, further cemented my commitment in supporting the great work LLS is doing every day."
Personally, he was motivated by watching the fighting spirit of LLS's Boy and Girl of the Year, Karter and Ella. "Their energy and will to push on, despite everything they were going through, was an inspiration."
Founded in 1949, LLS's mission is to cure leukemia, lymphoma, Hodgkin's disease and myeloma, while improving the quality of life of patients and their families. Thomas' campaign was one of 80 annual fundraisers that took place across the U.S. and Canada. 
"Their energy and will to push on, despite everything they were going through, was an inspiration."
— Bryan Thomas
Thomas was all in. While WWT's efforts with LLS in previous years were focused on broader corporate initiatives, in 2021 the company committed fully to supporting the Man of the Year Campaign. 
His first task was to assemble a team from among his personal and professional connections to help him develop creative ideas and actively implement fundraising strategies. 
With his significant network and relationships, the campaign achieved new levels of success despite much of the work being done virtually. "Understandably, fundraising during a pandemic raises considerable challenges," Thomas noted. "But being a technology company of our size – and with our partners and resources – we leveraged some of our digital capabilities to overcome these challenges. 
"In addition, as people were spending more time at home, we had significant participation in the virtual events we conducted with staff, partners and others within our network. These included virtual happy hours, meetings and auctions that took place throughout the country," Thomas said. 
"As things began reopening, we were able to safely and securely host a charity golf event that drew even more attention to the fundraiser. After being stuck inside for such a long time, being able to successfully hold the event on a beautiful summer day reenergized spirits and drove even more donations for the cause."
"I was humbled by the overwhelming response by  my personal and professional community." 
Thomas' 2021 fundraising campaign was one of two this year that topped the million-dollar mark for the first time in LLS history. He continues to be involved with LLS, currently serving on the organization's leadership team. 
To learn more about LLS, visit www.LLS.org. 
Thomas serves on the Board of Directors for the
 United Service Organizations (USO) of Metropolitan Washington-Baltimore
. In January 2022, he joined the Advisory Board for the Children's Science Center in Northern Virginia. Previously, he served on the Board of Directors for the
 ALS Association St. Louis Regional Chapter
, and  participated in the chapter's annual Ice Bucket Bash.