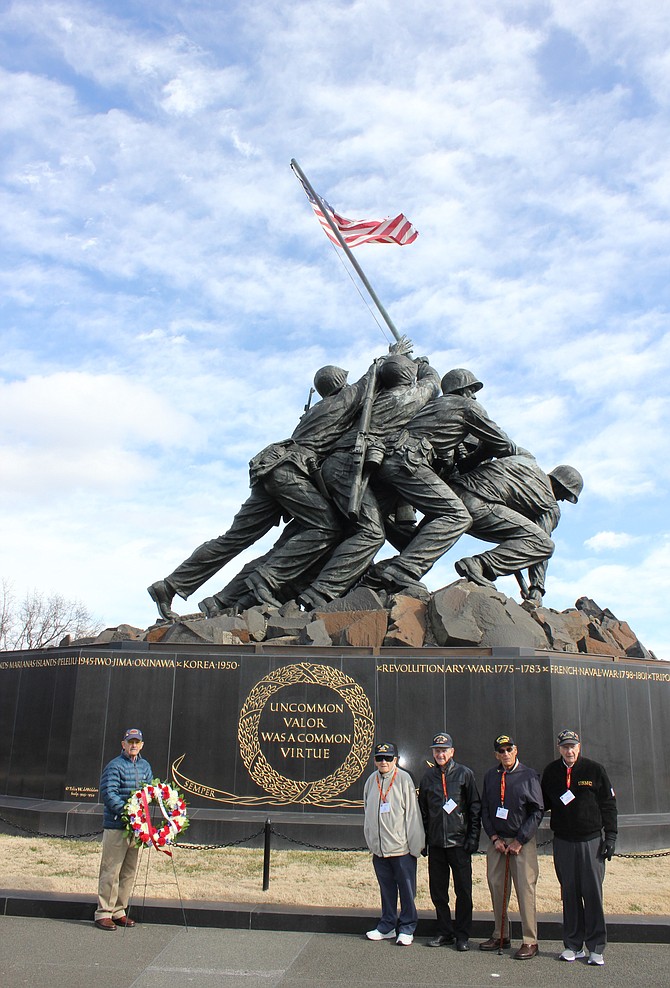 Roy Earle was just 18 years old when he enlisted in the Marines shortly after graduating from high school in 1942. For the next three years he would mark his birthday in the midst of some of the worst battles fought in the Pacific Theater of World War II, including his 21
st
 birthday as the Battle of Iwo Jima raged around him.
"For several years, I never celebrated a birthday," said Earle, who will turn 98 on March 5. "The best I can say is that I marked the occasion lucky to be alive."
Earle was one of four survivors to gather in Arlington over President's Day weekend to mark the 77th anniversary of the Battle of Iwo Jima, one of the bloodiest in U.S. history. 
"Two years ago we had more than 50 Iwo Jima survivors gather for the 75th reunion," said David Fields, a board member of the Iwo Jima Association of America that sponsored the gathering. "This year only four veterans were able to return."
Fields, a Vienna resident who served six years as a Marine infantry officer, is the son of the late Col. Thomas Fields, a veteran of Iwo Jima who went on to serve in Korea and Vietnam.
"Dad felt he was an old man at age 26 when he served in WWII," Fields said. "He did not talk much about his experience on Iwo Jima, but he always said that the credit goes to the 18-year-olds, who fought with immeasurable courage. In his Company D battalion of the 5th Marine Division, 250 men in his company walked in and only 19 walked out."
The Battle of Iwo Jima began Feb. 19, 1945. It was the first day of an intense, 36-day battle that became one of the major turning points in WWII. Situated 791 miles from Japan's capital city of Tokyo, two airfields on the small volcanic island were seen as vital in order to achieve victory in the Pacific.
The raising of the American flag by five Marines and one Navy Corpsman on Feb. 23, 1945, was immortalized in a Pulitzer-Prize winning photograph by Associated Press photographer Joe Rosenthal.
"I was in the fourth wave to land on Iwo Jima," Earle recalled. "Iwo was a very soft ash – when you stepped on it you went down to your ankles. Mount Suribachi was an active volcano and the Japanese had fortified the island with 15 miles of tunnels so you never knew where or when you would be attacked."
Recalled Fields, "Dad would say that the Japanese were not on the island, they were in the island."
Approximately one-third of all Marines killed in action during World War II were killed on Iwo Jima. More than 100,000 Americans fought there and 6,821 died as a result — 5,931 of them Marines. An additional 19,000 troops were wounded in the battle that claimed more than 21,000 Japanese lives. Of the 23,000 Japanese troops defending Iwo, only 1,083 were taken prisoner.
In addition to Earle, Iwo Jima veterans attending the reunion at the Hilton Crystal City included Ivan Hammond, John DeGennaro and Louis Bourgalt.
Virginia Lt. Gov. Winsome Sears, a Marine Corps veteran, was the keynote speaker and the recipient of the first Iwo Jima Association of America's Woody Williams Award. The award is named in honor of Herschel Woodrow "Woody" Williams, a Marine survivor of Iwo Jima and the last living Medal of Honor recipient from WWII. Williams virtually presented the award to Sears.
"What an incredible honor to sit in a room full of veterans and their families, including those who fought at Iwo Jima," Sears said. "I heard stories and thoughts from veterans and Gold Star families, reminding us that freedom isn't free."
The four-day series of events included a veterans panel, a visit to the National Museum of the Marine Corps at Quantico and wreath-laying ceremonies at the WWII Memorial and the Marine Corps War Memorial.
Earle, who lives in Maine with his wife Linda, was in constant combat against the Japanese in the Marshall Islands, Saipan, Tinian and Iwo Jima. For his service he received the two Presidential Unit Citations awarded the 4th Marine Division, the Navy Unit Citation awarded JASCO, the American Campaign Medal, the Asiatic Pacific Campaign Medal with four bronze battle stars, and the World War Two Victory Medal.
"I walked off of every battlefield, I was that fortunate," Earle said. "I was proud to be a Marine. More specifically I was proud to be a 4
th
 Marine Division Marine. We fought four battles and won them all."