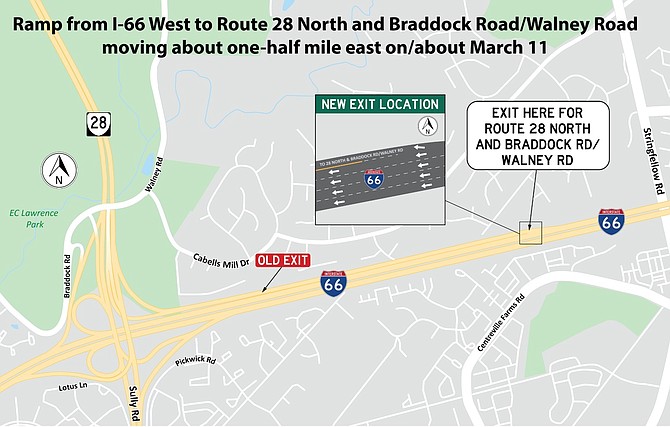 Heads up, Centreville and Chantilly residents! As of this Friday morning, March 11, there'll be a new exit from I-66 west to Route 28 North and Braddock Road/Walney Road. And unlike many of the temporary, road-construction detours local motorists have become used to, this one will be permanent.
The work is part of the Transform 66 Outside of the Beltway Project, which includes a new Route 28 and I-66 Interchange in Centreville. According to VDOT, the heavily used Braddock/Walney roads exit – which leads drivers to homes, businesses, schools, parks, churches, etc. in both Centreville and Chantilly – will be relocated approximately one-half mile prior to (east of) the current exit. 
The new exit will be immediately after the I-66 bridge over Stringfellow Road, so drivers will have to be alert to leave I-66 sooner than they're used to doing. However, if they miss the new exit location, they can continue west and take the exit to Route 28 south instead.
From there, they may exit to Route 29 north, stay to the right and follow the signs to Route 28 north. Drivers traveling to Braddock Road/Walney Road should stay left on Route 28 north and follow the signs to the Braddock/Walney roads exit.
All work is weather dependent and will be rescheduled to the following night if inclement conditions occur. The new Route 28/I-66 Interchange is being constructed to improve traffic flow on both I-66 and Route 28 and provide access to and from the future I-66 Express Lanes. These lanes are expected to open in December.