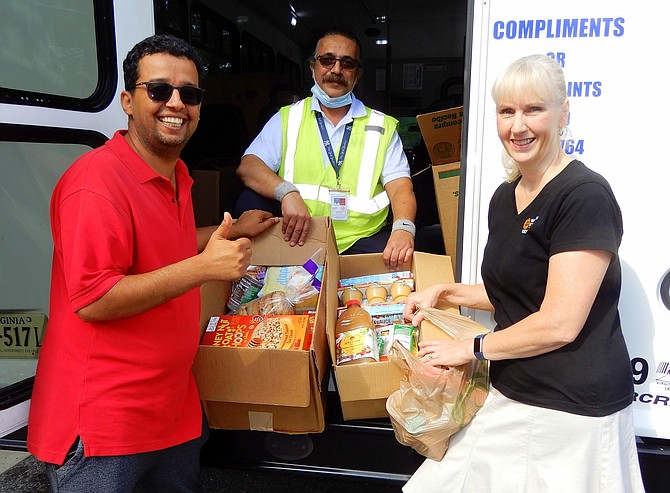 In wealthy Fairfax County, many people struggle to put food on their table. Their bills for rent, water, gasoline and electricity often leave them with little money left to feed their hungry children 
That's where the Western Fairfax Christian Ministries (WFCM) food pantry comes in, providing a crucial necessity of life to local families in need. But it can't do it without the generous donations of the community which help keep its shelves stocked.
And that's why the two, upcoming, Stuff the Bus food drives in Chantilly and Centreville are so important. They give local residents an opportunity to donate food to WFCM to help their own neighbors in need.
Now in its 10th year, Stuff the Bus is working to meet the increased demand for food due to the COVID-19 pandemic. And the next food drives are slated for Saturday, March 19, from 10 a.m. to 3 p.m. 
One is outside the Sully District Governmental Center, 4900 Stonecroft Blvd. in Chantilly, and the other is in the Centreville Regional Library's parking lot at 14200 Saint Germain Drive in Centreville. Just look for the Fastran bus at each location.
Stuff the Bus is a collaborative program established in 2011 between Fairfax County Government and local nonprofits to support local food pantries. It's held at various sites throughout the county; and since its inception, this initiative has helped collect more than 220 tons of food.
Below is a list of the most-requested items. Because the average size of a family seeking food assistance is four people, the sizes indicated are preferred to reduce food spoilage. And donations of items that are high fiber, low sugar and low sodium contributes to the recipients' overall health and wellness. 
What's Needed
Cooking oil; corn flour (Maseca); 16-ounce bags of dried beans, peas or lentils; brown or white rice (5 lbs. or smaller); canned fruit in light syrup or juice (20 oz. or smaller); healthy hot and cold cereal (42 oz. or smaller); canned tuna, salmon or chicken (15 oz. or smaller); canned tomatoes - low sodium, no salt added (29 oz. or smaller); and soup - lower sodium (19 oz. or smaller).
Also needed are healthy snacks (e.g. raisins, granola bars); instant potatoes (16 oz. or smaller); canned pasta (16 oz. or smaller); macaroni and cheese; peanut butter (40 oz. or smaller); fruit jam (32 oz. or smaller); pancake mix (32 oz. or smaller) and syrup; canned vegetables - low sodium, no salt added (29 oz. or smaller); and canned beans or peas (29 oz. or smaller).
For those unable to donate in person, monetary donations may be made online by contributing directly to WFCM at https://www.wfcmva.org/donate. Monetary donations are beneficial for several reasons. For example, nonprofits can turn a donated dollar into more meals by purchasing food in bulk or through special discounts from retailers.
Money also allows pantries to purchase culturally appropriate foods, which better meet the needs of the diverse communities they serve. And while canned and dry foods are a vital part of food pantries, a healthy diet also requires fresh fruit and vegetables, low fat dairy products and lean proteins – items that can't be collected through food drives.
In addition, nonprofits often rely on volunteers to sort and shelve donations, but the pandemic has greatly impacted volunteers' ability to serve. Also important is the fact that hunger never takes a day off – so having cash on hand enables food pantries to keep their shelves stocked during times of the year when donations decline.
And monetary donations of any size make a positive difference in people's daily lives. For example, $25 buys a gallon of milk for 15 families, $50 provides a gallon of milk and a dozen eggs for 20 families, $250 buys five days of meals for five families, and $500 supplies weekend food packs to 125 schoolchildren.