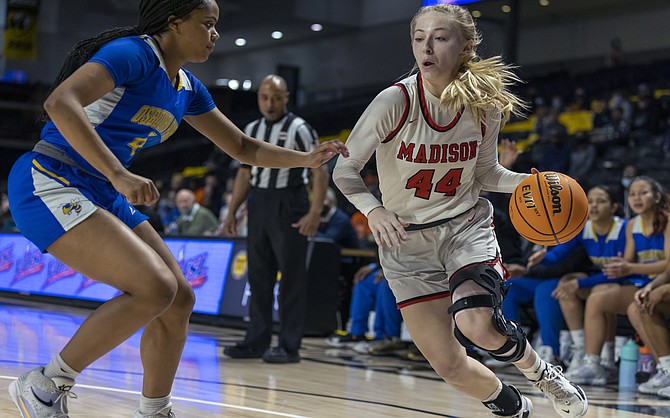 The Madison Warhawks headed to Richmond to the campus of Virginia Commonwealth University to take on the Osbourn Park Yellowjackets on March 11, 2022 for the VHSL Class 6 State Basketball Championship. Osbourn Park came into the game with one loss on the season, to Madison on Dec. 30; 53-35. Madison came in with two losses to Georgetown Visitation Prep and St. Paul VI.  
Madison would open the first quarter with an early 8-5 advantage, making just over 27% of their field goal attempts while holding Osbourn Park to just over 22%. In the 2nd quarter Madison would hold Osbourn Park to 1 of their 6 field goal attempts while making 25% and taking a 15-8 halftime advantage. In the 3rd quarter Madison held the Yellowjackets to just over 28% shooting while making half of their attempts, to take a 29-15 lead with a quarter to play. Osbourn Park would outscore Madison 12-9 in the final quarter, but were unable to mount a come-from-behind victory and prevent Madison's 3rd consecutive Girls Virginia Class 6 State Championship. 
With the 38-29 win, Madison was led by Grace Arnolie with 11 points, Mia Chapman with 10 points, and Sarah Link with 8 points. Additionally, Kiera Kohler and Mia Chapman each had 3 blocks, while Alayna Arnolie added 2 blocks. Osbourn Park was led by Hailey Kellog who tallied 15 points to lead all scorers. 
After the game, Coach Kirsten Stone and players Kiera Kohler, Mia Chapman, Grace and Alayna Arnolie all described how they focus on defense and let the offense come from steals, rebounds and blocks. While Madison has many talented shooters, they take pride in the fundamentals of basketball with pressure defense, steals and solid passing, everything that makes for a championship team. Even with the loss of 9 players to graduation this year, Madison will likely contend once again for another run to a state championship.  
https://www.fotosbywill.com/The-Connection-Newspapers-/2022-03-11-VHSL-State-Championship-Osbourn-Park-vs-Madison/n-nBJmm4