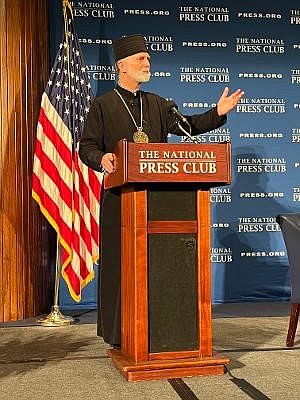 As Ukrainian flags fly across the city in support of the Eastern European nation, Ukraine's Ambassador to the United States made an urgent appeal for aid while condemning Russia for its invasion of her country, calling the situation a "full-scale genocide of the Ukrainian people."
"We clearly have evidence that Russians are not actually targeting our armed forces," said Oksana Markarova during a March 15 press conference in Washington. "They are targeting civilians. They are killing children, pregnant women. They are killing elderly. This is a clear case of genocide."
Markarova was joined by Archbishop Borys Gudziak of the Ukrainian Catholic Archeparchy of Philadelphia and chairman-elect of the U.S. Catholic bishops' Committee on Domestic Justice and Human Development.
"Russian President Vladimir Putin did not invade Ukraine out of concern that NATO would encroach on his borders," Gudziak said. "It's being attacked because it's a democracy and it has the disease of freedom of the press, freedom of religion, elections, a vital civic society. All of this is a dangerous virus for autocracy. For oligarchic kleptocracy and for what Putin stands for."
On Wednesday, Ukrainian president Volodymyr Zelenskyy addressed Congress from the capital city of Kyiv in an appeal to the U.S. to do more to help his nation.
"Remember Pearl Harbor, terrible morning of Dec. 7, 1941, when your sky was black from the planes attacking you. Just remember it," Zelenskyy said. "Remember Sept. 11, a terrible day in 2001 when evil tried to turn your cities, independent territories, into battlefields. When innocent people were attacked, attacked from air, just like nobody else expected it, you could not stop it. Our country experiences the same every day. Right now, at this moment, every night for three weeks now."
Markarova warned that "nothing is off limits to Russia."
 "If Russia stops shooting, the war will stop. If Ukraine stops shooting today, our country will disappear."
— Ukrainian Ambassador to the U.S. Oksana Markarova
"They are attacking the civilians, they are trying to exterminate Ukrainians," she said. "This is a humanitarian catastrophe of massive proportions with the loss of life, three million refugees, and the need for basic necessities."
Markarova noted that the war between the two countries has existed for eight years — since 2014, when Russia annexed the Crimean peninsula from Ukraine. She asked for more weapons and defense, humanitarian assistance, and sanctions.
Gudziak added to Markarova's remarks, calling for armored ambulances, medical supplies, cyber protection, "massive humanitarian aid" and defensive aid.
Following Zelenskyy's address to Congress, Sen. Mark R. Warner (D-VA), Chairman of the Senate Intelligence Committee, released a statement. saying: "I was incredibly moved by President Zelenskyy's words this morning and by the powerful images of the destruction inflicted on the Ukrainian people as a result of Russia's indiscriminate attacks on civilian targets. …. We should heed President Zelenskyy's call for additional defensive aid including anti-tank weapons and anti-aircraft missiles and for new sanctions on those responsible for supporting the Russian government's barbaric invasion of a peaceful and sovereign neighbor."
The Rotary Club of Alexandria is collecting donations to be distributed through the 60 Rotarian groups located in Ukraine.
"They told us 'don't send stuff,'" said Rotarian Donna Wilson. "They said they can get what they need but they need the funds to pay for it all."
Donations can be made through www.alexandriarotary.org or by contacting Jeff Kohne at jeff.kohne@kwccpa.com.
Markarova ended her remarks, saying, "We have a saying in Ukraine: 'If Russia stops shooting, the war will stop. If Ukraine stops shooting today, our country will disappear. So it's totally up to Russia."