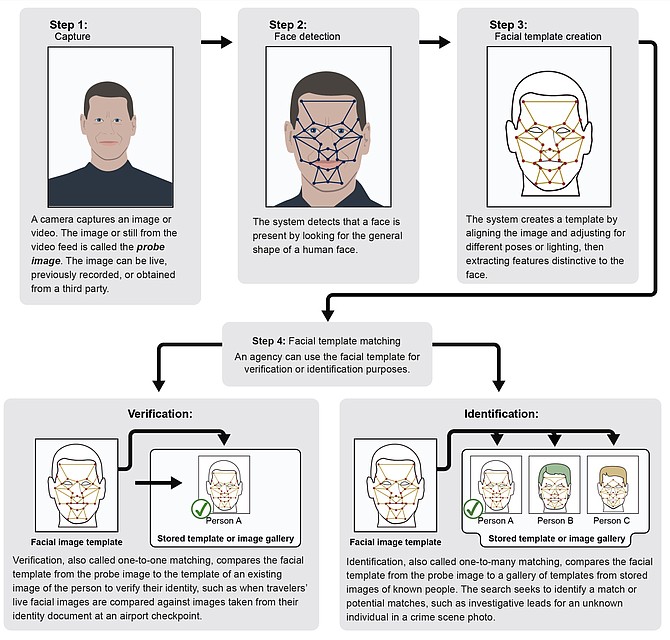 Police departments across Virginia may soon have the ability to use billions of images scraped from social-media sites like Facebook and Instagram to track down suspects, a development that is concerning to critics who say the technology is invasive and a violation of privacy. The governor is now considering the bill, and critics are urging him to veto it or amend it to require a warrant.
"There's nothing in the bill that allows any type of surveillance or monitoring," said Sen. Scott Surovell (D-36), who introduced the bill. "The technology can only be used if you have a picture of somebody that you want to feed into the algorithm to identify them or identify other people affiliated with them for purposes of investigating a crime."
At the center of the controversy is a company known as Clearview AI, which is backed by Facebook investor Peter Thiel and gives law-enforcement officials access to billions of images posted on social media. It offers free trials to public employees as a way to land subscribers, and more than 30 agencies in Virginia have used the technology or tested it. Supporters say it's a way for cash-strapped agencies to fight crime with less money and manpower. Critics say it's a violation of the Fourth Amendment, which forbids unreasonable search and seizure.
"Our laws have not kept up with technology as it has evolved, and what we see is a clear violation of not only our privacy laws but the Fourth Amendment," said Del. Sam Rasoul (D-11). "That's why you'll find concerns on both sides of the aisle that say we need to be smart about this."
THE BIPARTISAN VOTE in the General Assembly was far from the normal partisan divide that happens on most controversial issues. The vote in the House was 54 to 42. Republican Speaker Todd Gilbert voted against the bill, and former Democratic Speaker Eileen Filler-Corn voted in favor. Alexandria's delegation was split, with Sen. Adam Ebbin (D-30) voting in favor and Del. Elizabeth Bennett-Parker (D-45) voting against it. The vote in the Senate was more lopsided, 27 in favor and 13 opposed. But the opposition included some prominent Republicans, including former president pro tempore Steve Newman (R-23). Some of the leading voices against the bill were from the Legislative Black Caucus, although members of the caucus were on both sides of the issue. 
"There are neighborhoods where police cars drive by certain spots four, five, six, seven times a day," said Del. Cia Price (D-95). "And little kids in neighborhoods like the one I grew up in and that I represent know this feeling, and other areas don't have that."
Advocates for the technology say concerns are overblown. Surovell says police lineups have a 40 percent error rate to identify people, so he says facial recognition technology is much more accurate than current methods police use to identify people. As to the idea that police should be required to get a warrant, Surovell says that proposal is unworkable. Before lawmakers took action to prohibit the use of third-party vendors last year, Fairfax County used this technology so often that Surovell says requiring a warrant would be counterproductive.
"Fairfax did this more than 12,000 times," said Surovell. "The courts can't even handle 12,000 requests for this. That would be a completely unworkable system. We don't require a warrant to do a police lineup to identify somebody."
THE HISTORY OF Law-enforcement use of facial recognition technology has been checkered. The Virginia State Police initially denied using the technology, then admitted that four state troopers had been using the company's facial recognition tools for five months before supervisors found out and shut them down. Police departments in Hampton and Newport News initially denied using the technology, then later admitted that they had. The Alexandria Police Department acknowledges it used the technology in the past, before lawmakers prohibited law-enforcement agencies from using third-party vendors.
"It was only used as a tool to assist officers in finding possible suspects," said Marcel Bassett, public-information officer for the Alexandria Police Department in an email. "But the match would not be enough to convict or even subpoena anyone."
Concerns about law-enforcement agencies using the technology with little or no oversight have been building for years, culminating in a new law that went into effect last year. That was legislation filed after the Norfolk Police Department used Clearview's database without the knowledge of the mayor and most city council members, prompting former Del. Lashrecse Aird (D-63) to introduce a bill requiring law-enforcement agencies to have "exclusive control" over every aspect of the program. Because most agencies rely on Clearview AI, she called the bill a "de facto ban."
"Citizens should have control of and awareness of whether or not their law enforcement officers are using this type of technology," said Aird after her bill passed the General Assembly last year. "The immediate baseline-level concern is that these databases have misidentified people on a large scale, particularly anyone with significant pigmentation, so Black and brown people."
Her concern about false identification is warranted, according to the National Institute for Standards and Technology. In 2019, the agency found a high rate of false positives among women — especially Black women — and African Americans in general. Former Gov. Ralph Northam ended up signing Aird's bill, although he added an amendment exempting the Virginia State Police. Northam also carved out an exemption for airports, where local law enforcement agencies often overlap with federal and state agencies.
"They have a requirement for their law enforcement entities to work with federal entities," said Aird at the time. "So we wanted to make sure this does not conflict with that."