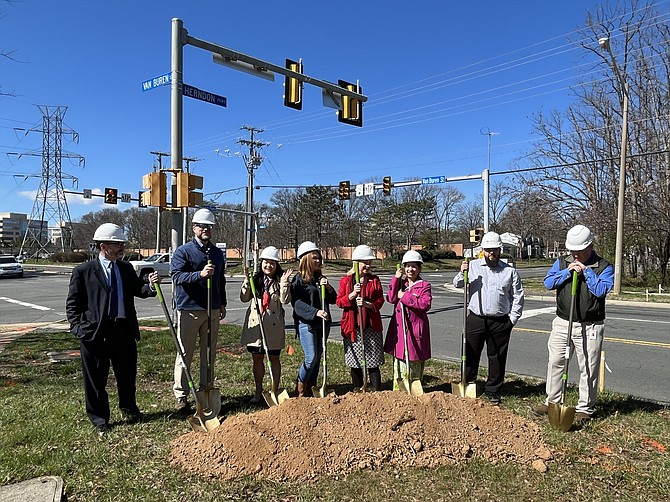 On Monday, March 28, eight state and local officials sank their gold ceremonial shovels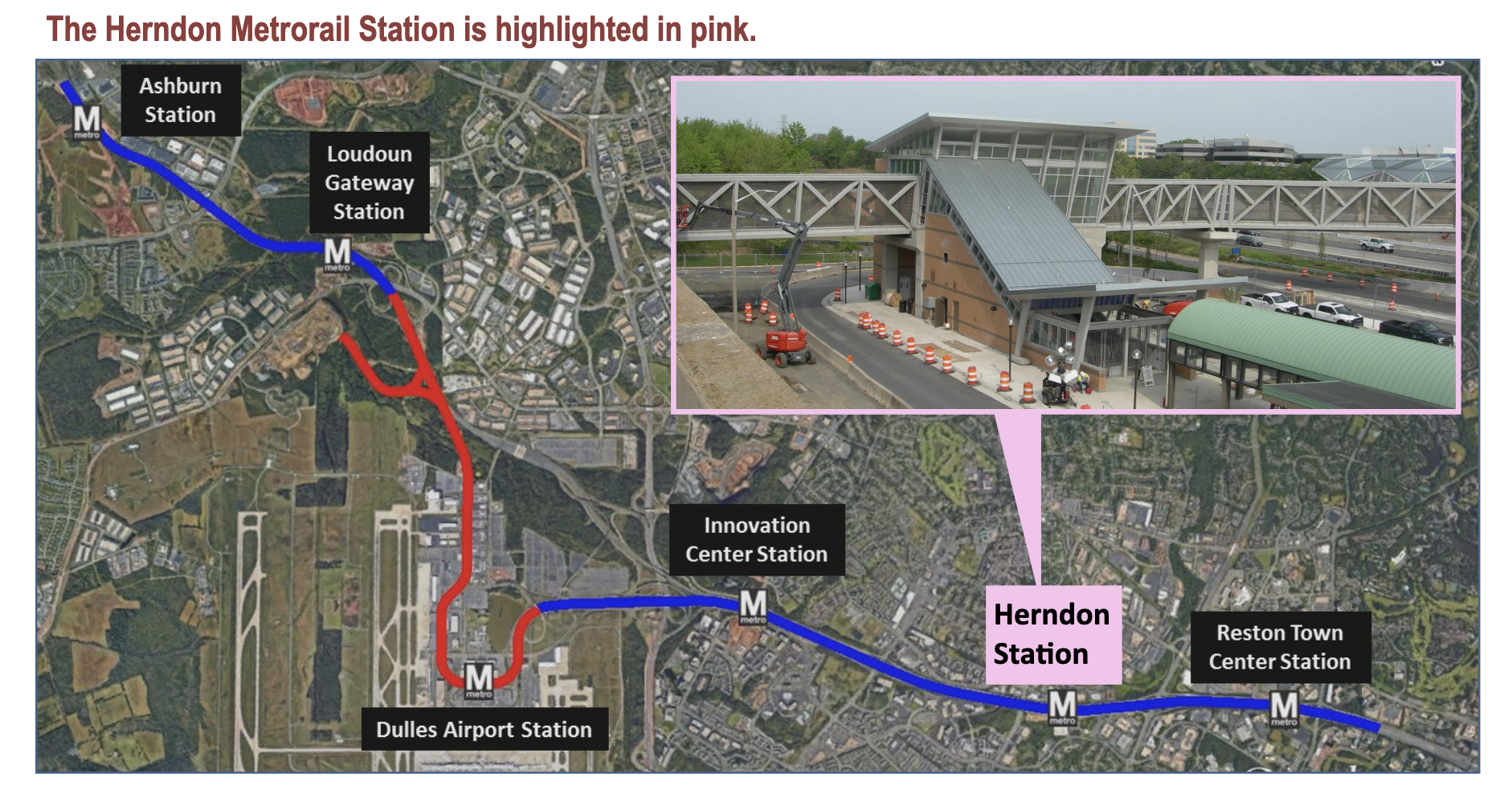 into the dirt in the Town of Herndon to mark the groundbreaking of the Van Buren Complete Street and Herndon Parkway Intersection project. The multi-modal improvement project will make major changes to the intersection providing regional access to and from Monroe Street (Route 666), Sunrise Valley Drive and Herndon-Monroe Park & Ride Garage in Fairfax County for the Herndon Metrorail Station, 
In addition, the Van Buren Complete Street and Herndon Parkway Intersection project will improve vehicular and pedestrian safety. It will reduce congestion and lengthy peak hour delays. The project is needed because the close-by Herndon Metrorail Station, part of Phase 2 of the Silver Line extension to Dulles Airport and Loudoun County, is expected to open this summer.
Virginia Delegate Irene Shin (D-86); Herndon Mayor Sheila Olem; Herndon Councilmember Naila Alam; Bill Ashton, town manager, Town of Herndon; Scott Robinson, director, Public Works, Town of Herndon; Richard Smith, senior civil engineer, Town of Herndon; former Herndon Mayor Lisa Merkel; and Brian Glover, vice president, A & M Concrete Corporation were among those in attendance.
While the entire cost of this project is $10.9 million, Olem said at the groundbreaking that $8 million had been raised via federal, regional, and local funds. Grants were applied for and secured by the town. The Herndon Parkway intersection cost $4.5 million, while the Van Buren complete street portion totals $6.4 million.
"I want to give a big shout out to the Northern Virginia Transportation Authority for also partnering with us on this major project. What's going to happen when this is done? It's going to make it much easier for people to walk, bike, wheelchair, or stroller around town," Olem said.
According to Smith, the Project is two major projects the town was able to award to one contractor, A&M Concrete Corporation. That adds efficiency to the schedule and budget. Brian Glover, vice president of A&M Concrete Corporation, said that the project's construction phase will last one year with completion expected in the spring 2023.
The project will provide access to the Herndon Transit-Oriented Core areas, concentrating on the North Entrance of the Herndon Metro Station, and continues initiatives to have through traffic use the Herndon Parkway instead of the town's internal streets. It also provides connectivity to Fairfax County. 
Some of the improvements include widening the travel lanes to 11 feet so that major intersection traffic capacity can be increased, adding curb and gutter, on-and-off-road bike lanes in each direction, five-foot-wide sidewalks with streetlights, and crosswalks, and traffic signalization at Alabama Drive. A turn lane for northbound Van Buren Street at Herndon Parkway will also be added.
Additionally, the project will provide improved pedestrian crosswalks with ADA signals and stormwater management facilities, and overhead utility line relocations. Dedicated turn lanes, bike, and pedestrian enhancements, and storm drainage improvements are among the intersection improvements.
"We are so looking forward to this," Olem said.