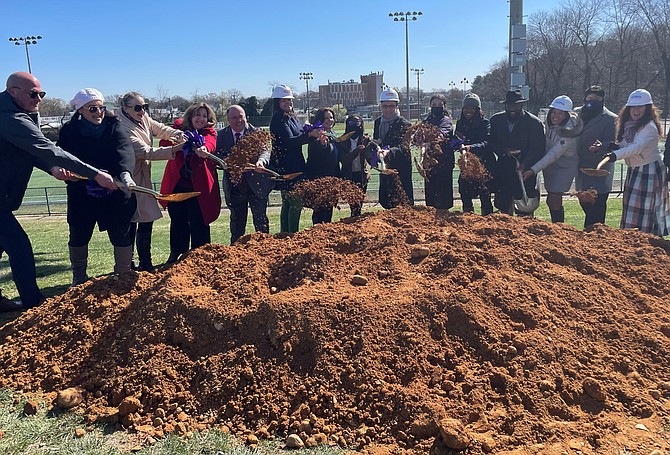 Construction for the new Minnie Howard Campus of Alexandria City High School kicked off March 29 with a groundbreaking ceremony attended by city officials, members of the School Board and project designers.
"This is going to be a landmark facility of our community, a crown jewel of a new era of investment in our school facilities," said Mayor Justin Wilson.
The new facility is part of the Connected High School Network of Alexandria City High School and will be located on the site of the current sports field. Once completed, the current school will become the location of the news sports field.
"This is the beginning of a vision coming to reality," said School Board chair Megan Alderton. "For me it is not just the facility, it is all the educational, social, emotional, and academic programming that has gone into the thought behind this facility. We've had so much community engagement and had the high school project group working to design what this facility is supposed to do for kids."
In September of 2019, the School Board voted in support of the Connected High School Network and chose to expand Alexandria City High School with a building on the Minnie Howard site instead of building a second high school. 
The new campus will feature an aquatics center, an athletics facility, a teen wellness center and early childhood education center.
"This building will be one of our most sustainable schools yet," said Omar Calderon, project designer with Perkins Eastman. "It is aspiring to be a net zero energy school, which means that it will use as much energy as it produces in a year. That will help facilitate the energy performance of the building but also contribute to student wellness and student wellbeing."
Minnie Howard is home to the city's ninth grade students, who will remain in place during construction of the new facility. The new building is expected to be completed for the 2024-2025 school year, at which time the existing building will be razed for construction of the sports field.
"This is the beginning of a vision coming to reality."
— School Board chair Meagan Alderton
"It is very special for me to be here today," said Alexandria City High School principal Peter Balas. "I started teaching here in 2001 and here we are 20 years later and I get to be a part of this rebuild and revisioning."
The expansion of the Minnie Howard Campus will increase capacity for the growing high school enrollment in Alexandria, projected to be up to 5,000 students in the next five to 10 years.
Added Alderton, "I can now see a vision coming to fruition. It's going to be an amazing building to serve our students."