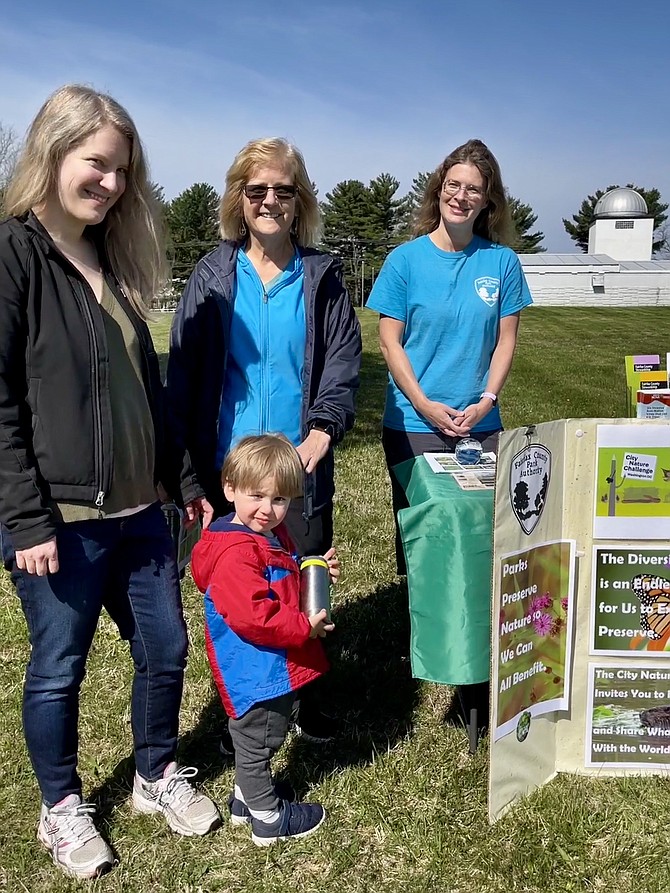 Tami Sheiffer, a nature interpreter and Watch the Green Grow Coordinator at Fairfax County Park Authority, led the City Nature Challenge 2022 at Observatory Park in Great Falls on Saturday, April 30. The Challenge was held across the DMV at hundreds of locations. Sheiffer said Great Falls was in the fifth position for the number of sightings by shortly after 10 a.m. that morning.
According to Sheiffer, the City Nature Challenge gets people into nature, and gives them an opportunity to see and learn about the plants and animals around them. Smartphone technology and apps like iNaturalist would make it simple to record photographs and biological information about living species.
Sheiffer charged her Great Falls citizen scientists to find and identify as many species as possible in a short time. They planned to work together to gather data and gain a snapshot of an area's biodiversity. The observations made from Great Falls and in the Washington D.C. Metro area for this year's challenge can be viewed at https://www.inaturalist.org/projects/city-nature-challenge-2022-washington-dc-metro-area 
"We are going to be looking for plants and animals today and take a walk in the meadow area. We will see some meadow flora and, maybe, some insects as well. Without a doubt, songbirds, if we can capture a decent image of a bird," Sheiffer said.
The group would then explore the path beyond the fence line in the hopes of finding animals. They would most likely come across native and invasive plants as they explored the area. According to Scheiffer, humans bring invasive plants from other regions or parts of the world there. Because the creatures here have not evolved with the plants, they cannot eat them. The plants then go out of control and become invasive.
"Individuals can help protect nature, restore wildlife habitat and improve water quality by removing invasive plants and planting native plants in their yards," she said.
After the event, Scheiffer reported: "We observed native plants and invasive plants as well as animals like spiders, butterflies, birds, and deer."
Asked what the day's most interesting find was, Scheiffer said that at the Great Falls event on Saturday, they saw a Spring Beauty Miner, a type of native bee. "There are almost 500 species of native bees in Virginia, and bees are important pollinators. Miner bees are solitary bees that nest in the ground, and they are non-aggressive," she said.
Accumulated data will take a few days to identify  and tally the observed plants and animals. For information, visit the D.C website https://citynaturechallengedc.org/ or the worldwide challenge at https://citynaturechallengedc.org/. The collective global results will be announced on May 9.