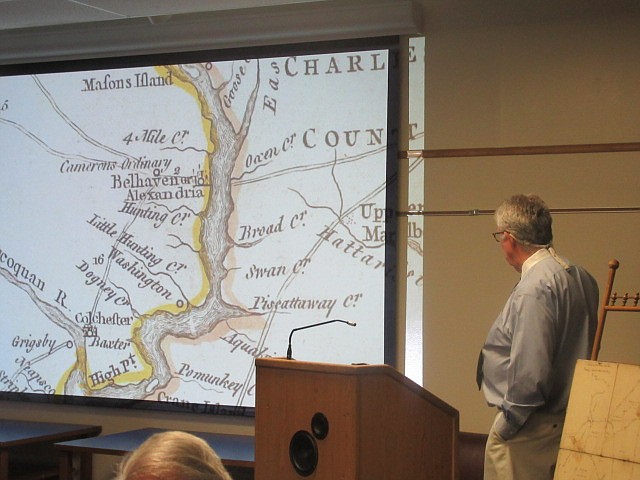 "People have been making maps of the Mount Vernon area for four centuries and maps convey more than pictures," Kevin Green began as he shared images of his historic map collection with 60 history buffs at the May 3 meeting of the Mount Vernon Regional Historical Society at Sherwood Hall Regional Library. "I'm obsessed with maps," he explained.  
Green has owned the Virginia Florist in the Belle View Shopping Center since 2000 and today has reproductions of around 12 historic maps of the local area for sale amid the hundreds of gifts and flowers that fill the shop. 
 Noting that men generally do not buy gifts as readily as women, Green quipped that he started selling maps "to get men to the store.  It worked like a charm," he told the group. 
Significant U.S. History Is Everywhere Locally
The Mount Vernon area is the most historic part of the United States except perhaps Manhattan and Charleston, South Carolina, Green believes.  To make his point, he explained that English explorer Captain John Smith sailed up the Potomac River mapped the area and "chatted up the Indians." The country's first president, General George Washington, and his wife Martha, lived on the Mount Vernon estate.  The General led the American colonies to independence in the Revolutionary War and chose Washington as the nation's capital city.  
Among the many local, historic tidbits Green shared were these:
Arcturus Cove on the Potomac near today's Wellington Community was a seasonal Native American campsite.

In 1810, a causeway crossed Hunting Creek from Alexandria to Fairfax County where U.S. 1 is today.

The first crossing of Little Hunting Creek was built in 1936 near today's Gum Springs community.

Collingwood Road is the oldest road in the area.  Fort Hunt Road was once called "Neck Road."

Across from today's Waynewood in the low, "beachy area" along the Potomac shoreline, Clifton's Ferry was established in 1745, but no one ever used it because without roads, it was difficult to access.  Washington created Posey's Ferry near today's Ferry Landing neighborhood.

A mid-1800s map shows Dyke Marsh as "Hell Hole."

Peter Jefferson, father of third U.S. president Thomas, made a map of Virginia.
Green shared a 1776 map that had few roads but showed what he called "Indian paths." Rivers and streams are prominent on many old maps.  "Rivers were the roads of the day until the 1800s," he commented.  
French military commander Rochambeau, who collaborated with Washington and led French expeditionary forces in the Revolutionary War, drew maps of villages and his camps from Newport, Rhode Island, to Yorktown, Virginia, including areas near today's Telegraph Road and the former village of Old Colchester.
An 1862 map of Alexandria and environs by Robert Sneden "misplaced" Gunston Hall, home of George and Sarah Mason, siting it just south of Hunting Creek, 10 miles north of its actual location.
During the Civil War, the local area was a "no man's land," Green said, because Fairfax County voted "to be associated with the Union" and did not secede.  Union troops occupied Alexandria. An 1861 Union intelligence map shows Mount Vernon-area homes designed with a "U" for "Union sympathizer" or an "S" for "secessionist." Today's Belle View area and Fairchild Park near U.S. 1 were both sites of Union encampments.
An 1890 map, four feet by 15 inches by Peter Hains, shows plans for what was called "the national road" from Washington, D. C., to Mount Vernon Estate, a  road that was never built, but superseded by a streetcar line in 1892 where 22 trains ran up and down its tracks daily.  In 1932, the first segment of the Mount Vernon Parkway replaced the streetcar line. 
A Local Returned
    Green grew up on Fort Hunt Road in the Hollin Hall subdivision, graduated from high school in Connecticut and got a bachelor's degree from Eisenhower College in Seneca Falls, New York, and a master's in business administration from William and Mary. Armed with a journalism major, he worked for a Seneca Falls newspaper and eventually became an editor for the American Institute of Architects, where he met his future wife, Kathy Deierlein from Columbia, South Carolina.  Then working for Leo A. Daly, an architecture and interior design company, he traveled the world and was part of the team that designed the World War II Memorial and terminals B and C at National Airport.
In 1989, he returned to Mount Vernon and designed and built his house. There the couple raised their three, now-adult children -- Caitlin, William and Pledger -- all of whom graduated from West Potomac High School.
In 2000, he bought the florist shop, inspired by his grandfather who had the largest florist business in Seattle, Washington.  Green likens the business to architecture because it requires designing and making what the client wants.  He has up to five designers who make floral arrangements for customers like, Washington's Watergate building, ten large law firms in the city and the National Symphony Orchestra at the Kennedy Center.  The night after Russia attacked Ukraine, he provided the symphony blue and yellow flowers, Ukraine's national colors.
The mostly long-stemmed flowers come from all over the world, with roses arriving by airplane from Ecuador and Columbia, tulips from the Netherlands, orchids from Singapore and dahlias and orchids from Virginia.  After getting fresh water, the flowers go into a cooler to await their sale.
Green estimates that he has 10,000 customers and grosses over $1 million a year. 
Trees Are Part of History Too
Green lamented the recent destruction of many mature trees by the ironically-named Evergreene Homes at the former Messiah Evangelical Lutheran Church at the Fort Hunt Road and Belle View Boulevard intersection, trees "so big I could barely put my arms around them," he remarked.  "When we lose trees, we lose the physical reminders of our history."  Maps can help us remember and hopefully learn from some of that history.
To learn about John Smith's Virginia and the Chesapeake Bay maps, visit 
https://www.nps.gov/cajo/learn/smith-maps.htm.
Photo by Glenda Booth 
Kevin Green, the Virginia Florist owner, and the 1862 Sneden map.
Photo by Glenda Booth
Inside the Virginia Florist, the shop sells flowers, soaps, jewelry, candles, cards and more.
Photo by Glenda Booth
Mature trees destroyed by developer Evergreene near the Belle View Shopping Center.
Photo by Glenda Booth
An 1862 map of Alexandria and Hunting Creek by New Yorker Robert Sneden, the busiest (and often mistaken) Union mapmaker of the Civil War.  Shuter's Hill is the site of today's Masonic Memorial, west of the Alexandria train station.
Roxanna Diaz and Ledis Reyes, designers, and Green readying flowers in the shop.
Early Dutch map based on Captain John Smith's 1608 chart of the Potomac River showing Native American villages.
John Savage's 1737 map of the Potomac River, showing Piscataway and Hunting Creeks, Alexandria, the sites of the Washington and Fairfax family homes ("Belvoir") and, above the Eastern Branch, the future location of the nation's capital. "Eastern Branch" refers to the Potomac River, today's Anacostia River.