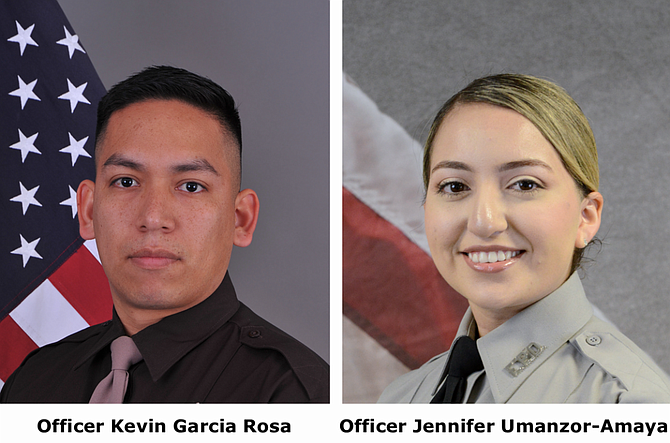 Two police officers from the Franconia district station used their multi-language skills to solve a robbery case and make arrests, earning them the title of "officers of the month," for April.
According to police: Shortly after noon on April 9th, officers from the Franconia Station responded to a call about a potential shooting on Skyles Way in Springfield. The caller reported that his wife had been shot. First-responding officers, which included officers Jennifer Umanzor-Amaya and Kevin Garcia Rosa, arrived to find a chaotic scene. A male subject was lying on the grass with what appeared to be a gunshot wound to his left shin, police said.
The officers rendered aid, while simultaneously securing the scene and making it safe. Units immediately located and identified a female victim who was the target of an armed robbery. The victim is a local jewelry dealer who has done business in the area for many years. While visiting the Skyles Way address to present her jewelry for a potential sale, she was robbed of her purse at gunpoint by two subjects. They also attempted to steal her jewelry bag but were unsuccessful. The victim had a visible laceration to her head that was initially thought to have been a gunshot graze wound.
Officers Umanzor-Amaya and Garcia-Rosa separated individuals at the scene and began to work their way through a series of interviews and translations, according to police. Both officers are fluent in Spanish and nearly all involved parties and witnesses were Spanish speaking only. The composure, command presence, and investigative focus of both officers were noted by other officers, supervisors, and responding detectives, the police said.
They interviewed several people on the scene and determined that the male subject lying in the grass was one of the robbery culprits. He had not been shot but, in fact, sustained a compound fracture of his shin as he fled from the building after the robbery.
No bullets had been fired at or in the direction of the robbery victim as was initially suspected. Her injuries were a result of being pistol-whipped with a handgun as the suspects attempted to rob her, the FCPD said.
The Major Crimes Bureau detectives who responded to the scene immediately and were able to decipher the crime scene due to the initial work performed by Officers Umanzor-Amaya and Garcia Rosa, police said.