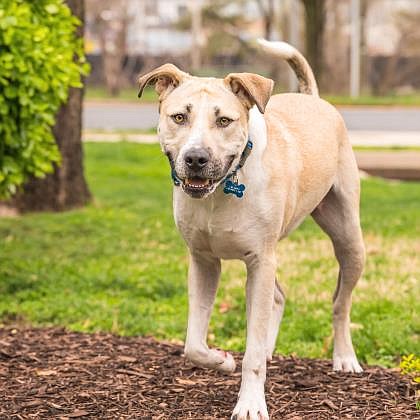 If you were to ever spend any quality time with Kobe, there's a good chance you'd never want to part ways. You may even insist on bringing him home … forever.
With Kobe, we're talking about a handsome mixed-breed adult dog with soulful brown eyes and a soft tan coat. He's an uncomplicated soul who enjoys the simple things in life: car rides, cuddles, and snoozing in the sunshine. A smart one, Kobe is also house-trained and picks up new tricks with ease.  
Then, we introduce you to Sydney – another fully grown mixed breed dog. This affable lady has a black and white coat, and she's never met a human who doesn't excite her.
Case in point: According to her foster parent, who works with football players, Sydney "won over a group of 300-pound offensive linemen and worked the room, making sure they all gave her plenty of pets …They've been asking for her to come back ever since."
Kobe and Sydney are two of millions of dogs across the United States who have found themselves living either at a shelter or within other animal rescue organization setups.
However, unlike other dogs in their shoes — or paws — who on average only spend about two weeks in shelter (or shelter-like) care, Kobe and Sydney have been with the Animal Welfare League of Arlington (AWLA) for many months.
Kobe has been with the AWLA – shuffling between the shelter and foster families – since November of 2021. Sydney's stint hasn't been much shorter: she has been with the AWLA since January of this year.
"Kobe is our longest resident," Chelsea Jones, AWLA Senior Communications Specialist, said. "He was originally adopted in June of 2021 and then returned in November because the owner didn't end up having enough time to take on the responsibilities of dog ownership. Since November, he's one of our 'long-term stays' ... and there's no reason at all why he wouldn't be a great candidate for a forever home."
When Jones says "long-term stays," she is referring to the more-than-a-handful of dogs who have currently been with the nonprofit rescue organization for longer than a month.
"A couple times a year, we will find that we have a whole lot of long-term stays – animals that have been in the shelter for what we consider a long time," Jones said. "The national average time that a dog stays in a shelter is two weeks, so, any time a dog is with us for more than a month, they get on our radar."
Currently, the dogs on this radar aren't just Kobe and Sydney. The others who are patiently waiting for their turn at permanent home happiness are Orlando, Buddy, Egypt, Merlin, and Cali.
And, what can be mind-boggling is that there's no reason why ALWA dogs like Kobe, Sydney, and their other long-term stay counterparts don't pique peoples' interests the way other dogs do.
"It's not like people meet dogs like Kobe and Sydney and decide they aren't interested," Jones explained. "It's that people don't even ask about these long-term residents at all. It's just guesswork, but the assumption is that people must think there is a reason why a dog has been up on our website, with the AWLA for so long – that something must be wrong with them. But that's categorically false."
Just like all the dogs that the AWLA deems adoptable, every single one of its long-term canine residents are more than ready to take on the role of someone's permanent companion.
"All of our long-term stays are lovely dogs," Jones said. "If a dog is unfit to be put into the community, they would never be put up for adoption. If they posed any threat to other animals or humans, we would not show them to the public."
There is especially no reason for these dogs to be without permanent homes because general demand for dogs in Arlington is not low.
There are, in fact, multiple reasons why potential adopters should consider every single dog — including the long-timers — that animal rescues like the AWLA have to offer.
First of all, the AWLA typically tries to find foster homes for dogs who have been with the organization for a month or longer. And, generally speaking, dogs who stay in the AWLA shelter (which can comfortably fit up to 30 dogs) tend to get adopted faster than those in foster homes. 
Why?
Because they are simply more accessible. 
Don't write off dogs in foster care, though: AWLA foster families are always more than willing to coordinate visits. Instructions for getting in touch with these foster owners are listed on the individual pet pages on the 'Adoptable Dogs' section of the AWLA's website. 
Also, when it comes to dogs in the shelter — both the longer and the shorter term stays — potential adopters must remember that animals aren't always at their best when they are confined in the small spaces designated for them. And, understandably so.
"Some dogs don't 'show well' at the shelter — they are naturally anxious for interaction —  so people don't want to meet them, but once they get into a foster home – or any home at all –  they are the loveliest and friendliest dogs ever," Jones said. "Especially big dogs get so frustrated in the shelter environment. And you can't blame them for not wanting to be there. As much as we try to make it nice for them, there are still times – depending on dog volume and volunteer availability – when these dogs will be in a kennel for up to 23 hours."
Most of AWLA's dogs are either transferred from an out-of-area shelter, or — like Kobe — they have been surrendered by their owners. Naturally, the circumstances surrounding them being in their new "homes" lend these dogs to being distressed in the shelter. 
"You can imagine, if you are a young, active dog who was once living with a family for a really a long time, or if you just got off a plane or transport van from another state, and then you have to be there in another kennel….of course you are going to be stressed," Jones said.
The moral of the story?
"Long-term stay" is not a synonym for a "difficult" or "unworthy" pet. With a little empathy, these dogs who yearn for love could be exactly what you and your family need.