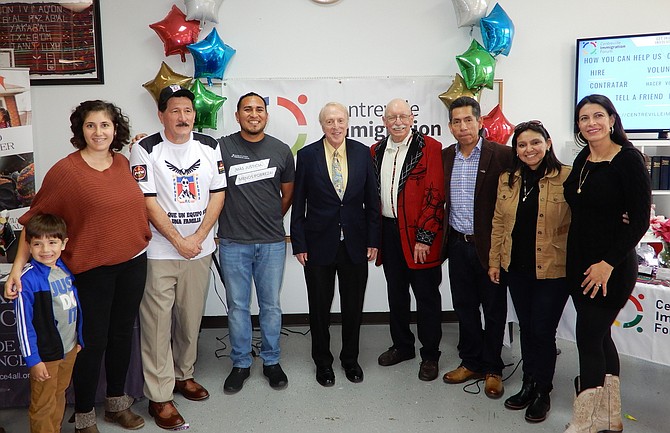 It was celebration time at the Centreville Labor Resource Center (CLRC), on Sunday, Oct. 23, as it held an open house and celebrated the Centreville Immigration Forum's (CIF) 11th anniversary. There was food galore, plus music, children's games, handmade crafts and heartfelt speeches.
"We're so proud of how our diversity is our strength, here in Northern Virginia – and especially in Fairfax County," said the person representing U.S. Rep. Gerry Connolly (D-11th). "Thank you to the CLRC for all you do."
The CIF operates the Labor Resource Center in the Centreville Square shopping center. And because of the CLRC, local day laborers have a safe, welcoming place to seek employment, learn English and improve their job skills. They also provide a capable and affordable source of labor for area residents.
"This is just such a positive thing for the community, and it really upsets me that Congress hasn't been able to reform the immigrations laws," said Oakton resident Loren Hershey. "I've hired CLRC workers to do yard-renovation work and landscaping at my home, and they did a wonderful job. They're smart, attentive, careful, dedicated and very good workers."
About 200 people attended the three-hour celebration. Attendees feasted on homemade Chuchitos, Guatemalan corn-and-pork tamales; Cacahuete, soup made with chicken, onions and tomatoes; lentils and red sauce; and tamales filled with rice and pork inside a large leaf. The workers' wives made the food, which received rave reviews.
Emceeing the festivities was Jerry Foltz, who founded the CIF with his wife Alice. Due to illness, she was unable to attend the event, but her husband praised the hard work and achievement of the center's staff and volunteers. And in turn, Supervisor Kathy Smith (D-Sully) acknowledged their efforts.
"It was a vision of community members Alice and Jerry Foltz, former Sully District Supervisor Michael Frey and [Centreville Square owner] owner A.J. Dwoskin to put together this center," said Smith. "We realize we're all one country, and it's vital that we help our immigrants be integrated into it. 
"And that's what's so great about this center," she continued. "Through all its programs, plus its connections to organizations such as WFCM [Western Fairfax Christian Ministries], the CLRC helped [its workers] become part of this community." 
A letter was read from county Board of Supervisors Chairman Jeff McKay.
Congratulating the CIF on its anniversary, he wrote, "This year's celebration marks more than a decade of positive effort by CIF to empower workers, develop leaders and improve local, state and federal immigration policy. Since 2011, CIF has fulfilled its mission to implement sustainable programs that provide immigrants with the support needed to improve their lives and integrate into their communities.
"CIF has improved communication and cooperation among organizations serving immigrants, building coalitions and identifying shared goals, in addition to serving as one of the only labor centers in Virginia, here in Fairfax County. Your achievements are a testament to your hard work, dedication and commitment."
McKay also noted that, over the past 11 years, he's had numerous opportunities to witness firsthand the "excellent operation" the CIF has established and said he's "always impressed." Furthermore, he wrote, "I'm so grateful for CIF's work in our region. I look forward to continuing our partnership to make Fairfax County an even better place to live, work, play and raise our families."
Edgar Aranda – who was instrumental in establishing the CLRC's operational framework and helped workers obtain earned wages from unscrupulous employers – also honored the CIF and the labor center it created. "It's 11 years, and this is history," he said. "[The CLRC] is welcoming and inclusive, and that's what we want."
The final speaker, Sen. George Barker (D-39
th
), discussed what he hopes will happen in the Virginia General Assembly. "We're going to try to provide in-state tuition for Dreamers and those in similar situations," he said. "We're going to keep fighting and trying to get that funding back in place to help the students who've worked hard all their lives in school. They should be able to get their college degrees in Virginia."