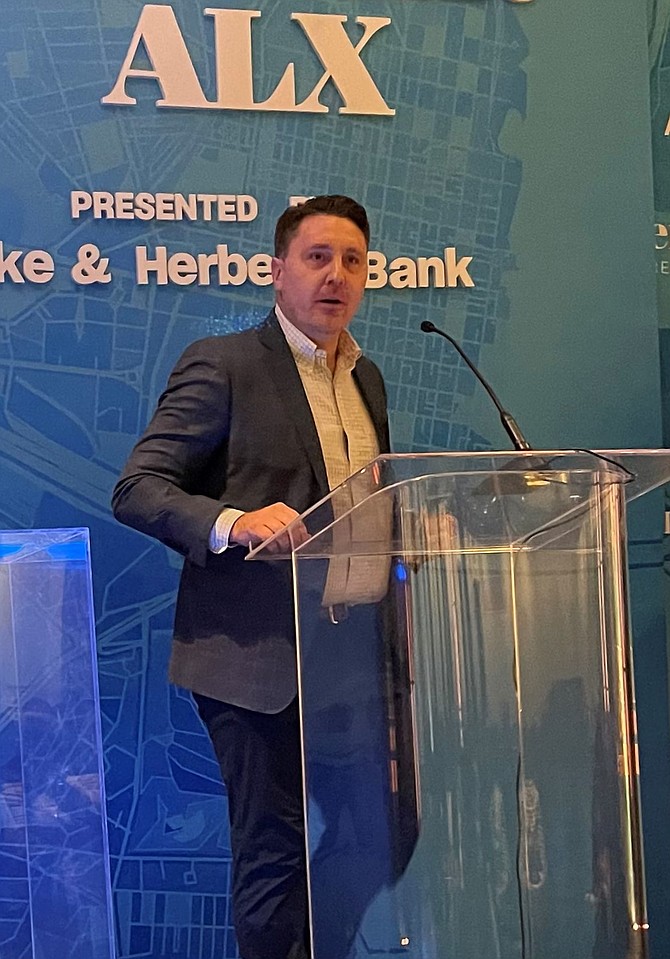 The stars of the business community walked the red carpet Oct. 27 as the Alexandria Chamber of Commerce celebrated the Best in Business awards at the Westin Old Town Alexandria Hotel.
Presented by Burke and Herbert Bank, awards were presented in several categories with land use attorney Cathy Puskar of Walsh, Colucci, Lubeley & Walsh honored as the 2022 Business Leader of the Year.
"Cathy is the quarterback who brings together the entire team for real estate projects," said Laura Mechanic, who presented Puskar with her award. "The landowners, the developer, the anchor tenant, the architect, city zoning and neighborhood associations, Cathy plays strategist, lobbyist and advisor to all those players while trying to balance everyone's needs."
More than 350 attendees celebrated Alexandria businesses, with awards being presented in several categories.
In addition to Puskar, other honorees included: Overall Business of the Year – Chadwick's Restaurant; Small Business of the Year -- Everly Wheatley Funeral Home; Medium Business of the Year -- Marks-Woods Construction Services; Large Business of the Year -- Kearney & Company, P.C.; Nonprofit/Association of the Year -- Goodwin Living; Rising Star Business of the Year --The Critical Mass, LLC.
"Chadwick's is extremely proud of this achievement," said owner Trae Lamond. "We have been popular for decades, but awards and accolades don't normally come our way. It feels great to be recognized for the good work we're doing."
The Business Awards are selected by an anonymous committee of past winners. This committee scores applications based on business overview, marketing and collaboration, charitable contributions and excellence.
"I am proud of each staff member at Everly-Wheatley," said Managing  Partner Jim Zalewski. "They are caring, compassionate and dedicated. Our funeral home is deeply committed to the families we serve as well as making a positive impact on the community. All of us are truly honored to receive this award."
Joe Collum of Burke & Herbert Bank served as event chair with catering provided by 13 Alexandria restaurants, including 1799 Prime, Bastille, Buzz Bakery, Daniel O'Connell's Irish Restaurant & Bar, Evening Star, Hard Times Café, Pork Barrel BBQ, Rustico, Tequila & Taco, Theismann's, Trademark, Wegmans Carlyle, and Whiskey & Oyster.
Business Leader of the Year is selected by The Chamber ALX's Executive Committee based on the individual and business operations within the community, professional accomplishment, charitable involvement and contributions, reputation, and chamber engagement.
Added Mechanic of Puskar, "Cathy has truly helped shape the landscape of Alexandria and Northern Virginia for generations to come."
www.thechamberalx.com