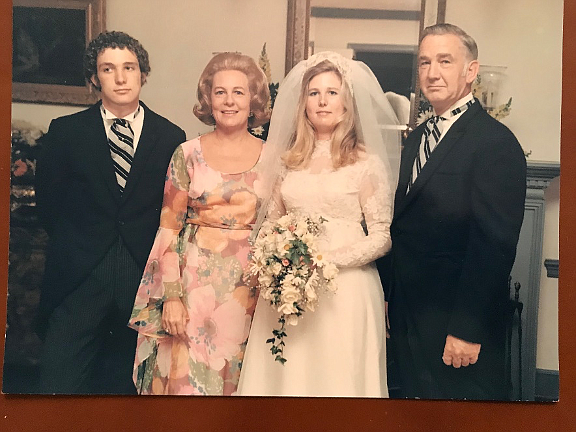 Nancy Camm died at 73 years old on Oct. 19 in Alexandria Hospital. She was born on April 29, 1949, in Quantico, Virginia.
You never quite knew what to expect with Nancy but, if you knew Nancy Holcombe, you knew it would be fun.  Since she fell through the skylight into Mother Superior's office in her high school in Paris, she followed the tradition of the unconventional and unexpected.
Camm would tell you she remembers the parties her parents were always hosting when she was growing up. Camm learned to be a hostess at a young age and her mother would tell her to go mix a drink for their sometimes famous guests. One of her favorite stories was when her mother asked Elizabeth Taylor if she would mind carrying two rolls of extra toilet paper to their upstairs bathroom since she was going up there anyway. 
Camm's father was a Marine Corps fighter pilot when she moved to Paris at age ten. She traveled extensively with her family and friends while in Europe. 
When she returned to the States at age 17, she attended Wakefield High School in Arlington, where she met her future husband, Frank Camm, in their French class. They were married in 1972 at the Virginia Theological Seminary on Seminary Road.
Before then, she went to college at Sullins College in Bristol, TN, and then transferred to Hollins College in Roanoke, VA, where she graduated cum laude.
Camm began her professional career as a research librarian at the Congressional Research Service. She moved to Chicago when she married Frank and became a librarian at the American Bar Association, where she went on to administer the Banking and Business Law Section, the largest section in the association.
That job opened the opportunity for her to manage the Southern California office of Bank of America's Public Affairs Office when she and Frank moved to Santa Monica. She coordinated federal public policy and lobbying strategy and organized grassroots campaigns for Bank initiatives at the district, county, and city levels in Southern California. She found that men had most of the jobs like hers and that she had to fight her way up. To help provide mutual aid and support to their female colleagues, she and a close friend at another bank started the Women in Public Affairs Association in Los Angeles. The City Council of Los Angeles later passed a resolution of commendation for her contributions to the city.  
Camm could not stay away from Washington for too long. In 1983, she returned to live in Alexandria. She became Vice President and Washington Representative directing Bank of America's government relations efforts on national and international issues before Congress, the Administration, and Federal agencies. While back in Washington, Camm became active in women's business organizations. She served as President of Women in Housing and Finance (WHF) in 2000-2001. She was "an admired and active member of the WHF past presidents," says fellow WHF past president, Leslie Wooley. "She was such a fun and lively lady." Camm also served as a board member of the WHF Foundation in 2007-2008, and as Vice Chair and Treasurer of the Women's High Tech Coalition during 2000-2010.
She went on to work for nine years as manager of Congressional Relations for the Consumer Bankers Association Washington DC and five more as Director of Congressional Relations for the Consumer Data Industry Association.
Camm's career made a shift when she decided it would be nice to be on the other side of the professional spectrum. Instead of trying to convince Congress to support her employer's issues, she liked the idea of giving the policymakers objective research they could use as a basis for making decisions.  
So in 2008 she joined the Rand Corporation as Deputy Director of Congressional Relations and worked closely with the financial services analysts in Rand's Labor and Population Program. She helped conduct long range planning and implementation of research objectives on Capitol Hill. Camm found this new experience fit her skill set, and she settled in to train researchers how to communicate their complicated research results to members of Congress with short attention spans. Camm would admit it often took her sense of humor to make this work.
After Nancy and Frank retired, they became familiar lunch faces in Old Town, where they alternated among their favorite 15 or so lunch spots every day. Nancy had often been known to surprise her friends at lunch with a pair of large plastic (maybe blinking or sparkly) holiday themed glasses to add to the occasion. 
Nancy and Frank were great appreciators of art and could be seen every year at the Alexandria Art Fair where Frank would buy Nancy one more piece of original jewelry from a local artist or a beautiful scarf or another picture for their already overcrowded walls. And they didn't miss the openings of the new exhibits at Washington art museums.
 And Camm was everywhere present in her neighborhood. Neighbor Jackie Atkisson calls her "our neighborhood angel. Could there ever be as giving, kind, welcoming, or loving a soul as hers? What a remarkable woman who made everyone's days a little lighter and brighter."  
Nancy is survived by Frank Camm, her husband of 50 years, and her brother James Vance Holcombe Jr. She is predeceased by her father, James Vance Holcombe Sr., Vice President at Northrop Corporation, and her mother, Nancy Elizabeth (Hughes) Holcombe, both long-time Alexandria residents.
A memorial celebration of her life will occur at Everly-Wheatley Funeral
Home, 1500 W. Braddock Rd., Alexandria, VA 22302, on Tuesday,
November 15. Visitation will be held from 12-1 p.m. with the celebration
ceremony at 1 p.m. and a light reception from 2-3 p.m. In lieu of flowers,
contributions may be made in her name to Habitat for Humanity or Toys
for Tots.