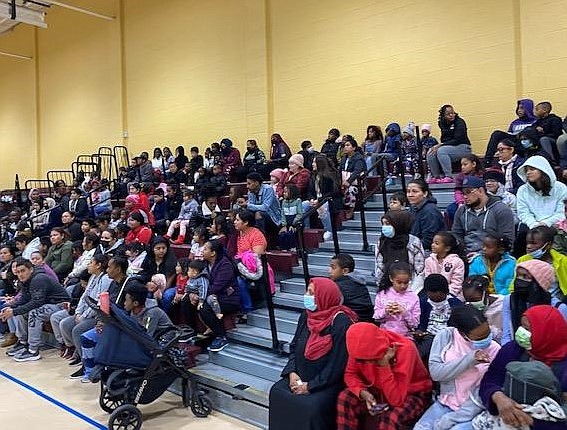 Volunteers from across the city gathered at the Charles Houston Recreation Center Oct. 22 to distribute hundreds of new coats to families in need as part of the Firefighters and Friends to the Rescue annual coat drive.
"The volunteers truly enjoyed assisting the kids with choosing a coat," said Firefighters and Friends to the Rescue founder and School Board member Willie Bailey. "Having the children return in person brought back some normalcy to our annual event after the pandemic." 
Bailey founded the Firefighters and Friends to the Rescue nonprofit as part of a holiday toy drive more than two decades ago. The coat drive began 17 years ago.
Coats are obtained through the national nonprofit Operation Warm with local volunteers sorting and distributing to those in need throughout the region.
"This is the 17th year distributing coats to the community," Bailey said. "We have come a long way. The first few years we gave away a few hundred used coats. Now fast forward 17 years later and with the help of Operation Warm we are providing thousands of new coats to families in need across Northern Virginia."
In addition to 550 coats distributed at the Charles Houston event, 450 bags of candy were given out and more than 1,000 books were provided by the literacy nonprofit InspireLit.
"Our volunteers escorted the children to the tables to pick out a new coat for themselves," Bailey said. "Then they were taken over to an area to pick out new books generously provided by InspireLit, who had a team on hand to help kids make their selections."
For the sixth year, ARHA partnered with the organization to provide coats to deserving families. 
"A heartfelt thanks goes out to everyone that made this a wonderful event for the families," said ARHA CEO Keith Pettigrew. "The village showed up and gave generously of their time. The smiles on the kids' faces said it all as our annual event gets bigger and better every year."
Bailey noted that he has been contacted by several schools asking for assistance providing coats to Ukrainian and Afghani refugees.
"St. Elmo's Coffee Pub has graciously stepped up to help us with this effort by collecting new coats at all three locations in Alexandria City," Bailey said. "I hope the community will join us in this effort."
St. Elmo's has three locations in Alexandria: Delray -- 2300 Mount Vernon Ave.; Old Town North -- 529 Montgomery Street; Fairlington -- 1536 Kenwood Ave.
Sponsors for the event include: Alexandria Redevelopment Housing Authority; Firefighters and Friends to the Rescue; Department of Community and Human Services; Jack Taylor Toyota Dealership; Hilco Global; The Lieberman Family; Nationwide Credit Corporation; InspireLit; Capital Youth Empowerment Program; Departmental Progressive Club; Greens Funeral Home; Alexandria Department of Parks and Recreation; Caring Angels Therapy Dogs.
"A new coat means so much to a child," Bailey said. "It provides a child both physical and emotional warmth. It helps a student attend school, socialize with their peers and play outside with pride. And it reminds them that there are those in their community that care about their well-being and future."