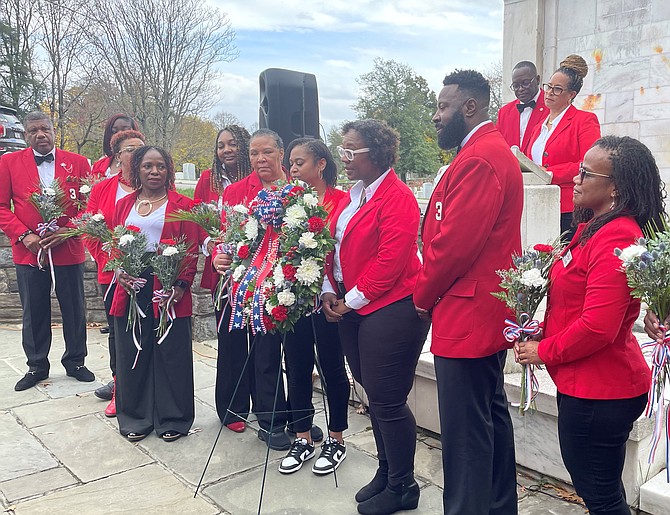 Jason Wood sat quietly among the crowd, thinking of his great-great grandfather as a wreath laying ceremony honoring soldiers of the United States Colored Troops was held Nov. 6 at Alexandria National Cemetery.
"It is an honor to be standing at a sacred place where I know there are some USCT soldiers buried," said Civil Rights activist and historian Frank Smith, the keynote speaker at the event.
Wood's great-great-grandfather was Douglass Wood, one of the many African Americans recruited during the Civil War to serve in the newly created United States Colored Troops. By the end of the war in 1865, the 175 USCT regiments constituted about one-tenth of the manpower of the Union Army.
"The regiments of the USCT became the largest standing army of Black soldiers in the history of the world," Smith said.
The Bureau of Colored Troops was created in 1863 as a special branch of the military for the purpose of implementing President Abraham Lincoln's Emancipation Proclamation, which read "that such persons of suitable condition, will be received into the armed service of the United States to garrison forts, positions, stations, and other places, and to man vessels of all sorts in said service."
"Of those 200,000 African American soldiers, 150,000 had been enslaved when the war started," Smith said. "They were living on plantations in the Deep South picking cotton, corn, tobacco, and where women were being abused and misused."
At Smith's side was Marquette Milton, a reenactor portraying a soldier in the Colored Troops.
"For African Americans, this was a fight to make America a different kind of country."
— Civil Rights activist Frank Smith
"This is what these soldiers looked like," said Smith gesturing to Milton. "They were about this height, slight build, and looking like they needed another meal after 4-5 months of being on the battlefield. They wanted to go home. But first they needed to finish the war."
When the war ended in April of 1865, about 20 percent of USCT soldiers had died, a rate about 35 percent higher than that of white Union troops. Many USCT soldiers fought with distinction, with 16 receiving the Medal of Honor and many more receiving other honors.
The graves of 118 USCT soldiers who died during the Civil War are located at Alexandria National Cemetery, one of the original national cemeteries that were established in 1862. Originally interred at the Contrabands and Freedmen Cemetery, a protest and petition in 1864 resulted in the reburial of the USCT troops alongside other fallen soldiers in Alexandria National Cemetery.
The wreath laying was sponsored by the Joint Military Affairs Committee of Magnus Temple Number 3 and Magnus Court 100.
"For African Americans, this was a fight to end slavery," said Smith in closing.  "This was a fight to make America a different kind of country, where slavery no longer existed."