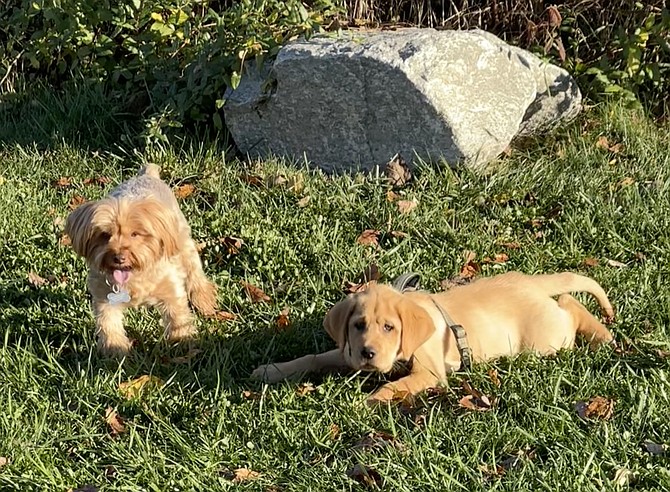 After decades without regulated inspection, retail stores selling dogs and cats soon will receive regular checks. The Virginia Department of Agriculture & Consumer Services (VDACS) has published a set of draft inspection regulations for puppy stores. Appearing in "The Virginia Register of Regulations," Oct. 24 issue, the formal notice invites public comment during the period from Oct. 24 until Dec. 23; with a public hearing in Richmond on Dec. 9. (See the proposed regulation at: http://register.dls.virginia.gov/details.aspx?id=10445)
Although animal shelters, both public and private, have been regulated and inspected with penalties for non-compliance for decades, puppy stores in the Commonwealth had escaped review. New regulations, once finalized, will affect existing pet shops which may not be in compliance with the regulations and which could incur increased costs in order to come into compliance. VDACS, the agency charged with conducting annual inspections of public and private shelters, also will be responsible for pet shop inspections under the new regulations. Officials of the department also will inspect for compliance with Virginia's Comprehensive Animal Care Law.
Pet shops selling dogs typically source from large breeding operations, dubbed puppy mills. The animal welfare watchdog group, Bailing Out Benji, is one of several groups which track movement of dogs from these large operations into pet stores in Virginia and other states by monitoring required federal/state transport documents. The Benji group has verified sourcing by Virginia pet shops from breeding facilities with 60 to 641 breeding dogs. Many have past Animal Welfare Act violations (https://bailingoutbenji.com). 
"Without inspections, the public would never know of the irregularities or abuses."
— Gina Marie Lynch, Humane Society of Fairfax County
In recent years, several states (California, Maine, Maryland, Illinois, Washington) have enacted legislation which prohibits sales of dogs, cats, and sometimes rabbits, in pet shops. Virginia has not. While Virginia's code has effectively stopped puppy mills from operating within its boundaries, puppy mill sales continue through pet shops and online sales. There are currently 20 retail puppy stores in Virginia, including three in Northern Virginia. In Fairfax County does not prohibit puppy store sales of dogs and cats; City of Fairfax requires a public hearing and obtaining a permit before starting a puppy shop business. Petland in Fairfax, Capital City Pups in Manassas, and Dreamy Puppy in Fairfax County, were closed after cruelty charges. Some area stores now are the subject of on-going investigations.
"There is a critical need for inspection of the operating procedures of businesses that hold and sell animals," said Gina Marie Lynch, Humane Society of Fairfax County's community outreach manager. "The multi-year inspections by the U.S. Department of Agriculture of the Envigo medical beagle breeding facility in central Virginia resulted in citing hundreds of animal welfare violations. … Without inspections, the public would never know of the irregularities or abuses."
Bailing out Benji warns, "If you cannot visit the property to see for yourself the conditions in which puppies sold online or in a pet store were born and in which their parents are still living, chances are the puppies came from puppy mills."
The public can participate in the regulatory process and weigh in on the need for regulation, the draft regulations, and specific areas of concern in multiple ways. Comments can be made in the public town hall forum found at https://townhall.virginia.gov/L/comments.cfm?stageid=9390. Comments also may be made to the agency contact: Carolynn Bissett, Program Manager, Office of Veterinary Services, Department of Agriculture and Consumer Services, P.O. Box 1163, Richmond, VA 23218, telephone (804) 786-2483, FAX (804) 371-2380, TDD (800) 828-1120, or by email carolynn.bissett@vdacs.virginia.gov. 
A public hearing will be held on Dec. 9, 10 a.m., at the Patrick Henry Building, East Reading Room, 1111 East Broad Street, Richmond, Va.
"Usually the laws governing treatment of animals are not as compassionate as we'd like," Lynch says. "The bare minimum standards of care are the norm. When unacceptable treatment is identified by concerned citizens, changes must be made — the public must be the source demanding that conditions improve."
The deadline for all public comment is Dec. 23, 2022.