"We are here at last," said U.S. Rep. Gerry Connolly (D-11). "Keeping it alive took everything we had … . The return on this investment will be, I believe, incalculable."
U.S. Rep. Jennifer Wexton (D-10) said it had been a long journey. Still, the region needs to rely on transit and transportation to support families, small businesses and continued economic successes. "That's exactly what the Silver Line is going to do … Enjoy the ride," Wexton said.
Jeff McKay (D) said that he always talks to people about Metro not being an expense but an investment. "You will see enormous economic development …  people living a different life because of Metro. 
"Our community deserves these kinds of investments. We're catching up in a very bold way here with so many other places," said McKay, chairman of the Fairfax County Board of Supervisors.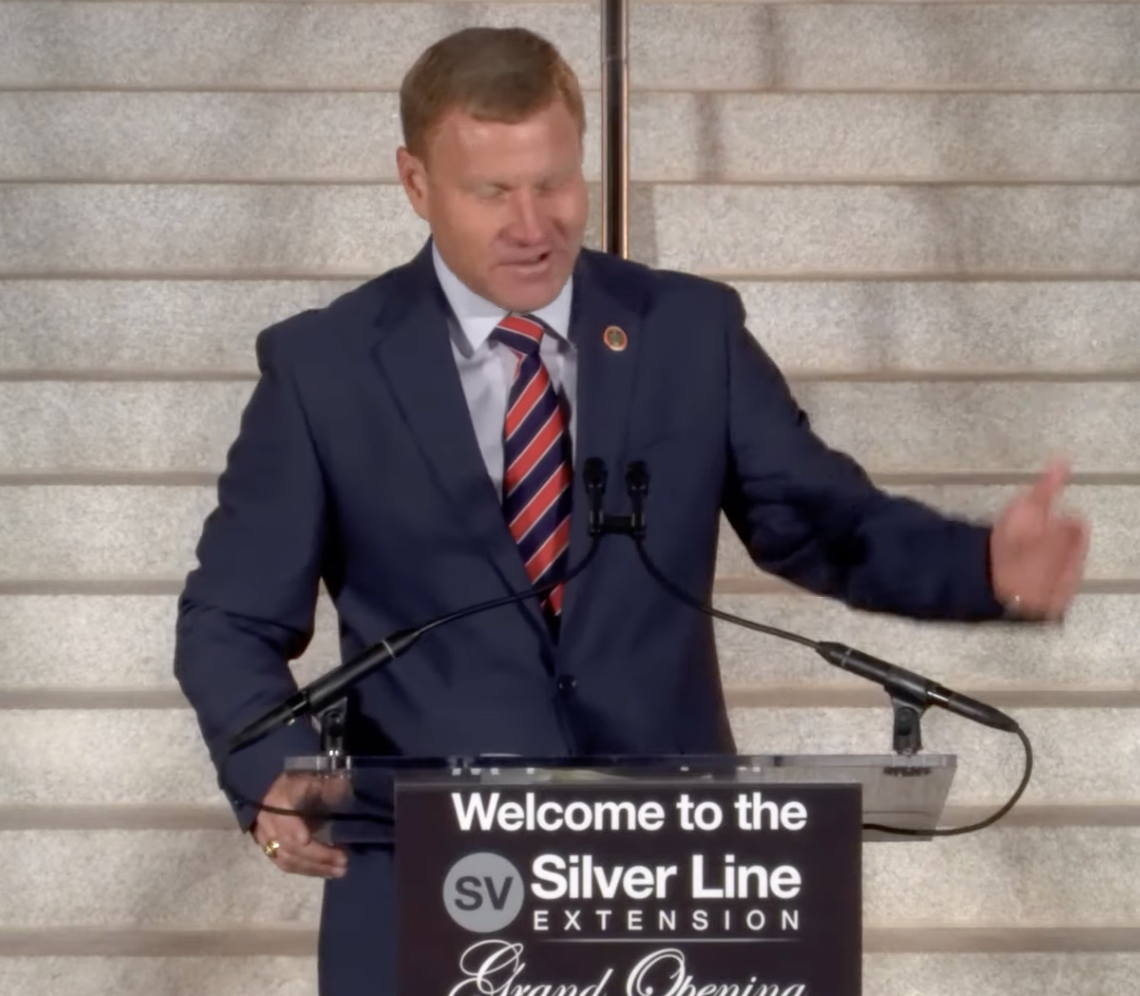 Loudoun Board Chair Phyllis J. Randall (D) said that the "macro" reason they were all at the airport was to cut the station ribbon. But there were micro reasons as well. "This Metro will allow a father who's working two jobs to get home in time to see his kids. This Metro will allow the grandma to get to her grandson's play to watch him be the best potted plant she's ever seen. … We're here for one reason. We're here to make a better quality of life for the people that we serve."
At 1:54 p.m., the first Metro customers settled in on a passenger train to depart from the Ashburn Station in Loudoun County. The 7000 series train headed on its inaugural trip to the other five Phase 2 stations, Loudoun Gateway, Washington Dulles International Airport, Innovation Center, Herndon, and Reston. The train continued to the Wiehle-Reston Station, the former terminus of the Silver Line, and beyond to Downtown Largo. A trip to/from Dulles Airport-Wiehle-Reston East on the Metro reportedly takes 12 minutes.
The event marked the culmination of Metrorail's largest expansion since the system's inception and WMATA's "generational" infrastructure investment. Construction of Phase 2 began in 2014. The $6.8 billion Silver Line is Metro's largest expansion by route mileage since its inception in 1976.
Innovation Station in Herndon
Fairfax County leaders, business leaders, and community partners celebrated the Innovation Center Metrorail Station opening at 13747-A Sunrise Valley Drive in Herndon. The temperature was 39 degrees with cold rain, but that did not stop the celebration.
"The Northern Virginia Transportation Authority invested $69 million in regional revenues on the Innovation Center Metrorail Station," said Monica Backmon, CEO of the NVTA, which invested $188 million in Silver Line Phase II projects, including improvements for drivers, transit riders, bicyclists, and pedestrians. The transportation authority invests in multimodal transportation projects to reduce the number of single-occupant vehicles on the region's crowded roads by giving people more ways to get around, Backmon said.
The Metrorail Innovation Center Silver Line project improves connectivity. It accommodates a variety of modes of transportation, including rail, bus, bicycle, and air travel. Over 170 bike racks, ten bike lockers, a secure bike storage room, pedestrian bridges, station entrances from both sides of the Dulles Access Road, and a new parking garage with 2,100 spaces on the south side are available at the station.
Others provided information on expanded Connector bus service, local transportation services such as shuttles, pedestrian walkways, and bike services, as well as the economic impact of extending the Silver Line to the edge of Fairfax County and beyond.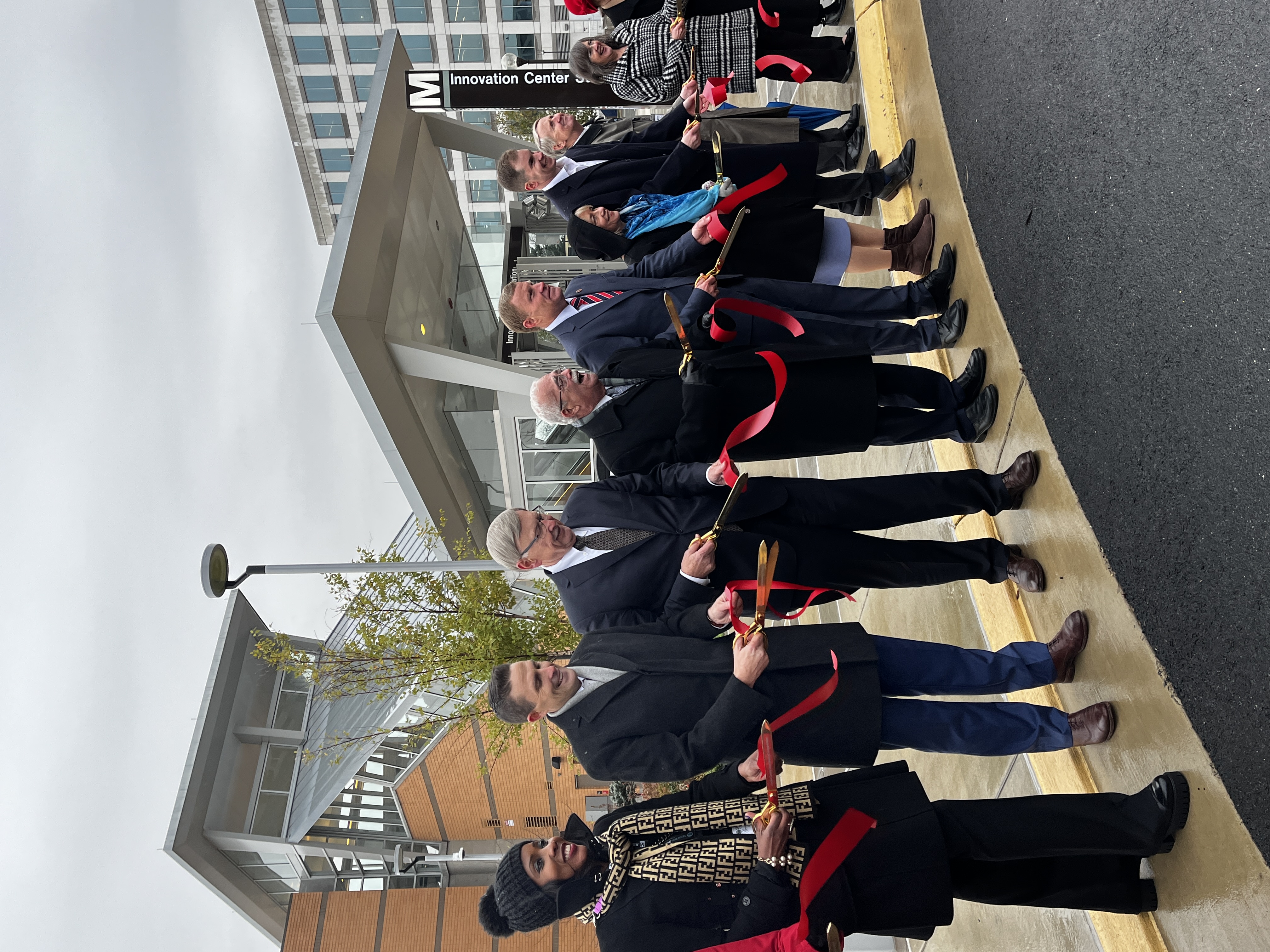 The recently finished Innovation Arrowbrook Trail connects the Innovation station, the Town of Herndon, and the community around it. It is a 10-foot-wide, lane-marked, paved path with dual bike and pedestrian use, according to Jeffrey Fairfield, executive director of The Ruth and Hal Launders Charitable Trust.
"We were responsible for the Innovation Trail, which runs from the south side of the toll road overpass on Centreville Road and then goes westbound to Innovation Center Station. That path has been open to the public for months," Fairfield said. "It was a 10-year project to get that cobbled together."
Dranesville Supervisor John Foust said that the Metro Silver Line is a game changer for residents and businesses by reducing single-vehicle trips, reducing climate and carbon footprints, and increasing access to affordable housing. "This project contributes to an ... efficient transit network that is crucial to Fairfax County's economy." Next to the Innovation Center is the 52-acre, mixed-use Arrowbrook Center, which is planned for 2.3 million square feet of development. Immediately across is the CIT building and 104 acres in Fairfax County that remain undeveloped.
According to McKay, when people land at Dulles airport, especially from other countries, and come to the most powerful place in the world, Washington, D.C., they walk around the airport looking for the transit station. "From where they come from, it's just known; it's natural. You put transit stations next to international airports."
People will celebrate the Metro line and "all the economic development, all the residential development, all the retail and commercial development associated with it" 100 years from now, Connolly said.
Randy Clark, the new head of WMATA, said he is committed to "a lot of development around our transit stations so people can have a much more environmentally equitable, more affordable way to live." And every day, WMATA has to give the area the safe, reliable, and frequent service it needs.
Reston Station
The final event of the whirlwind openings was held inside the 20-story office building at 1850 Opportunity Way, part of the Reston Town Center Expansion, directly across from the station. It is distinguished from others because the development there is already Metro ready.
"Whereas many of the other stations have developments to come, this station was prepared for this for decades. It's been developing in an urban format, and we've been ready for Metro for a long time," said Peter V. Otteni, executive vice president and co-head of Boston Properties Washington, D.C., region.
The Link Reston Town Center shuttle is an essential component. Otteni said Metro will do "a really good thing linearly," but the shuttle will get people out into the neighborhoods.
Robert Goudie, executive director of the Reston Town Center Association, admitted he did not have a SmartTrip card. He has a better solution: SmarTrip for Google Pay. It allows Goudie to pay with his phone anywhere SmarTrip is accepted, including the train, bus, and Metro-owned parking lots.