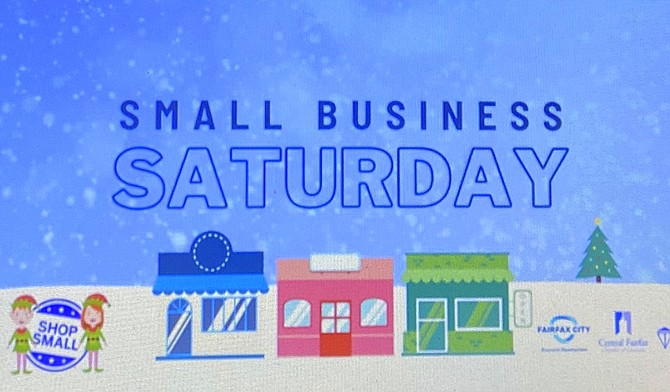 Small Business Saturday returns to Fairfax City on Nov. 26, the Saturday after Thanksgiving. This annual event encourages residents to patronize local, City businesses, while checking off some gift purchases on their holiday shopping lists.
The fun also includes the City's annual Elf on the Shelf Scavenger Hunt and Welcome Station that day from 9 a.m.-noon, at Old Town Square, 10415 North St. Visitors there may enjoy treats, receive giveaways, have a photo taken with Santa, and pick up an elf scavenger-hunt passport. 
The passport identifies 30 businesses throughout the City that have hidden an elf in their business. Shoppers who find five or more elves and make a purchase at one participating business by Monday, Dec. 5, can email their passport to economicdevelopment@fairfaxva.gov to have their names entered into a drawing to win one of 10 Fairfax City Flex eGift Cards valued at $50 each. 
The Flex eGift Card is a fully digital, community-based, eGift Card program delivered via text or email. The card is available in amounts starting at $5 and is redeemable at 20 Fairfax City businesses and counting. For more information, go to fairfaxcityconnected.com/flex.
And to further encourage shoppers to Shop Small on Nov. 26, many businesses are also offering special promotions. New this year, customers are invited to share their experiences on social media at #FairfaxCityElf for a chance to win Fairfax City Flex eGift Cards valued at $10 each, during daily drawings.
"Small Business Saturday is an important national event," said Economic Development Director Chris Bruno. "But here in Fairfax City, it has also turned into a holiday tradition of supporting small and local businesses. And Small Business Saturday is the perfect opportunity to celebrate the business community that makes this City the center of small businesses in Northern Virginia."
The whole promotion is hosted by the Fairfax City Economic Development Office in partnership with the Central Fairfax Chamber of Commerce and the Old Town Fairfax Business Assn. And during its Tuesday night, Nov. 15 meeting, Fairfax City Council officially proclaimed Nov. 26 as "Small Business Saturday." 
"The Central Fairfax Chamber of Commerce is thrilled to participate in Small Business Saturday and the City's annual Elf Hunt," said Jennifer Rose, the Chamber's executive director. "It's a fun, family-friendly way to support our Fairfax City businesses. Now, more than ever, our small-business community needs our support. Shop small, shop local."
Introduced in 2010, Small Business Saturday serves as the ceremonial kickoff to the holiday shopping season for small and locally owned businesses across the country. And by bringing together its small businesses for this event, the City is highlighting and underscoring the impact they have on the community.
"Small businesses are an integral part of our City," said Tess Rollins, executive director of the Old Town Fairfax Business Assn. "They're comprised of our neighbors – and keeping their businesses healthy and viable keeps our local economy strong. We're excited to invite residents to join us for Small Business Saturday to connect with their neighbors and discover the magic of the holiday season in Fairfax City."
To learn more about how the City is supporting its small businesses via this event, visit 
fairfaxcityconnected.com/22elf
.