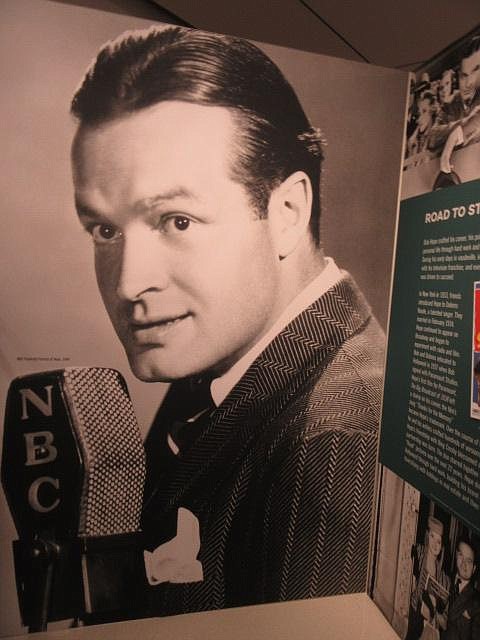 The holidays can be lonely, nostalgic and stressful for military people deployed far away from home, especially overseas.
An exhibit at Lorton's National Museum of the United States Army until Feb. 1 recounts how legendary comedian and jokester extraordinaire buoyed U.S. troops around the globe for 50 years. Titled "So Ready for Laughter," through videos, artifacts and displays, the museum embeds visitors in the audience with cheering troops and Hope on stage.
From 1941 to 1991, during World Wars I and II, the Korean and Vietnam Wars and Operation Desert Shield, Bob Hope performed in 133 live United Service Organizations (USO) shows for 11 million service members all over the world. An original, 11-minute documentary produced by John Scheinfeld captures the comedian's unique talent and the troops' euphoric responses in many venues, including Hope's 1942 tour called the "Hollywood Victory Caravan," when two dozen stars raised funds across the country for the Army and Navy Relief Society. 
Hope's mission was to connect directly, boost spirits and provide relief through laughter. Visitors see nearly 50 artifacts, including Hope's worn suitcase, rare and previously unpublished photographs, wartime correspondence between Hope and service members, videos of his traveling wartime troupe, programs, scrapbooks, maps of his travels and his diary from his 1944 tours. His scribbly notes reveal the origins of some jokes as they popped into his head and record some meals and hotels.
A Gifted Performer
Hope's shows comforted the lonely and homesick, especially during the uncertainties of World War II. Because he was a human sparkplug at lifting the spirits, some called him the "one-man-morale machine" and he earned the moniker, "G. I. Bob." 
In rapid-fire succession, he told joke after joke and created American stand-up comedy, say some experts. The exhibits contend that Hope changed the rules of comedy because before Hope, comedians did the same routine over and over. Hope varied his and built his monologue around contemporary events. His quick, to-the-point delivery earned him the nickname, "Rapid Robert." He "invented all the rules for entertaining the troops," says Conan O'Brien in a video.
Hope could tailor his routine to his audience and instantly establish rapport with his audience. He liked to take on the role of the average soldier and relate to their fears, privation and at times, boredom. In one video, Hope is nestled side-by-side with a shapely Frances Langford who is wearing a bathing suit. Hope says, "I want you boys to see what you are fighting for." A cheering roar erupts. Langford was a singer and actress known as the "GI Nightingale" who often paired with Hope on stage.
Hope's heart was clearly in it. He used his talents to empathize with the troops in camps, hospital wards, barracks, and even foxholes. In an exhibit film, his daughter, Linda, explains, "He had to deal with life and death situations." 
From Leslie Townes to Bob Hope
Bob Hope was born in England in 1903 as Leslie Townes, the fifth son of seven boys. His working-class family immigrated to the United States when Hope was four and settled in Cleveland, Ohio.
 Growing up, he danced for pennies and had jobs as a newsboy, shoe salesman and amateur boxer. He had no high school diploma and no military experience. In 1923, he danced in a vaudeville revue, then went to Broadway and in 1937, to Hollywood where he acted in his first film, "The Big Broadcast of 1938." 
In 1938, he starred on NBC radio's Pepsodent Show, which became a successful ten-year stint during the "Golden Age of Radio." Pepsodent is a toothpaste brand and sponsored the show. Hope did monologues and skits and hosted guest performers. Throughout his career, he closed with the sentimental song, "Thanks for the Memory." From 1942 to 1945, Hope had a vaudeville troupe called "Hope's Gypsies" that did overseas tours.
In 1934, Hope married Dolores Reade, a singer, and the couple adopted four children. His work frequently took him away from home. On finally getting home, he once quipped, "… my kids think I've been booked there on a personal appearance tour."
In 1963, President John F. Kennedy awarded Hope the Congressional Medal of Honor. In 1997, Congress passed and President Bill Clinton signed a bill naming Bob Hope an honorary veteran.
Hope's last tour for the troops was in 1990 when he went to Bahrain and Saudi Arabia during Operation Desert Shield at age 87. He died at his home in Toluca Lake, California on July 27, 2003, at age 100.
Bob Hope donated half a million jokes to the Library of Congress, the largest library in the world. No joke.
U.S. Army Museum exhibit on Bob Hope. 
The Army Museum's exhibit was produced by the New Orleans-based National World War II Museum. After January 2023, it will travel to Albuquerque, New Mexico and Portland, Oregon, travel sponsored by the Bob and Dolores Hope Foundation.