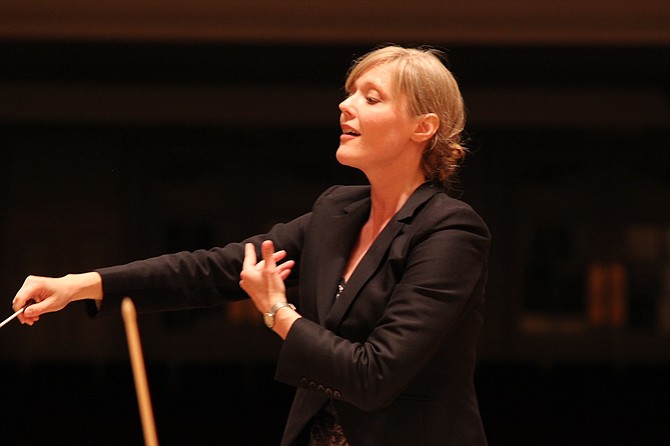 "Row, Row Row Your Boat" was one of the first songs that Ingrid Lestrud learned as a child. The familiar nursery rhyme is among those credited with developing language skills in many a toddler. For Lestrud, an Arlington based conductor, it launched her career. 
"I've always loved to sing and started getting solo parts in my church choir when I was very young," she said. "It was something that I felt I was good at. My parents were supportive and I started taking piano lessons when I was seven and voice lessons when I was eleven."
Her parents first recognized her predilection for music when she was an infant. "She would wake up crying in her crib during the night, and the only remedy was to put a record on the stereo on repeat," said her mother Mary Lestrud. "She started singing in tune when she was a year old, and, by the age of three, her babysitter complained that she sang all the time."
Lestrud entered college with a plan to study vocal performance, but It was a class that she took to fulfill a degree requirement that altered her career trajectory. 
"I had to take a conducting class to finish my degree and I was dreading it," said Lestrud. "I ended up loving it even more than singing and it became my career."
She went on to study conducting at the graduate level, eventually completing her Doctor of Music degree at Northwestern University. A married mother of two, Lestrud is now a conductor with the Arlington Chorale and the Encore Creativity, a choral organization for older adults.
She has spent the last 15 weeks preparing her Encore singers for the organization's holiday concerts in December, including one on Dec. 15 at 7 p.m. It will be performed at the George Washington Masonic Memorial in Alexandria jointly with the Encore Chorale of Alexandria and the Encore Chorale of Goodwin House Bailey's Crossroads
"My role as a conductor is to interpret a composer's music," she said. "I'm collaborating with the singers. I have to train them to follow my lead. Otherwise, I'm just up there waving my arms in the air."
Singers who have performed under her baton concur. "She has a special gift for demonstrating how each composer intends for his or her composition to be performed," said Encore singer Joe Luquire. "As a result every piece performed under her direction comes alive."
Lestrud says that each of her chorales is like a tight knit community. That connection is a necessary element of a harmonious group of singers.
"In order to wrangle all of those voices, Ingrid has taught us how to sound cohesive by focusing on how to sing on the vowels, focusing on consonants and diction, along with accurate entrances and cut offs," said Encore singer Ann Johnson. "Then come the dynamics and interpretation of the piece. It's very freeing to sing once you've worked out all of the technical stuff and can just make music together."
Performances
Encore Chorales of Ashburn, Fairfax, Reston 
Dec. 11 at 4 p.m. at the Heritage Fellowship Church
Encore Chorales of Arlington, Alexandria and
Goodwin House Bailey's Crossroads
Dec. 15 at 7pm. It will be held at the George Washington Masonic Memorial
For a complete listing of Encore Creativity's holiday concerts encorecreativity.org