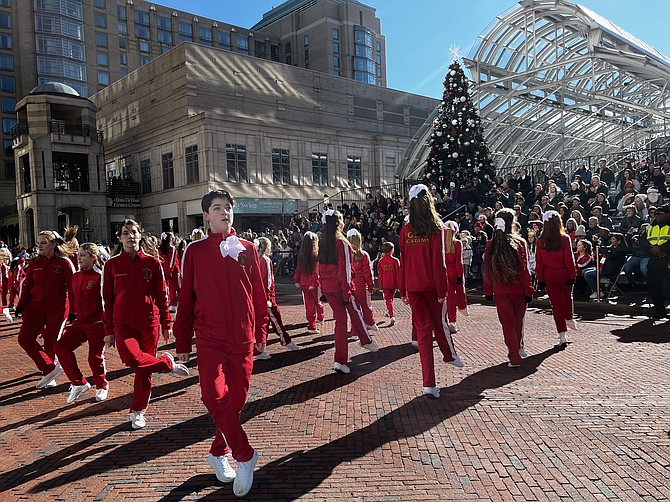 Saturday, Dec. 3, 2022, 1 - 4 p.m.
Winter Wonderland in Bethesda
Celebrate the holiday season from 1-4 p.m. at the Norfolk Avenue Streetery (corner of Norfolk and St. Elmo Avenues) in downtown Bethesda with Santa Claus, live ice sculpting, live music, face painting, games and more. Please bring a new toy for Toys for Tots.
Activities include: Live ice sculpting demo (1-2pm); Visit with Santa Claus (2-4pm); Student concert with Academy of the Holy Cross, Chevy Chase Elementary, Our Lady of Lourdes, Stone Ridge School, Walt Whitman HS, Walter Johnson HS, face painting; Arts & Craft Activities; Scavenger Hunt; Bethesda's restaurants The Red Bandana and Dog Haus Biergarten will be onsite. https://www.bethesda.org/bethesda/winter-wonderland
Dec. 3; St Bart's Messiah Concert
Enjoy the sound of Handel's Messiah (Part 1) performed by St. Bartholomew's Church Choir, instrumentalists, and soloists on Saturday, Dec. 3 from 7:30-8:45 p.m. at St. Bartholomew Catholic Church. Admission is free. 6900 River Road, Bethesda, Md. 20817
Dec. 3, The Holiday Boutique
Visit the Woman's Club of Bethesda for holiday shopping with many upscale vendors. All proceeds are donated to Interfaith Works. The Holiday Boutique is from 10 a.m. -4 p.m. on Saturday, Dec. 3 at 5500 Sonoma Road, Bethesda, MD 20817
Dec. 4, Cabin John Craft Show
Visit the Clara Barton Community Center's Holiday Craft Show and sale featuring works in clay, ceramics, wood, fiber, and more. Everything is created by local artists from 1- 5 p.m.
Dec. 9, Bethesda Art Walk
View original artwork from four downtown Bethesda galleries and studios at the Bethesda Art Walk on Friday, December 9 from 6-8 pm. Attendees are invited to delight in the artwork, enjoy complimentary refreshments, and shop at these unique and inspiring galleries. Participating galleries include Gallery B, Studio B, Triangle Art Studios, and the Waverly Street Galleries.  For more information, visit here. https://www.bethesda.org/arts-and-entertainment/art-galleries-studios/schedule
A Festival of Lessons & Carols
Sundays, Dec. 4 & 11, 6 p.m.
Celebrate the birth of Christ through the reading of Scripture, music, and the singing of carols. Plan to arrive early for seating. 5500 River Road Bethesda, MD 20816 · 301-320-3600https://4thpres.org/advent/
Dec. 19 - 22 : The Hip Hop Nutcracker
Join Maria-Clara and the Nutcracker Prince as they embark on a magical adventure in modern-day New York City during The Hip Hop Nutcracker. The Hip Hop Nutcracker takes you on a journey that celebrates love and community at The Music Center at Strathmore through this remixed and reimagined version of the holiday classic. Each show starts at 8pm between Dec. 19 – 22 https://www.strathmore.org/smartseat/?itemNumber=19463#/