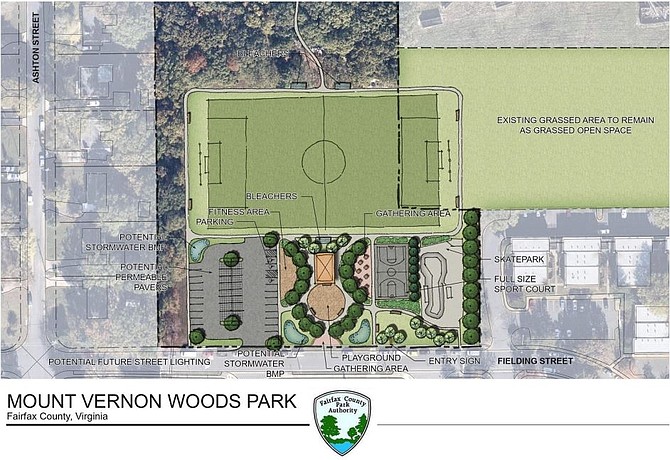 Plans for the Mount Vernon Woods Park include a full-sized soccer field, a skate park, basketball court and playground, providing needed recreational facilities to this area near the Sequoya community in Mount Vernon.
These plans were examined at a meeting on Sept. 8 by Supervisor Rodney Lusk (D-Lee) FCPA executive director Jai Cole, spokesperson Judy Pederson, park engineers and residents to open a comment period before moving on to development. This park borders a forested portion of Huntley Meadows Park which is wetlands park but does not have soccer fields or a playground which are needed in this community of Mount Vernon.
 "Amenities are going to be great for older and younger residents," Lusk said. There aren't many soccer fields nearby so this field is a needed feature, and the skate park "is one feature that's unique and different," Lusk said. Other features include a new playground, new picnic shelter, fitness area, multi-sport court, onsite parking, large grass open play field and skate park. Security lighting was requested by some.
Jai Cole, the park authority executive director, was in the process of visiting all 420 parks in the Fairfax County Park Authority as part of her new position, and was enthusiastic about the plan. "We're very excited about this project," she said.
This plan was initially launched in 2015 and tweaked along the way until officials came up with a final draft. This project was included in FCPA 2020 Bond project list and in late 2021, funding was made available for concept design. The comment period ends on Oct. 10 before moving on to development. 
Construction is scheduled to start in summer 2024.
Comments will be accepted until Oct. 10, and can be sent via email to 71518@publicinput.com