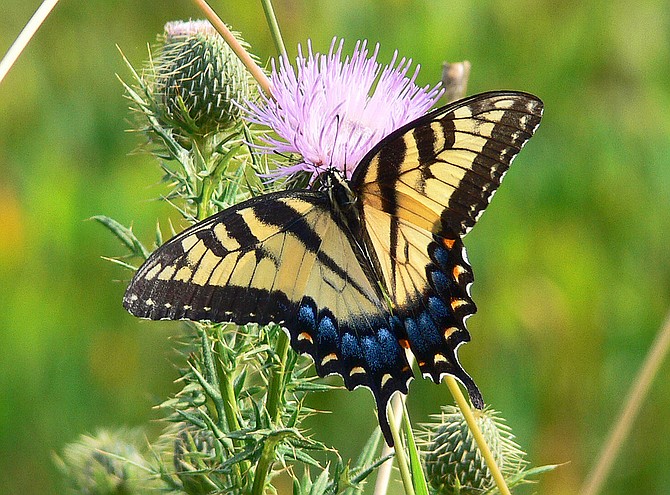 The silvery checkerspot butterfly has a row of black and white spots on the edges of its hind wings. The eastern comma butterfly has a small silvery-white comma-like mark on the underside of its hind wings. Such are the fine distinctions or unique field marks that help citizen scientists identify individual butterfly species. 
On Sept. 17, 28 volunteers fanned out across Northern Virginia to survey butterflies, part of the North American Butterfly Association's nationwide count and sponsored by the Audubon Society of Northern Virginia. Teams identified 35 species and 798 individual butterflies. Last year, surveyors saw 34 species. People have confirmed over 100 species in Northern Virginia, according to the survey's leader, Larry Meade. Their presence and numbers vary by season. There are around 120 species in the U.S. mid-Atlantic. 
The teams surveyed at the Dyke Marsh Wildlife Preserve, Mount Vernon Estate, River Farm, the Jackson M. Abbott Wetland Refuge at Fort Belvoir, Huntley Meadows Park, Green Spring Gardens, the Winkler Preserve, Mason District Park, Glencarlyn Park, Bluemont Park, Four Mile Run and Fort C.F. Smith.
"It was optimal butterfly weather," said Meade. "It was sunny and warm with a light breeze, but not really hot," he explained. "The low 80s are perfect. It's warm enough for them to get energy from the sun and be active. If it gets into the 90s, it's too hot. They like sun." Butterflies spread their wings and absorb the sun's heat, say experts.
September is a good month to observe butterflies, not just because of usually temperate weather and because some butterfly species are migrating through. The best-known migrant is probably the monarch, a four-inch butterfly that has orange wings with black veins and white edges. Through several generations, they make a two-way migration. In the fall, they fly from the central and eastern U.S. to central Mexico to overwinter. In the spring, they mate, leave Mexico for the U.S. and the next generation continues north. Their yellow-, white- and black-striped caterpillar feeds exclusively on milkweed leaves. 
Meade was heartened to see the ocola skipper at River Farm, a butterfly with dull yellowish-brown wings, a 1 ¼-to-1 ¾-inch wingspan and a forewing much longer than its hindwing. Ocolas migrate to and through Northern Virginia from the south in the fall. 
At Mount Vernon Estate, Meade's team spotted an American lady and a painted lady.
Swallowtails, striking two- to four-inch butterflies with forked hindwings, are always show-stoppers. The zebra swallowtail has black and white striped wings, hence the name. The eastern tiger swallowtail has bold yellow wings with black stripes. Males are yellow, but females can be yellow or black.
Meade sees surveying not just as data collection, but a gateway to becoming engaged in nature. 
Jessie Strother, retired Fairfax County urban forester, spent her Saturday counting butterflies because she said, "Identifying butterfly species and their numbers is one measure of the diversity and health of our increasingly compromised environment in Northern Virginia. Environmental protection and conservation need to be front and center of much of what we do today." 
Master naturalist Judy Gallagher from Woodbridge also sees butterflies as indicators of the health of the environment. She co-authored "Butterflies of the Mid-Atlantic" with Bob Blakney.
Butterflies and moths are in the order Lepidoptera, a Greek word that means "scaly wings." Butterflies are active during the day and have a knob or club on their antennae. Most moths fly at night and have thicker antennae that are sometimes feathery. Butterflies tend to be colorful and moths more drab brown or beige.
Meade is a dedicated conservationist and naturalist who lives in Merrifield and is president of the Northern Virginia Bird Club.
Helping Butterflies
Butterflies usually like natural vegetation and most adult butterflies feed by nectaring at flowers. "Butterfly diversity is usually correlated with the complexity of the landscape," observes Jeffrey Glassberg in Butterflies through Binoculars. He calls manicured lawns, "biological deserts." Some butterfly species spend the winter in fallen leaves as eggs, caterpillars, pupae or adults so many butterfly enthusiasts recommend leaving the leaves.
Some gardeners are creating butterfly gardens, which can be from a window box to a multi-acre field. The key is planting plants appropriate for butterflies, host plants for laying eggs and plants for caterpillars to feed on. 
Helpful Resources
* Butterfly Basics and Gardening, https://www.naba.org/ 
* Pollinator Gardening, www.xerces.org/bringbackthepollinators; www.audubonva.org/audubon-at-home
* Virginia Native Plant Finder, http://www.dcr.virginia.gov/natural-heritage/native-plants-finder 
* Guide to Native Plants for Northern Virginia, https://www.plantnovanatives.org/