Friends of the Great Falls Library Semi-Annual Book Sale
The Friends of the Great Falls Library will hold its semi-annual book sale at the library on Friday, Oct. 7 and Saturday, Oct. 8 from 10 a.m. until 4 p.m. each day. Interested readers can attend a pre-sale event (for $10 admission) on Thursday, Oct. 6 from 6 p.m. - 8 p.m.  
Since 2021, FGFL has donated over $30,000 to this branch. Funds have been used to purchase: 100 new lightweight chairs for the meeting room; new tables, table and chairs for the conference room; furniture for the kid's area; and book carts for the staff. The all-volunteer nonprofit group also pays for programs and other materials to enhance the patron experience, with an emphasis on children's activities. Educational and recreational programs for all ages are being reestablished since Covid affected operations.  
FGFL holds two book sales and two puzzle sales each year and accepts financial and book donations. Books for the sales may be dropped off at the library front desk at any time (except during the sales events). Volunteers are needed for the upcoming book sale, with set up starting on Oct. 5. For more information on the sale or to volunteer, please contact friendsofthegreatfallslibrary@gmail.com.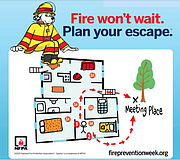 Fairfax County Fire Stations To Host Open Houses
In celebration of Fire Prevention Week, Oct. 9 – 15, 2022, all Fairfax County Fire and Rescue Stations will be hosting Open Houses on Saturday, Oct. 15 from 10 a.m. until 4 p.m. Stop by your local station that day to meet your firefighters and paramedics, join in the activities, learn about fire safety, see the fire trucks and ambulances.
This year's Fire Prevention Week theme: "Fire Won't Wait. Plan Your Escape."